The Metro Editors Share Their Thoughts On Hit K-Drama "Reborn Rich"
Here's everything we love so far about the binge-worthy "Reborn Rich," starring K-drama heartthrob Song Joong Ki
Reborn Rich (or The Youngest Son of a Conglomerate) is, no doubt, the most buzzworthy K-drama today. This Viu Original series was released just less than a month ago, and it's already achieving record-breaking feats!
Its premiere just received the highest ratings among the JTBC dramas this 2022, and is currently the second highest-rated premiere episode in all of JTBC history. Recently, according to Nielsen Korea, Reborn Rich also reached a nationwide rating of 19.449% for its 8th episode. With viewership increasing in every episode, this much-awaited return of Song Joong Ki is set to break even more records in the future.
This fantasy/period/revenge series is based on the novel The Youngest Son of a Conglomerate by San Gyung.
Song Joong Ki stars as the lead in the revenge drama story of Yoon Hyun Woo being reborn as Jin Do Joon, the youngest son of Soonyang Conglomerate, the same chaebol family that betrayed him. Here, he shows how he changes his future and gets his revenge by making the most of the chance that was given to him. As each episode gets more and more exciting, Reborn Rich is an easy staple in Viu's Top 3.
Here are the Metro editors' thoughts on the series so far:

"What I like about it is it references events from the 90s, so I can remember those events because they affected the Philippine economy also... so, for me, it's very compelling that way because it's tied with history. There's also a lot about politics (for me, that's always exciting) and the economy as well. And it also makes a big deal of, above all, how family affects all of these things. So, you know, you could be a major player out there in the world, but still, family dynamics is always a big determiner of how things end and the outcome of things... Of course, Song Joong Ki, he's always fresh-faced and, I mean, the looks are deceiving. For me, it's always a challenge to watch him because how could I go beyond that? But he always, always manages to go beyond my best expectations. So, I'm enjoying [the series] and I'll keep watching."—Anna Rosete, Living section editor
"I love it so far. Obviously, Song Joong Ki, is my first reason why I love it. But there's also Jinyoung, at least in the first episode that we saw. The visuals between the two of them, cute! Beyond the oppa element, the storyline, for me, is so interesting. I do find myself gravitating, at least this year, to fantasy K-dramas... So, I love that this is corporate but it had a fantasy element, the reborn element, the reincarnation element of him kind of getting his revenge. So, it makes it different from, say, Vincenzo, where he's getting his revenge but it's like the mafioso way. This is a different kind of setting and his character is different. I love the nuances he puts in his character because you know that he deserves to get his revenge. So, he's kind of a good boy but bad also because he's bad to the bad people, so you understand him... It's not boring, it's not monotonous. I like it. There's fantasy, business, corporate, and revenge. You see it done in such a way that's so fresh."—Justin Convento, Culture section editor
"This is about a corporation, and in a way, it's also a succession story because after the chairman leaves, in the beginning, he had a rule wherein it's really the firstborn who will get the company. And that is pretty common... It's interesting because even if everyone in the family knew that, they're still scrambling for their spot. They're secretly jealous of each other and they sabotage each other... Something interesting also is it teaches you a lot about investing. Like, when do you invest? For example, the Titanic and so on—when you know that something's going to happen, would you actually change history and invest on it or bet on it, when you know that there's a winning lottery number? It's a question that you get to ask yourself while watching it. It's like, if I were in his shoes, will I use my extensive knowledge of world history and culture to actually do better in this do-over? "—Geolette Esguerra, Editor-in-chief
"Reborn Rich is rich in ingredients that make a a delicious, exciting K-drama offering. Above all factors is the fact that it stars Song Joong Ki, who is undeniably one of the best Korean actors. I always get excited whenever he has a new series, so I'm glad that his latest one does not disappoint. Apart from him, this series has a stellar cast which includes brilliant actors who are staples in K-dramas: Lee sung-min, Shin Hyun-been, Yoon Je-moon, Kim Jung-nan, Jo Han-chul, Park Hyuk-kwon, and even Seo Jeong-yeon who had a special appearance as Yoon Hyun-woo's mother. While revenge K-dramas are not new, Reborn Rich's plot feels fresh because of the reincarnation element which I always enjoy watching (I loved Again My Life which is also on Viu). With such a twist, it's always interesting to see how events will unfold differently and what factors will come into play to change the direction of the story and the fate of the people who are part of it. I love seeing the events of the past and the pop culture references depicted in the series, and I think they're woven into the story seamlessly. I think the pacing of Reborn Rich is good because it always makes you look forward to the next episode. As serious as the topic of business strategies may be, I like that the series is not dragging. I'm hooked on it, and I'll definitely keep watching it till the finale."—Grace Libero-Cruz, People section editor
Check out the gallery below for photos of Song Joong Ki at his Reborn Rich press conference in Singapore: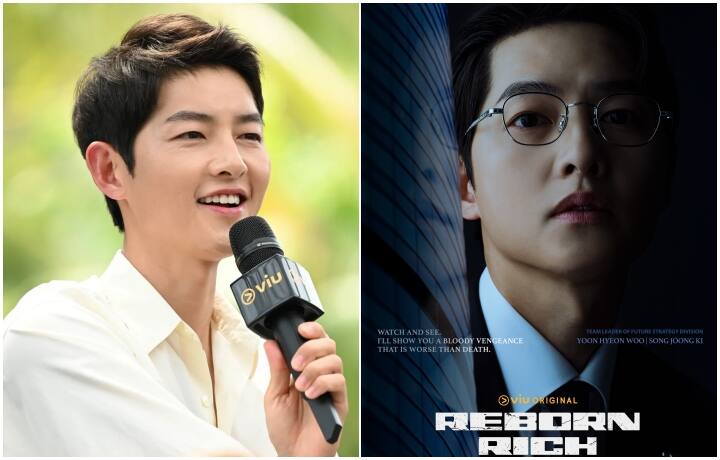 Photo Gallery
SWIPE LEFT OR RIGHT
TO NAVIGATE BETWEEN PAGES
Reborn Rich is streaming exclusively in the Philippines on Viu, with new episodes every weekend. It's currently airing in more than 170 countries worldwide including 16 markets where Viu is present.
Lead and gallery photos from @viuphilippines