Metro K-drama Round Up: Here's What Our Editors Think About the Finale of 'Record Of Youth' and 'Start-Up'
Your weekly dose of K-drama updates is back, and we're off to discuss more exciting news !about latest Korean drama addictions—starting off with the finale of 'Record of Youth' and new K-drama series, 'Start-Up'
We're back for another series of fun conversations over our favorite K-dramas in our weekly Metro K-drama Round Up, Season 2. To start another fun season, we want to give you the best insights on you favorite Korean dramas, share the latest updates, and even gush about our current oppa favorites!
Last Wednesday night, our editors got together once again on our Facebook page to talk about two of our current obsession, the Finale of 'Record of Youth' and the new series of Bae Suzy and Nam Joo Hyuk, 'Start-Up'.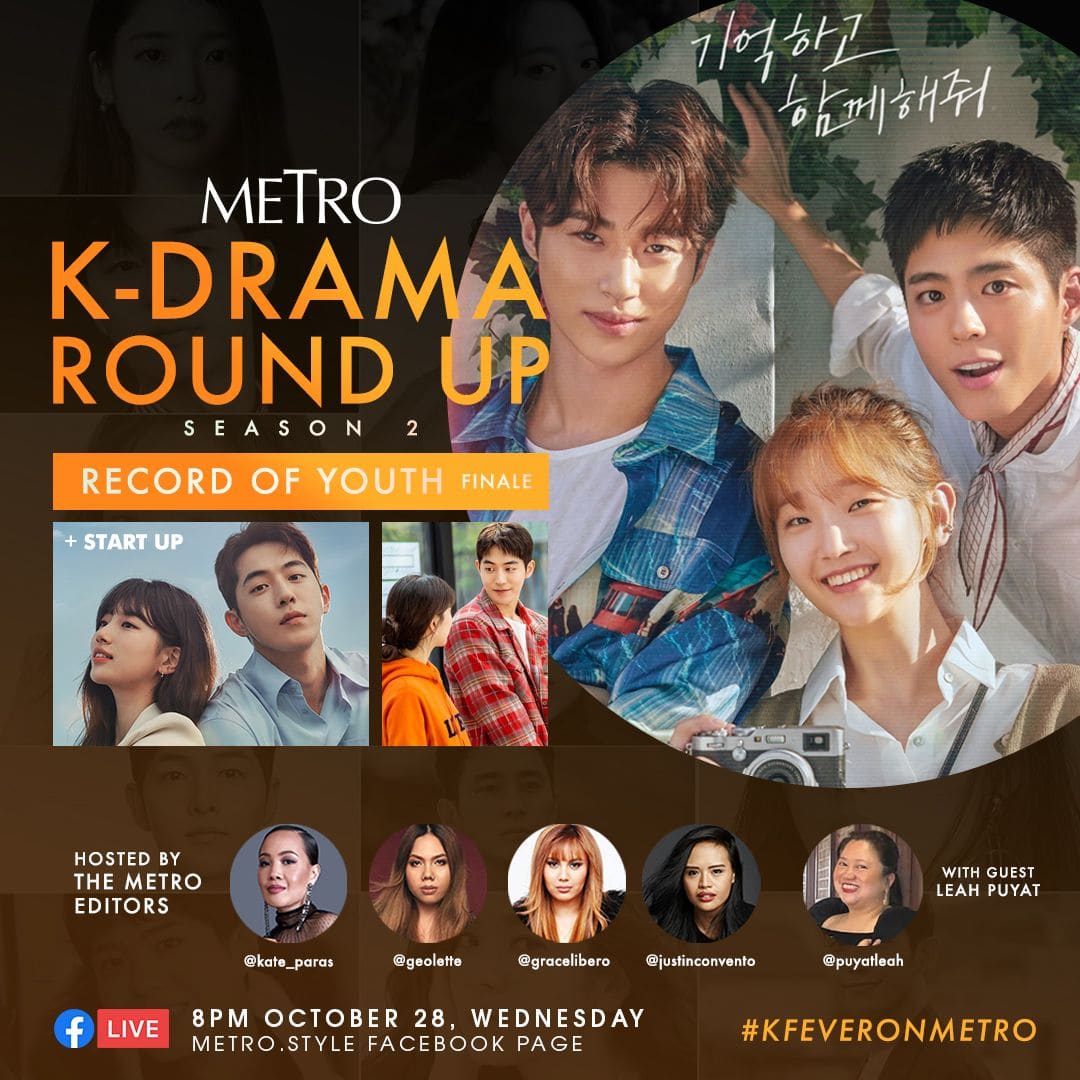 Record of Youth gave us a slow plot yet realistic ending that satisfied most of its viewers. Though it wasn't the usual fairytale like ending for the shippers of Sa Hye Joon and Ahn Jung Ah, it became a heartwarming closing of youth—a chapter in their lives where they bid goodbye to the people they once were to become the best version of themselves.
On the panel for this discussion:
Geolette Esguerra: Metro.Style Editor-in-Chief
Justin Convento: Metro.Style Culture Editor
Grace Libero: Metro.Style People Editor
Kate Paras: Metro.Style Beauty Editor
and Leah Puyat: K-drama Veteran
What do you think about the ending of Record of Youth?
Leah:
I think it ended the way it's supposed to. They didn't hype anything too much, it's really not a fairytale ending but it's satisfying in its own way. I like the opening line, 'now that we're entering our thirties, we can stop blaming others for what happened in our lives.' because in the twenties as he said, you're trying to define yourself, but you're still clinging to the old version of yourself. And you're still resolving your childhood issues or your teenage issues—and the way that they all went on a narrative journey. I like how it ended.
Grace:
Me
naman
, I don't usually like
yung
ending na may '2 years later…'
mga ganyan
, but for this one, I appreciated that. I felt that the 2-year hiatus—
kasi diba nag
enlist
si
Sa Hye Joon, I felt like he needed that because he rose to fame super fast. So
parang
walang break.
Parang
he needed that break to really get to know himself again. And then they needed that break in terms of the relationship with Park So Dam's character. I like that the ending is
parang happy naman siya
, but I would've wanted a more definite ending to it.
Leah:
I also feel like it really echoed Park Bo Gum's career.
Kasi
, like for example for 'Reply 1988,' he wasn't even the main star
pero
he kinda shown. And then 'Love In The Moonlight,' period—when normally nga the follow up is a rom-com. Then three, 'Encounter,' it didn't rate so well
kasi diba may
scandal
na siya yung
other guy in the 'Song-Song' break up. So people were blaming his scandal, but then the truth is, the story of 'Encounter' was really slow. It's really not a ratings blockbuster kind of show. And then now, he's off to the military, so
parang
it's just like a biography of Park Bo Gum, except the part na super close siya sa mom niya.
Yun lang yung nalihis
.
Pero
the choice of show,
wala pa naman siyang
shows
na nag
flop,
diba?
Then now, he's gonna do it off with a bang, he even has a Gong Yoo starrer.
Grace:
I just thought
naman
that Ahn Jeong Ah would become a Youtube star. I feel like she succeeded
naman
as a makeup artist, but I've always thought
na
the ending would be her succeeding as a content creator. Because she has a flair for that but it didn't happen. There was even a management who wanted to invest in her,
diba?
Leah:
Siguro
it shows the trauma of bashers.
Kasi diba
may
scene na
she wanted to confess, and then some people suddenly left her channel
kasi naunahan sila nung ex ni
Bo Gum.
Parang may
slight
PTSD siya doon na
people weren't interested in her confession,
mas
sensational
yung sinasabi nung ex.
Geolette:
In a way, I think 'Record of Youth' is really a commentary of the media landscape.
Kasi
many times in the drama, they talk about Youtubers, like the female journalist
sabi
, 'don't you wanna be a Youtuber?' And then after some time
sabi niya
, 'you know that won't work. But why did you suggest it?' And then Jung Ha always keeps saying, 'I have Youtube channel but I don't focus on it,' and then if you check she has 5,000-10,000 followers. So there are some people who can really go into it or pursue it, but it's not for everyone also.
Kate: I wanna find out what happens to his best friend, yung may stage mom. I mean, I'm only until episode 8, and he's parang falling in love palang with Ahn Jeong Ah, I don't know what's gonna happened next. He seems like such a good guy din kasi. He gave Ahn Jeong Ah a break by getting her as a makeup artist, tapos hatid-sundo siya and all that.
A socially awkward math genius Nam Do San (played by Nam Joo Hyuk) who's the founder of a start-up tech brand called Samsan Tech, meets an aspiring Steve Jobs-type go-getter, Seo Dal Mi (played by Bae Suzy). These two aspiring tech giant cross paths in an unconventional way, one that begins a story of hard work and passion, and provides a glimpse of the fast-paced industry of virtual technology.
Watch the trailer below:
What do you like about this latest K-drama?
Grace: I attended a virtual conference of 'Start Up' actually. They said that the series has a very heartwarming story and after seeing the first 4 episodes, I have to agree. Parang it really tugs at the heartstrings. I didn't expect that because I watched without having any expectation about it, so I was really surprised that it's really good. It's really good, so far. It's very inspiring and my early favorite is actually the character of Kim Seon Ho, si Han Ji Pyung. Who was played by teen actor, Nam Da Reum, who we wrote about on Metro.Style. Super cute and he actually played a lot of young versions of Korean actors like Lee Jong Suk, Jung Hae in, so he's my early favorite. His character is very inspiring. And I feel parang my heart is gonna ache for him towards the middle of the story because obviously, there's gonna be a love triangle here. I'm really excited to see the next episodes.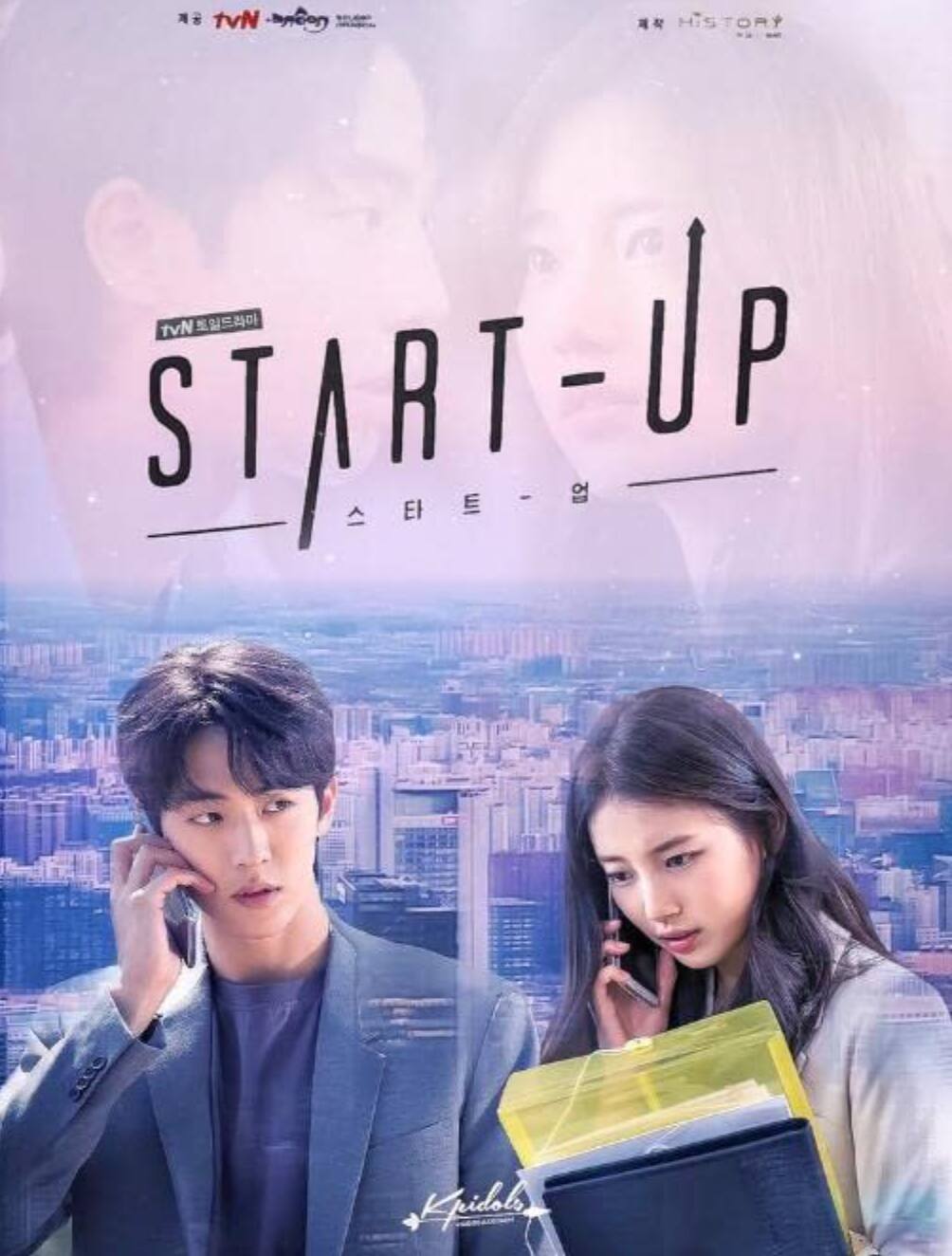 Photo from IMDB
Leah: I really really love 'Start-Up'—I was excited for it and I love that even [my] high expectations are met. Because I did work in a start-up before, a tech start up. And like in the show, they're mostly guys. And when I first read about it, I said—because we know that K-dramas are so good at establishing the backstories, and it's not really about the industry, it's not about if it's period or not, the forte of K-drama is establishing connections. And sometimes we have to wait for episode 3 or 4, but here, they really packed it into episodes 1 and 2. You know the backstory so well, you understand the motivation of each character so well. So actually I would say, you don't even have to care about tech to start this show. Because I think that might turn off some people and think, 'everything in our lives now is tech, you know? We're living virtually. We want something more poetic or more romantic.' But I would say, it's really not about the tech. Although you get an insight, you get a glimpse, and it's true. In tech, it moves so fast. One day you don't have a VC, next day 10 VC's are lining up. One day, everyone wants to fund you, the next day your stock collapses—that's really true. I remember I lost my job after one board meeting because the VC said, let's streamline the app, and I was supposed to be in charge of content. it's really faster than like a traditional media company or even a multi-national company, but that's not really the point. It's really how they set up the backstories.
Kate: Me also, I didn't have any expectations. I went into this—diba I told you guys na I promise I'm going to watch tonight, and I did that. And before I knew it, grabe. I haven't cried that way in a long time. We all know that South Korea thrives in success and prestige, but this K-drama shows what goes on before a person reaches success, diba? Parang we all see the chaebol presidents of companies and everything pero behind that is the hardship. Like even si good boy Han Ji Pyung, parang he wasn't a hotshot VC from the beginning. Parang he was an orphan, and parang he had to meet this grandpa who had a big heart. So yun nga, episode 1 palang you're emotionally invested, you're rooting for everyone. You wanna see what happens even to the mom who left the dad, parang it's so intriguing kasi towards episode 4. Parang she's not happy with her life anymore, her 'successful' life. I also like the idea of the letter writing, yung parang oldschool pen pals. Because we all went through that at some point.
Justin: I freshly watched episode 1 and 2 right before this, so it's a lot of feelings. Fried chicken will never be the same to me! I felt like crying but I was also like, I can't cry. Fried chicken will never be the same, that bus scene was so heartbreaking, and the fact that the guy didn't even wanna help him, he accused him pa, I was just like, 'oh my god! Can someone help him?' And I agree, I echo what Kate said about seeing the hardships. It's a story of how they really build themselves up and how much they work just to get to positions of success and prestige. And I thought that I wouldn't have like the show, to be honest. Because the premise is a bit like start up, and I'm not quite sure. But I'm so glad that I tried it because it wasn't what I expected. I walked in with expectations that it will be too techie and also Bae Suzy who's the ex of Lee Min Ho, so I wasn't sure. And then I watched and I get it like, yeah, she was the ex of Lee Min Ho. Napapa girl crush din ako sakanya because she's so likable!
Watch the first full episode of Metro K-Drama Round Up Season 2, here!
Lead photos from IMDB