Metro K-Drama Round Up: What Do You Think About The Park And Park Tandem In Record Of Youth?
Park Seo Dam's character in 'Record Of Youth' is what every fangirl dreams are made of!
Who else are rooting for the Park and Park tandem in Record Of Youth?
In the past week, we've seen some character development between Park Bo Gum's character Sa Hye Jun, and his career when he finally gets a new start with his new manager. After experiencing a series of rejections from his past movie auditions, he finally lands a small yet promising role that will soon prove how great of an actor he is.
We also met the wonderful fangirl named Ahn Jeong Ha (Park So Dam's character). Her determination and strength as a young individual keeps us cheering for her success in terms of her career in the beauty industry.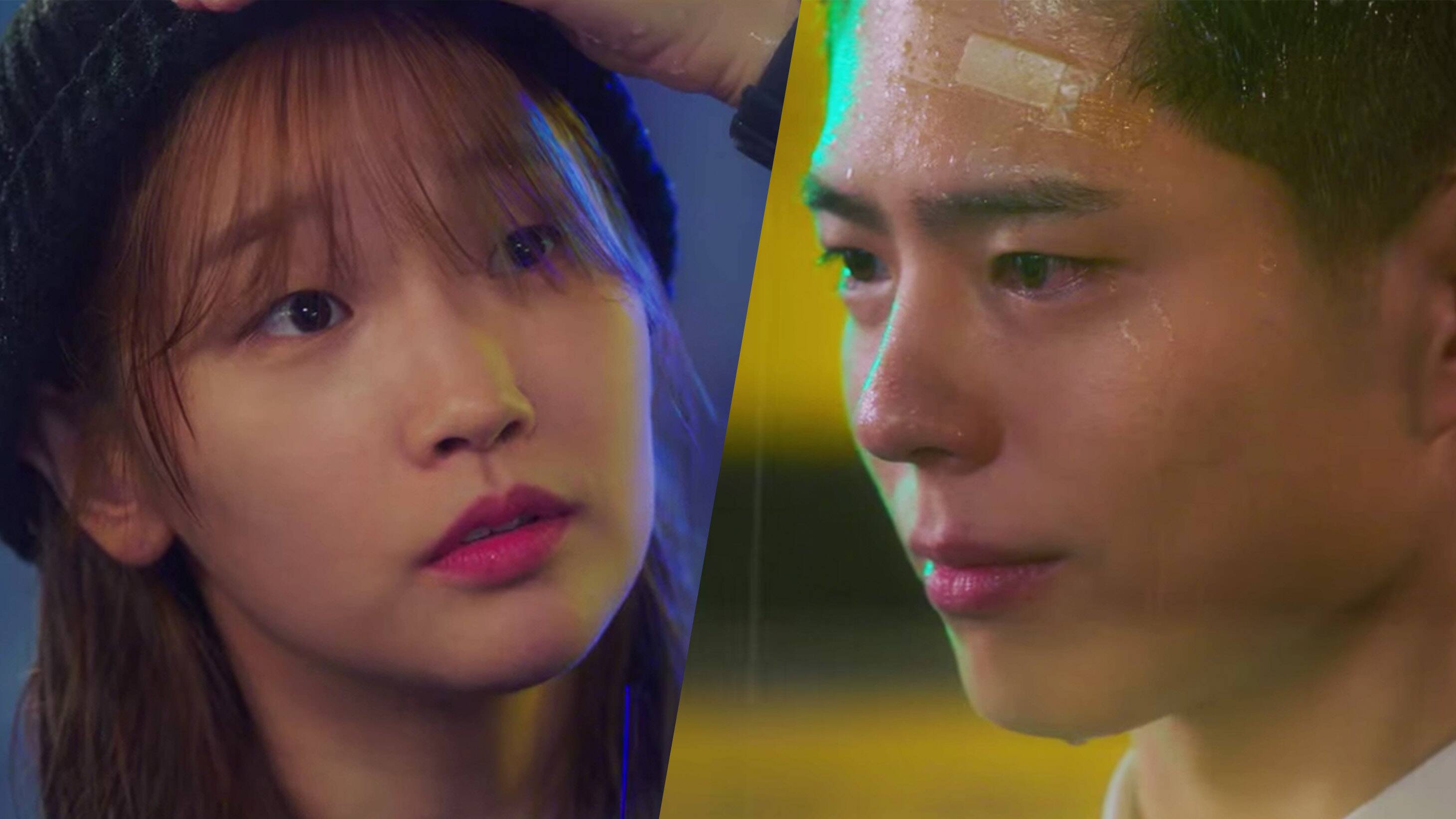 Episode 5 | Screenshots from Netflix
As the friendship grows between the fangirl and rising superstar, one can expect a fairytale-like story for the two. But when romance begins to grow, challenges are expected to come their way to test their relationship as friends and lovers.
While episode 5 and 6 gave us some ultimate kilig moments we hoped for, let's get into details with our Metro editors and special guest on our latest Metro K-Drama Round Up.
On the panel for this discussion:
Geolette Esguerra:
Metro.Style Editor-in-Chief
Kate Paras-Santiago:
Metro.Style Beauty Editor
Anna Rosete:
Metro.Style Living Editor
and
Leah Puyat:
K-drama Veteran
What do you like about the series so far?
Kate: It's not easy but it's definitely fun. It's a colorful world and I think the show depicts that well. It's so glossy but then you get to know the characters deeper—their struggles, their thoughts, and then at the same time, of course, grabe kilig! Like, in episode 5 and 6, ang ganda ni girl! How can I be you right now? But at the same time, we haven't been printing magazines for a long time, so we kinda see din the new age of this industry in this show. You see Park So Dam's character; she does makeup in the salon. But at the same time on her days off, she does vlogging on the streets of Seoul. When I saw that I was like, 'Wow. In Seoul pala there's like a lane where these young talents can showcase their talents online.' It's so entertaining to see.
Leah: I like that the show captures the whole spectrum of it. For the live events to the magazine shoots, to the online vlogging, it really captures all the angles of the industry—and even showing the senior modeling agency and their classes. I really appreciate that. Because there is a senior spending power that I think, finally, people are acknowledging that they do exist; and they're a strong viable market. You have the fashion stars like Iris Apfel, Elon Musk's mother (Maye Musk) who's had a long modeling career—I like that they show that part. Even if the title is 'Record of Youth,' it's not really just about the youth.
Anna: It's not just about youth. But then going back to the title 'Record Of Youth,' somehow the whole modeling in this whole industry keeps you young because of how fast it is. Like even us, next to our peers who have "normal jobs" I feel like—I talk to their kids who are 14-years-old, and they're like, 'tita, why do you know BlackPink and all that stuff?' and I'm like, 'because I need to make stories about them.' So there's this whole aspect that you have to be in the now, you have to be on trend, like it's your life. So I think that's why it's called 'Record Of Youth.' Like whatever content building that we make, it universally keeps you on your toes and keeps you young.
What can you say about the romantic development of Sa Hye Jun and Ahn Jeong Ha in the series?
Geolette: Were you anticipating that? Nagulat ako kasi ang bilis. I don't know if I got used to 'It's Okay To Not Be Okay' wherein super tagal.
Anna: For me it's episode 6 so it's about time.
Geolette: There's a process to it. The build up, the realization, and then the confession—the confession is important…
Leah: and the denial.
Geolette: The initial denial. But there's no way she could deny it because if you've been fangirling for years, then you become their friend, and no matter what you say na parang, 'No, I'm not a fan of you [anymore].' That's not true.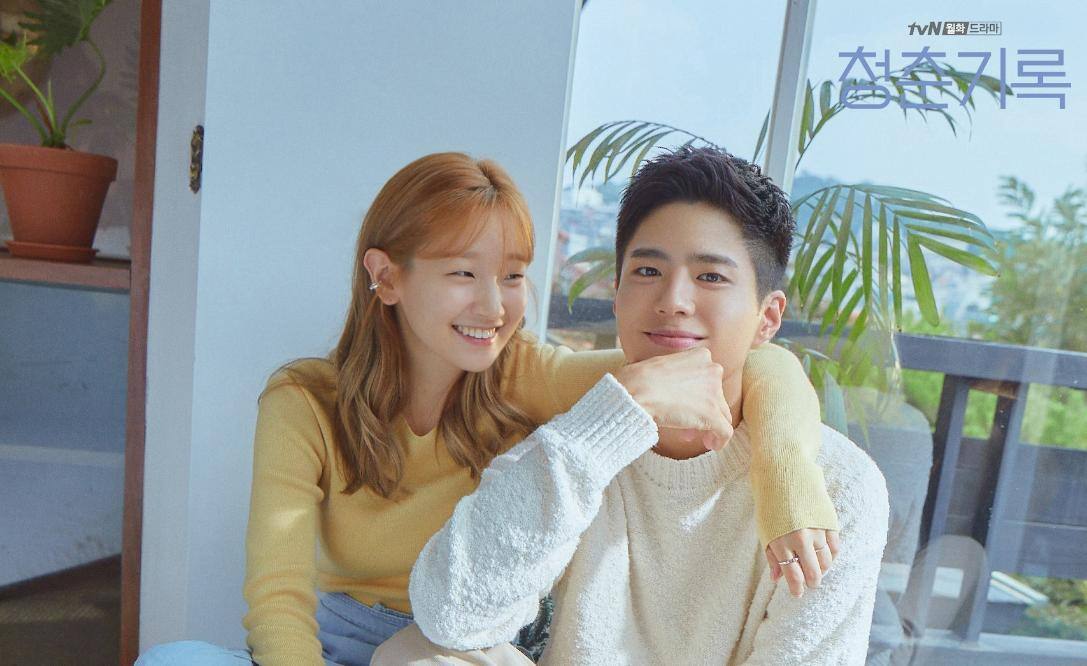 Sa Hye Jun and Ahn Jeong Ha in 'Record Of Youth' | Photo from IMDb
Anna: You will always want their interest.
Leah: She even gave herself a little pep talk. That was a cute little pep talk she gave herself, only to fall apart.
Geolette: That's why we like her as a character. Because she's so awkward and so natural about being a fangirl, about all her doubts, her issues also. She actually has a lot of issues. She's too guarded.
Leah: She's putting so many rules but she's always breaking her own rules.
Geolette: Yes! What she says is different from what she does.
Anna: I think what she says is typical of a person who's very burdened and trying to make her own life so parang, 'okay I need to focus.' But then, like what she does is also part of like, there's a friend now, so there's somebody to unload with in a deeper way than any other in her circle. So it's fascinating, actually. Like the dichotomy of what she is.
Kate: And if he (Hye Jun) is your friend, you would really word vomit like crazy. It's hard to stay composed.
Geolette: Yes! Because by nature of his character, he makes people feel at ease. Parang he's the one who'll be instant friends with everyone he meets. It's so natural for him.
What do you think about the relationship of Won Hae Hyo and Ahn Jeong Ha in the series?
Leah:
Her friendship with Hae Hyo is also cute. He's teasing her, 'you said when your fangirl life and real life meet, it's going to be chaos.' She goes, 'okay, tease me about that for a million years.' They also have a nice and easy camaraderie. They're also open to each other, and they also have a cute dynamics.
Geolette: And it's obvious that he's starting to like her. He's just starting to feel that tremors of jealousy, finding ways to be with her longer, and you know getting a little jealous when he sees Hye Jun.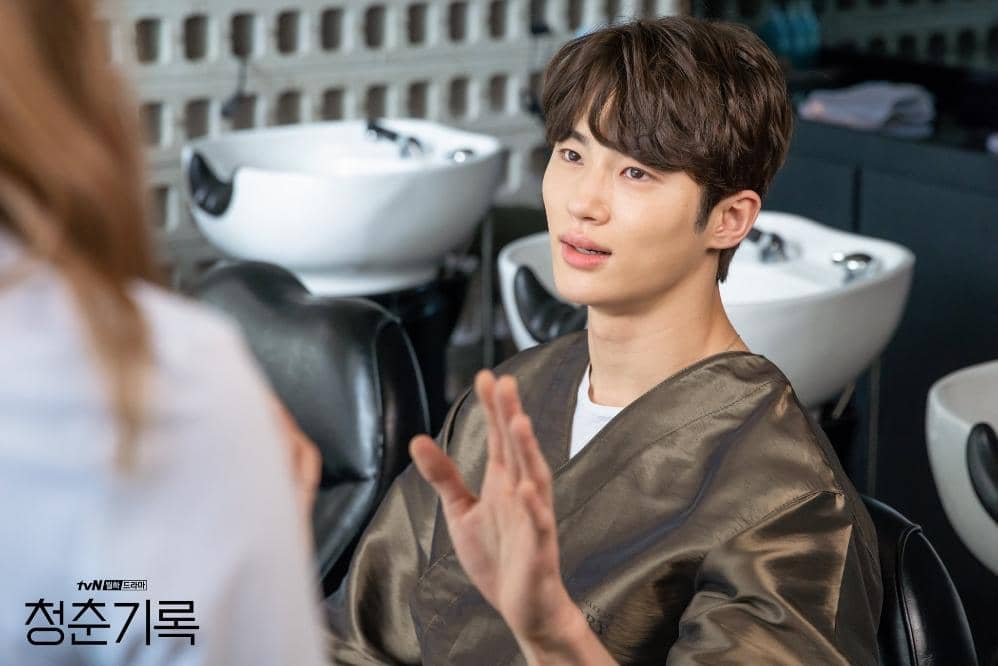 Won Hae Hyo in 'Record Of Youth' | Photo from IMDb
Anna: And he has that voice over, 'in the past, I made friendship win and not love. But I'm gonna change that now.'
Leah: The classic second lead syndrome. This is a very confusing second lead because he's so cute!
Kate: And he's so nice din!
Anna: It makes you feel concerned for him. Like you want Hye Jun to be successful at everything but at the same time, 'paano na siya?'
Sa Hye Jun seems so perfect. What do you think would be his flaw or pitfall?
Leah: His ambition will get in the way. I think there will come a pint when he has to choose between friendship, romance, family, and his desire to be a recognized actor.
Anna: He's a people pleaser, so I think that's his tragic flaw. He wants to be recognized by everybody so that will get him in trouble later on, I think.
Geolette: Yeah, because there was already some foreshadowing where he said, 'I should have, I should have…' so you wonder which frame is he coming from? What's the context of his realization and regrets?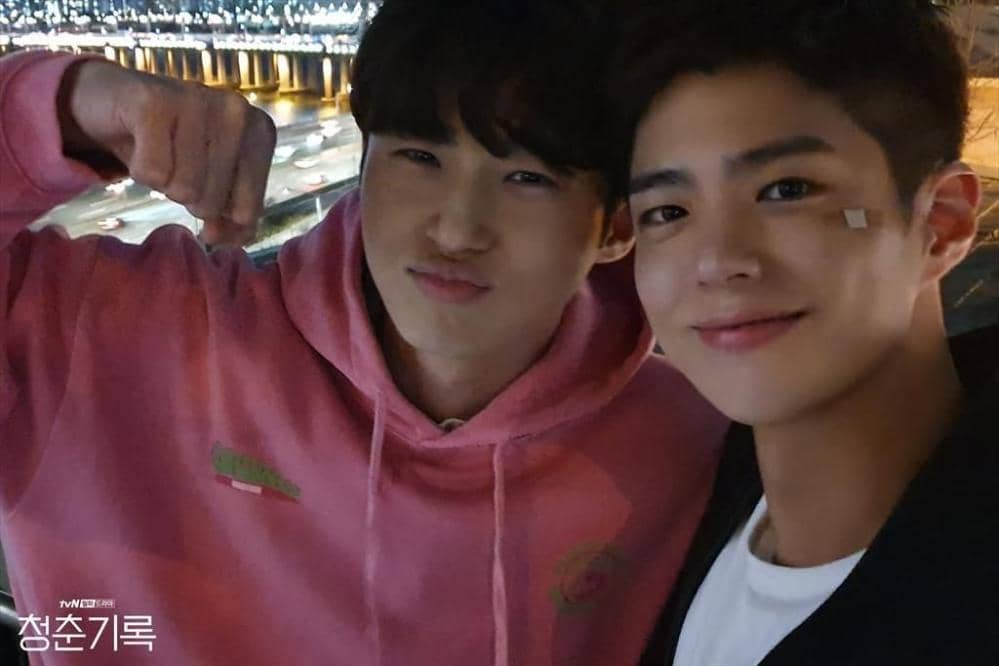 Hae Hyo and Hye Jun in 'Record Of Youth' | Photo from IMDb
Anna: And he also told Hae Ho, when our friendship ends, 'it's not because of money. It's because the loss of our innocence.' So there's already that seed planted and he knows that there's gonna be issues because they're in the same business, they have the same dreams, they grew up together, and then he even said, 'I was a fool to think that we were not competitors,' or like, 'I fooled myself saying that it was a virtue to say that it's not a competition.' I think it's a way of predicting that their careers will form some kind of wedge in their friendship.
Geolette: I think it's only natural because they're both starting out in a way, they're both new, and they're not leading man material yet. So they're both trying to strike it out in this industry. Same age and they're both male, so they'll be competing for the same roles. And at some point, they're really gonna want a role and the other one would get it.
Leah: And they both have mother figures backing them. Like Park Bo Gum's (Hye Jun) manager is good and she's got something to prove. And then his best-friend's manager is an ultimate stage-mom. So that could also be a showdown of the two women behind their career.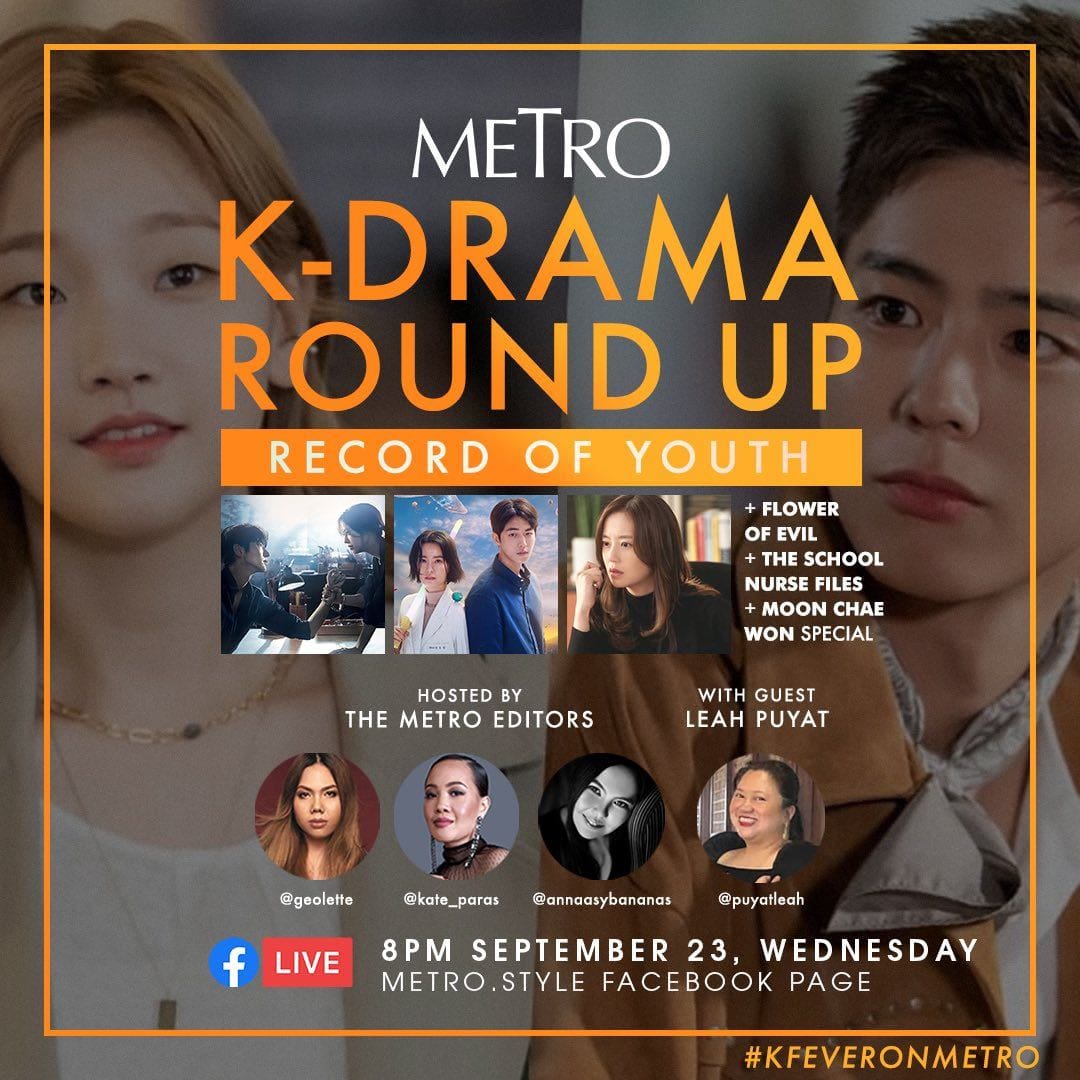 Watch the full episode of our Metro K-Drama Round Up on Record of Youth, here.
Stay tuned to our weekly Metro K-Drama Round Up on our Facebook page, every Wednesday night at 8pm.
Photos from Netflix and IMDb