Metro K-drama Round Up: Metro Editors Break Down Some Highlights From The First Episodes Of 'Record Of Youth'
Four episodes in, and we're already hooked on the characters of this latest K-drama obsession!
We know that it's just two weeks down from the first episode of Record Of Youth, but all the touching and relatable moments just make us want to savor every episode and cheer for the dreams that all the characters have come to achieve!

They say that the future belongs to those who dream, and to those who act upon their dreams with hard work and perseverance. And just like the main characters—as well as the supporting cast in this K-drama series, the process of achieving their aspirations take a lot of courage and faith on what they believe they deserve. But in the process of becoming, when is it really the right time to pause, reevaluate, and reinvent yourself?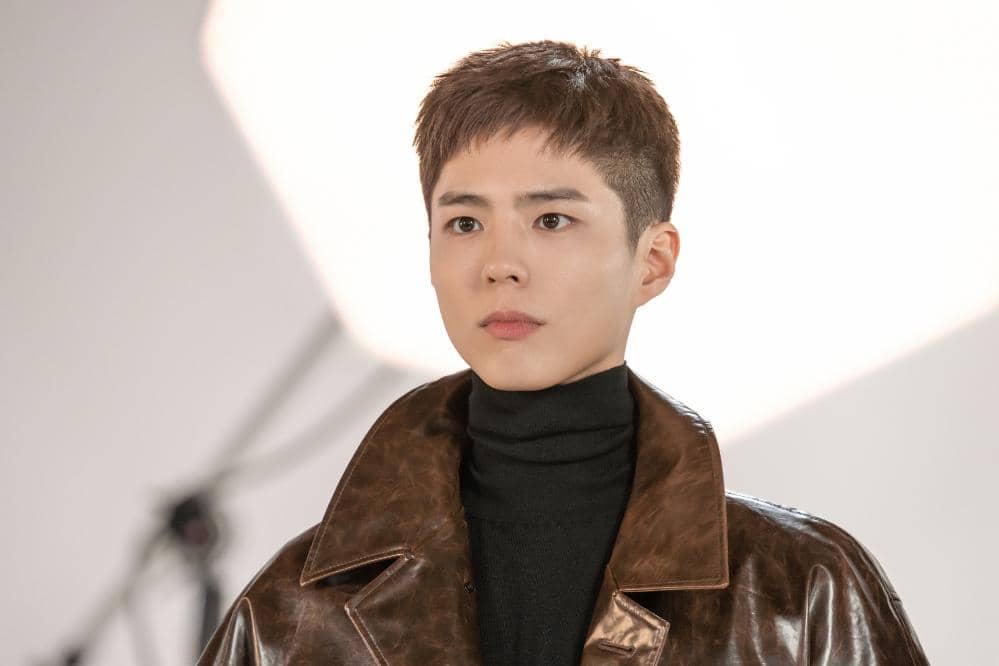 Park Bo Gum as Sa Hye Jun in 'Record Of Youth' | photo from IMDB
While this K-drama dwells on the beauty of finding one's purpose, we also love the fact that each characters embodies the different stages in life—from the youth's pursuit of growth and the adult's perspective on stability, we can't wait to learn more and be inspired by the characters as the weeks come along!
Before we move forward to the upcoming episodes, let's take a look at some of the noteworthy insights from our Metro K-Drama Round Up with our Metro editors and special guest, below!
Geolette Esguerra: Metro.Style Editor-in-Chief
Grace Libero: Metro.Style People Editor
Justin Convento: Metro.Style Culture Editor
Anna Rosete: Metro.Style Living Editor
and Leah Puyat: K-drama Veteran
What can you say about the 4 episodes of Record Of Youth, so far?
Leah: It's so human. They show family dynamics, friendship dynamics, there's even secret romance, and fangirl dynamics! But then it comes of so naturally, and comes of like all the characters are sympathetic. Even for example, the dad; even if he's nagging his son and his father, you can feel really that he's just worried. He knows how hard life is, so you can't really hate him. It's so well-rounded.
Anna: It's very relatable. It reminds me of friends who want to make it, or the people who've been there, and some of it myself. Like it makes me reflect on what I wanted to achieve when I was 26-years-old. It's a generation younger than my generation, so you think back to what you were doing then. I think it's a breath of fresh air to watch something like this. Because even the pace, it's not contrived or you know, parang you don't feel that it's also dragging either. It's good paced, and you can really concentrate, relate, and have time to think about what's going on in the show.
Grace: To add to that pacing—because I really like it also—I like how they really dwell on each moment. Like, the conversations are really long. For example, the conversation with Sa Hye Joon and his manager about signing a contract with her, and signing up for a project. [And his manager] It really suits her! Like, bagay sa kanya maging manager, she knows what to do, she knows the ins and outs, kahit na it's not really her job before. And then when Sa Hye Joon was drinking with Ahn Jung Ha, that was a really nice conversation as well. So I really like the pacing and I really try to just dwell on each moment.
Justin: I like the part where the manager's dreams were also kind of [touched on], she lit up when they were in Milan and she lit up of kind of really enjoying the process. She's like, 'I'm in love!' 'Are you in love with me?' 'No, I love doing this.' So it's not just about dreams of the youth, it's also reinvention, it's also finding things that you fall in love with, at whatever age you are. And that made me reflect also, because, I mean we've had dreams through many different phases of our lives, and it's just nice to know that there's still a lot more to discover…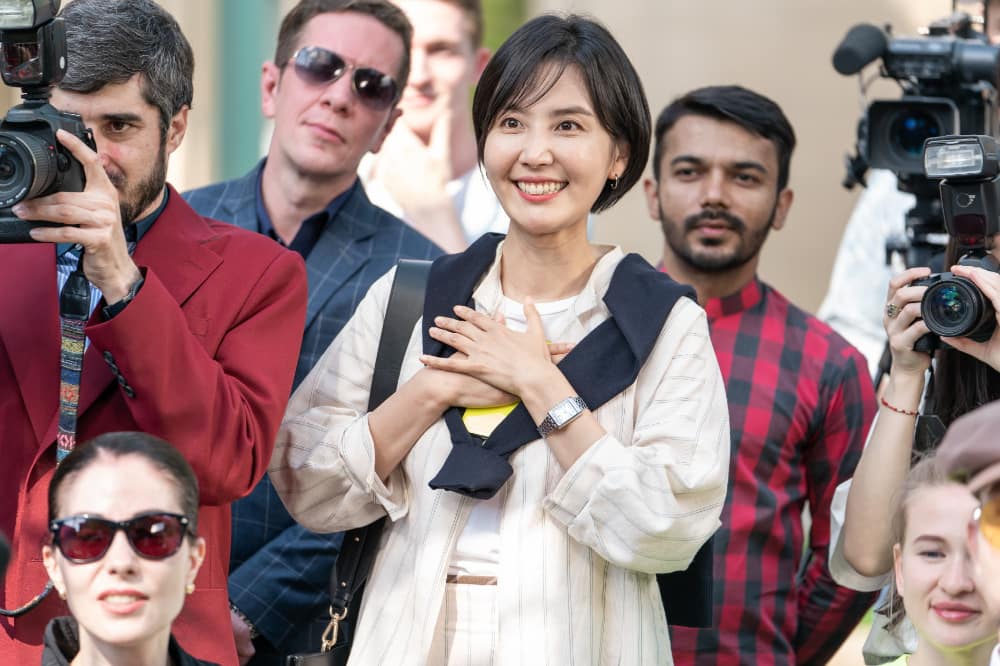 Lee Min Jae, Hye Joon's manager in 'Record Of Youth' | Photo from IMDB
Geolette:
Yes! That even in your 70s, your 80s, you can be a model…
Anna: Like the lolo!
Leah: I love him! I think he's my favorite character next to Park Bo Gum. I love his line, 'you guys are underestimating the power of good looks!' and, 'sometimes, losing is winning.' I love that. Because in life, you never know when the timing is right. You're sad about one thing, but in the end, it's the best thing that ever happened to you.
What are the insights you found moving in the first 4 episodes?

Geolette: So, you see different perspectives of the youth. Like, Park Bo Gum's character has a lot of theories and deep insights. But at the same time, we also had insight from the adults—the parents. Like, they have to pave the way for their kids, they have to do all these things. Plus they have these internal struggles as well. Plus, insights of the aged, the 60's and 70's, about their reflections on their life and what they still wanna do. Like his grandfather still wanted to work, and that's really surprising.
Leah: It's nice when he said, 'why do we only look at the money that parents give to kids? Why not the values? Why not the security? Why not the safety of a stable home?' For me, that was very striking. Because when you say inheritance, you think, 'what are the assets? What are the businesses?' But then, that was so insightful of his character to say that, 'I have stability because I have a happy home. My parents gave me good values.' So that was a nice insight form him.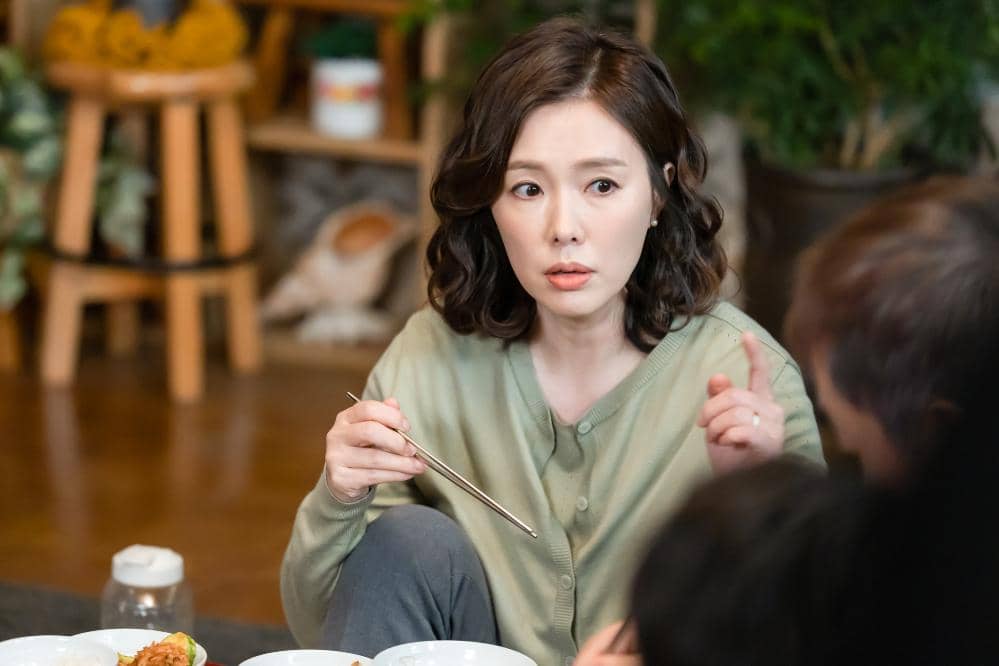 Han Ae Sook, Hye Joon's mother in 'Record Of Youth' | Photo from IMDB
Grace: And in relation to that, I like how the mom of Sa Hye Joon had sort of an eye opener when she realized how her boss—diba she works for the mother of [Sa Hye Joon's] bestfriend, na parang even though she's kind of mean, you cannot discount the fact that she supports her kids talaga. She realized na she should be doing the same for her son. Kasi it's not really all about money, it's not all that kind of financial support, diba? It's really about the values and how you stand up for your kids, and support them with all their endeavors.
What can you say about Ah Jung Ah, Park So Dam's character as a fangirl?
Geolette: There's a lot of meta in that. Not just with us, but for a lot of people who are watching are also fan girls of Park Bo Gum and K-dramas in general. It is really something that doesn't just entertain you, but it gives your life a different dimension as well, because you see it from a different lens. Like, if you're a BTS fan, the songs are more meaningful, and then when you apply different contexts, you see different meanings, right?

Leah: She's a level-headed fangirl. She knows how to draw the line. Like she will say, 'yes, it's exciting to be a fangirl. But when fantasy and reality come together it will be one big mess.' So she's also level-headed about it.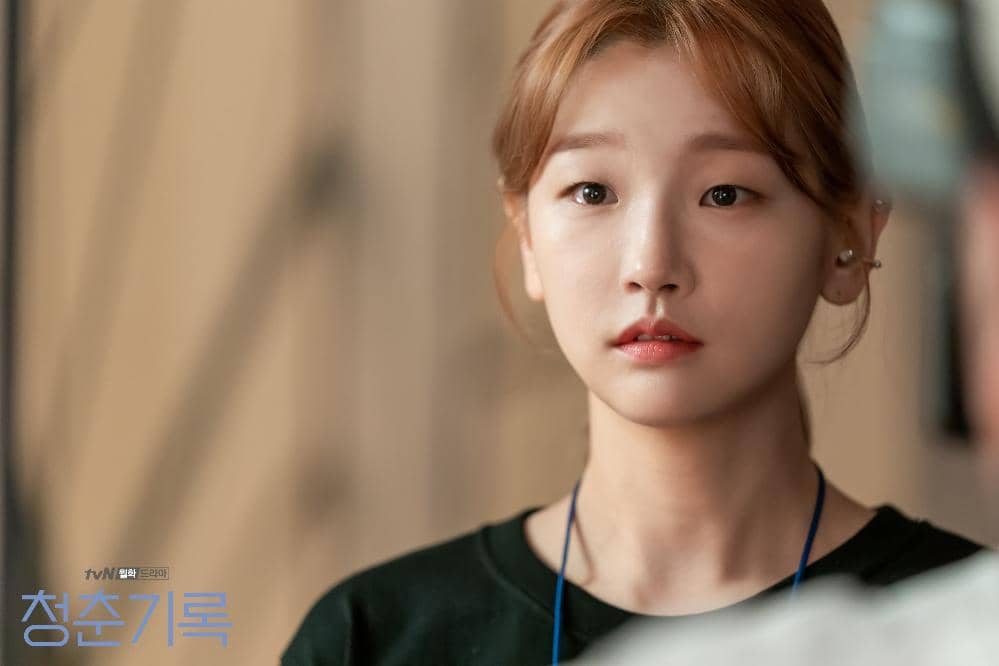 Ah Jung Ah in 'Record Of Youth' | Photo from IMDB
What are your favorite quotes from the first 4 episodes?
Leah: I like the one when of course, Park Bo Gum's character also has a part-time job, and then the manager is trying to recruit him saying, 'hey, this is a more stable career. Take my advice.' And he's so polite about it but he goes, 'But when people give advice, it's usually for their own selfish interest.' And I like also what the ex manager had said, 'he doesn't even have a fan community. Fandom is power.' It's so relevant to pop culture now, because you can translate that to followers, right? Like us in the media, the media landscape has changed. And now, even media needs fandom in the form of followers.
Grace: I also like the 'it takes courage to give up.' And then the manager also said, 'the present shows a small glimpse of your future. The present will be your future. If you don't change now, your future won't change.' So parang it's in a way saying na the decisions you make now, of course, impact your future. So you have to make the right choices, and you really have to think about what you're gonna do next. And, 'fangirling is therapeutic.' Gusto ko 'yun talaga.
Geolette: That should be on a T. shirt! I also like in the 4th episode, the class theory about the golden spoon and the dirt spoon, and that money is the origin of that theory. Like, whatever you get from you parents, that's who you are. But then he said, 'how about honesty? Sincerity? How about those values?' the motivation of his success is also their poverty of his parents, right? So he wants to debunk all of that, while still keeping his values. I mean, he didn't wanna sit in the back because he's like, 'that's not who I am. I'm not gonna pretend to be a big shot.'
But when people give advice, it's usually for their own selfish interest.
The present shows a small glimpse of your future. The present will be your future. If you don't change now, your future won't change.
What are your favorite moments so far?
Justin: The agent figuring out her new role in life and finding fulfillment in that. Like she went out on the limb to really make that show happen for him, even after he said that he's gonna enlist in the army. So that for me was very memorable.
Geolette: Mine is a super kilig moment. I don't know why I love it so much but it's that part when Park Bo Gum said, 'Who are you really a fan of?' So I kept wondering, did he realize that? So it was such a great moment because all the while he thought that she likes his friend. So I wonder, what totally gave her away?
Leah: When she opened her laptop and all the files were his fashion shows, his editorials…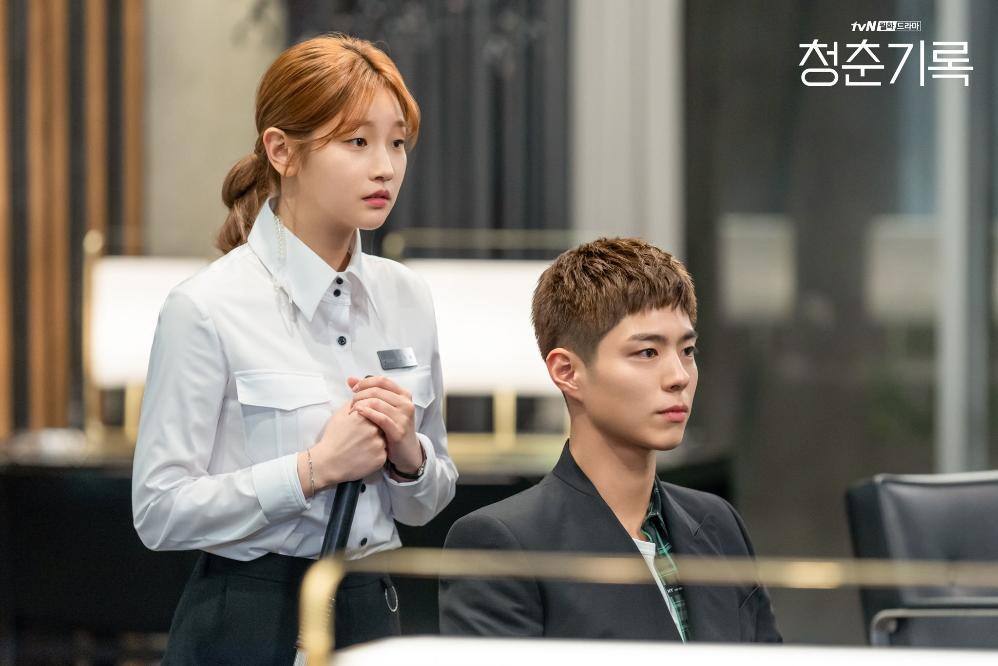 Ahn Jung Ha and Sa Hye Joon in 'Record Of Youth | Photo from IMDB
Geolette: And she's like, 'No, no! Wrong file. Not that one.'
Leah: I like when she got drunk and then she just like let it all out, and she was just patting her on the head. The classic K-drama patting on the head. It's such a cliché already, but I like that scene. Because she's always so tough, she's such a badass,. But there, she really showed her vulnerable side, and he was so sweet in that moment—classic fangirl moment.
Geolette: And you really start to see that he's starting to like her, but it's not the typical instant love like we see. Like she does something then immediately see it in his face that, 'oh, she's the one for me.' So it's like, he's really developing a very good friendship with her.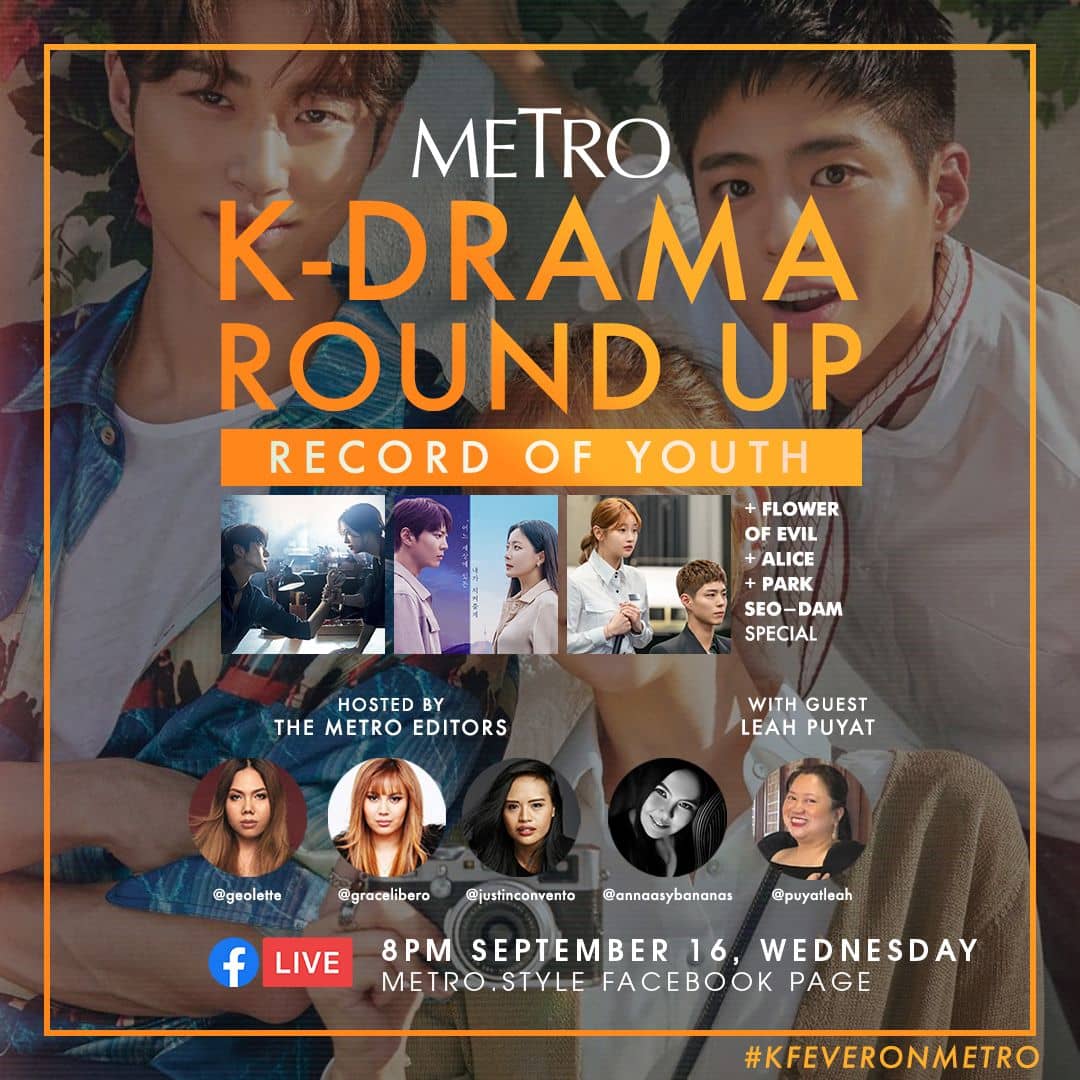 Watch the full episode of our Metro K-Drama Round Up on Record of Youth, here.
Stay tuned to our weekly Metro K-Drama Round Up on our Facebook page, every Wednesday night at 8pm.
Lead photos from IMDB and Unsplash