6 Reasons To Watch The Romance Drama 'Run-On'
Seven episodes in, we're loving this new series on Netflix starring ZE:A's Si-wan, Shin Sae-kyeong, Girls' Generation Sooyoung, and 5uprise' Kang Tae-oh!
An unlikely love story and unlikely professions greets you in Run On, a romance drama about people coming together after living in different spheres of life. The plot focuses on track and field athlete Ki Seon-gyeom (Yim Si-wan), film translator Oh Mi-joo (Shin Sae-kyeong), accomplished heiress and girlboss Seo Dan-ah (Choi Soo-young), and art student Lee Yeong-hwa (Kang Tae-oh).
Ahead of the premiere, Director Lee Jae-hun and the main cast got together to discuss the drama at a press conference.
With seven episodes in, check out some reasons to tune in to Run On below!
1. Eccentric But Loveable Characters

The lead actors revealed that their characters have zany sides to them. Choi Soo-young shared, "The characters are a bit crazy, but they have good intentions." She added that her character Dan-ah who is very smart and ambitious, thinks she's the most normal of the bunch. Choi Soo-young also complimented Shin Sae-kyeong's character saying, "I fell in love with the characters enough to say that Oh Mi-joo is my favorite female lead."
Shin Sae-kyeong explained more about her character saying, "She's very confident, but she does encounter some embarrassing situations after coming to like someone. My character is a cute and wacky character."Likewise, Yim Si-wan added, "Ki Seon-gyeom is not an ordinary character. Sometimes he's very four-dimensional and unable to converse with the person next to him." With such curious characters, we can look forward to many entertaining situations!
2. Lots of Film References

Because the character of Oh Mi-joo (Kim Sae-kyeong) is a translator, they often talk about films and there are a lot of film and literary references that you'd love to spot. From the beauty of the long takes and mise en scène of Andrei Tarkovsky's The Sacrifice and Stalker, to Bong Joon-ho, to John Wick, to discussions on translating metaphor-driven non-linear movies and the work of a movie translator. Most of these happen around Mi-joo as she is quite passionate about her work, and we could imagine that this will play a big part in the development of the story later on.
3. Great Conversations between the Gyeom-Mi Couple
Gyeom-Mi is the cute couple nickname for Ki Seon-gyeom and Oh Mi-joo. The pair have a chance encounter and continue crossing paths. Seon-gyeom helps out Mi-joo during their first few meetings, and a delightful romance ensues. Shin Sae-kyeong said, "Seon-gyeom and Mi-joo's conversations are really great. They're quite long and you can see how their love blooms." Yim Si-wan noted, "Seon-gyeom becomes disarmed when he speaks with Mi-joo. I want to cheer on Seon-gyeom and Mi-joo's relationship, and I hope they can meet often."
4. Opposites Attract, As Seen in the Dan-hwa Couple

Similarly, Seo Dan-ah and Lee Yeong-hwa's couple nickname is Dan-hwa. Kang Tae-oh shared, "Our couple is the opposite of the Gyeom-Mi couple. The Gyeom-Mi couple is sweet, but it feels like our couple is precariously walking on a tightline." Choi Soo-young added, "He's a university student and my character is older, so you would think Dan-ah would have the upper hand but somehow Yeong-hwa always wins. You'll see an unexpected side of Tae-oh." Director Lee Jae-hun also shared, "While the Gyeom-Mi couple is cute and lovely, the Dan-hwa couple is upbeat and refreshing."
5. Memorable And Relatable Lines

The director and cast were unanimously impressed by Writer Park Si-hyeon and shared some of their favorite lines from the script. Yim Si-wan commented, "The conversations and lines are really similar to what we say in the real world, and I found that really appealing." Kang Tae-oh gave an interesting description saying, "When I first read the script it felt warm and sweet-and-sour."
We can get a glimpse of how strong and confident Dan-ah is through Choi Soo-young's favorite line "The only thing I'm not good at is what I don't do." Shin Sae-kyeong shared a relatable quote from her character saying, "Do you believe in destiny? I believe in handsomeness." It looks like we can look forward to some strong and very interesting characters!
6. You'll Be Comforted And Entertained

Director Lee Jae-hun talked about his conversation with Writer Park Si-hyeon about how a drama should entertain and move viewers' hearts. Choi Soo-young acknowledged this and said, "The drama has a good message for young people."
She added, "Each character has a different occupation, but they're all able to meet as their lives cross paths. Their jobs are all very interesting and they have different chemistry with each character."
Kang Tae-oh asked viewers to look forward to "fun parodies you can enjoy'' as well. Lastly, Yim Si-wan noted that when he "monitored and watched the drama he felt his heart become more comfortable."
In conclusion, the director and cast relayed their hopes that Run On will provide a little bit of relief for viewers from these difficult times.
Check out the photos from the Run On press conference below!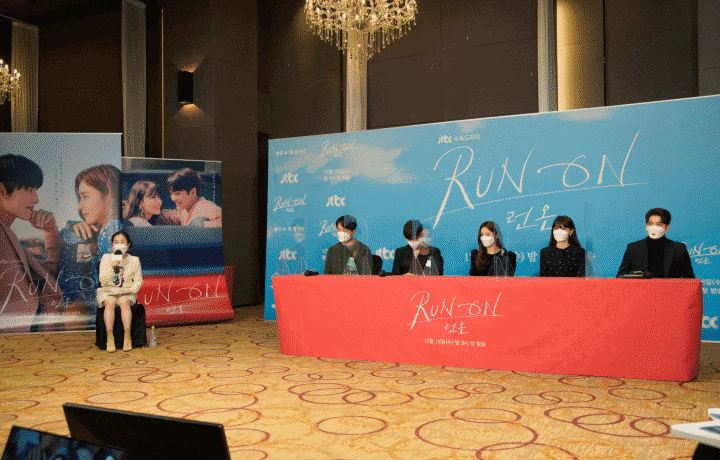 Photos From Run On Press Conference
Photos From Run On Press Conference
Check out Run On now streaming with new episodes every Wednesday and Thursday, 10:00PM Philippine time, on Netflix!
---
All photos courtesy of JTBC and Netflix