Step Into the Electrifying World of 'Army of the Dead'
The zombie heist's stars, Dave Bautista and Ella Purnell, take us behind the scenes of this exhilarating film and share just what it was like working with the legendary Zack Snyder
Lock and load it because in the upcoming Netflix film, Army of the Dead, zombies are running wild in Vegas… and it's all sorts of brilliant. In the film, viewers say goodbye to the cliches of zombie movies past and slow, monotonous storytelling because Zack Snyder's Army defies that, and does so much more.
For one thing, it combines two genres—zombie and heist, which are typically not imagined together—into a truly epic story. Snyder makes it wonderfully engaging and thrilling, even for those who aren't big fans of either genres, myself included. The film has everything you're looking for, as well as things you aren't looking for, as no detail is too small—definitely delivering on the wow factor and giving viewers a definitive summer blockbuster, right at home.
Arriving on Netflix on May 21, Army of the Dead takes place following a zombie outbreak that has left Las Vegas in absolute ruins and walled off from the rest of the world. When Scott Ward (Dave Bautista), a displaced Vegas local and former zombie war hero, is approached by casino boss Bly Tanaka (Hiroyuki Sanada), it's with the ultimate proposition that can change his life: Break into the zombie-infested quarantine zone to retrieve $200 million sitting in a vault beneath the strip—all before the government nukes the city in 32 hours.
Warning: slight spoilers ahead!
Ward is driven by hope that the payoff could help pave the way to a reconciliation with his estranged daughter Kate (Ella Purnell)—or at least provide her with a better life, whatever that would look like. He takes on the challenge and assembles an odd, ragtag team of experts for the heist that include: Maria Cruz (Ana de la Reguera), an ace mechanic and Ward's old friend; Vanderhoe (Omari Hardwick), a zombie killing machine with whom he goes way back; Marianne Peters (Tig Notaro), a cynical helicopter pilot), Mikey Guzman (Raúl Castillo), a go-for-broke YouTuber and influencer, Chambers (Samantha Win), Guzman's ride-or-die; Martin (Garret Dillahunt), Mr. Tanaka's head of security; Coyote (Nora Arnezeder) a badass warrior who sneaks people in and out of the quarantine zone, Burt Cummings (Theo Rossi) a slimy security guard, and Dieter (Matthias Schweighöfer), a brilliant German safe cracker. As if the challenge wasn't tricky enough as it is, Kate joins the expedition into the strip to search for her friend, a mother-of-two, Geeta (Huma Qureshi) who's gone missing inside a city. With a ticking clock, a notoriously impenetrable vault, and zombies that are smarter and faster than anything you've seen before, only one thing is for sure in the greatest heist ever attempted: survivors take all.
Watch the trailer below:
With so much at stake, it isn't surprising that the undead in Snyder's latest (and arguably, greatest) zombie film cause a number of casualties... especially when you consider the zombies in this flick are total Alphas: intelligent, fast, and incredibly strong. Army of the Dead is unlike any zombie film you've seen before... it's better.
It's worth the watch, if not for the story, action, and great ensemble of characters, but to see Snyder's reconnection to cinema, creating a summer blockbuster hit that viewers will find so easy to escape into. In a press conference with the APAC region, Snyder revealed: "Doing these giant superhero movies, you get further and further away from the camera. And for me, just shooting the movie and operating the camera gave a sort of reconnection and joyous experience. So, [while] I had a great time doing Dawn [of the Dead], this was really kind of my favorite and one of my favorite sort of cinematic processes. The process of making this film was incredibly satisfying."
Ahead of its release on Netflix next week, Metro.Style spoke to Army of the Dead (AOTD) stars Dave Bautista and Ella Purnell on what it was like working on the film together, as well as with the Zack Snyder at its helm.
When asked on what it was like to breathe life into the character of Scott Ward, some of the elements of himself he saw mirrored in the character (and vice versa), and the challenges that arose from that endeavor, Dave Bautista (Guardians of the Galaxy, Avengers, Blade Runner 2049) admits that it wasn't easy for several reasons. "You know, it's weird, because I don't have a theatrical background and I didn't spend years at drama school. So, a lot of my acting is true… I draw from experiences. And sometimes, it's kind of painful," he revealed.
"So, it's not always easy, but it's also… one of those things where it's like, to me, that's true performance—that range of performance is something that not everybody can accomplish. And that's also something that's very unexpected from a person of my stature. Some people, you know, would look at my physicality and never expect that, you know, I would be an emotional person, which I am! I absolutely am, I am a very loving and very emotional person. I'm so Filipino," Bautista laughed.
"But it really, you know, it really comes across and I'm a very passionate person. And I want to express that so you know that about me because I don't want to be a stereotypical action hero. I want to be somebody who has a heart because I want people to be able to relate to me and empathize with me. And sometimes it's just hard to do when you're a large stature, muscular person. So, I truly try to dive into those [kinds of challenging roles.] And sometimes, you know, again, it's just not the easiest thing for me. One, because I'm still learning as an actor, and also because I draw on from real experiences," he shared.
To prepare for his role and making sure chemistry worked on set, Bautista half joked that he is the most unprepared person ever, knowing full well how it sounded, but explaining shortly after just why. "I learned this from [early on in] my career from an actor named Tomorrow Morrison. And he said, the best way to go to a set is to be unprepared because if you go too prepared and you go rehearsed, then you're not going to be malleable, and you need to be malleable… You may see this scene one way or the other actor may see it, another director may see it a completely different way. And if you're all stuck on different pages, then there's going to be no chemistry, you're all going to clash. So the best thing to do is be a little open minded, unprepared. Know your lines, be professional, but don't be married to a particular way in which you see this scene being played out because you need to be able to connect with the people you're working with. And you need to be flexible and malleable. And also, sometimes directors just want different options. They want you to do things in different ways, so they have options to edit from, because there's always things that are going to come before and things are going to go after. They want to play with the tone of performances. So I never generally prepared for, you know, for things like that in a particular way. I just like to be open minded and coachable and naive," he shared.
What I found wonderfully touching, surprisingly, was the film's focus on the father-daughter relationship between Bautista's Scott and Purnell's Kate. "It was those performance scenes [that] were intimate and required me to act that were challenging," Dave shared. "Which is why I'm still very much in love with [acting.] I love that I feel challenged by acting and performing on that level. I love it. I can't wait for my next project. It's always like, 'I can't wait to work.' And, I want to work because I want to become a better actor."
In the film, Ella Purnell (Miss Peregrine's Home for Peculiar Children, Churchill) displays such tenacity as Kate Ward, a volunteer at the refugee camp, that you can't help but feel a pull towards her character. Army is a different project for Purnell, but she shines quite bright in it, no less. In our interview, she shared that despite not being a fan of the zombie genre, she went for it anyway for two reasons: Zack's passion for the movie and Kate's relationship with her dad. "I wanted to try something different and do something new. And this movie didn't have any of the stereotypes or cliches that I associated with zombie films. It was actually really funny, and it had heart and it was emotional and fun," she smiled.
"It's set in Vegas... and it's super unique. And I kind of thought, I want to be involved with this new genre of zombie films that I think is happening right now where it's, you know, it's less cliched and more, there's more depth to it. I wanted to do something different. And so I went for a zombie heist action movie. I don't regret it because I had a really good time. And I learned skills. I learned how to utilize my body in a way that I never had to do before. I learned how to use a gun and do things with it. And I had a really good time! Maybe I'll be back," she teased.
Purnell had a lot to say when asked what it was like working with Bautista. "Dave is a fantastic actor. It was actually a real pleasure to work with him; he has got so much emotion behind his eyes. And he's so nuanced in what he does, which, you know, looking at the guy, you wouldn't expect him to have such depth but he you know, he is wonderfully sensitive, " she revealed.
"And a fantastic leader as well, you know, there are days on that shoot that we had long days. You know, we're doing a lot of tough action sequences and long days, and everyone's carrying heavy stuff, you know, it's not always comfortable. And sometimes team morale got quite low. But he did a really good job of gathering the troops and lifting everyone's spirits and making sure everyone's okay, and standing up for people. I think that it shows in the movie as well, like we are, we are a really tight knit ensemble," she shared.
Before finishing our interview, Purnell went back to Zack and why he is one of the main reasons why she wanted to do the movie in the first place. "I loved his energy. And I love the ideas that he had and the creativity and just so passionate. He is a master of the genre. To the point where like, I mean, he's such a zombie nerd and he's so good at it and he pays attention to every tiny detail," she smiled.
"But more than that, I really liked the way that he worked. You know, he allows actors to improvise and he's very hands on. He's always standing there with a camera in his hand. You don't know, and you just have to be ready, and he'll catch like little moments that are happening impromptu. I think that shows up in the movie. You know, it's very raw. It's very real," Purnell shared.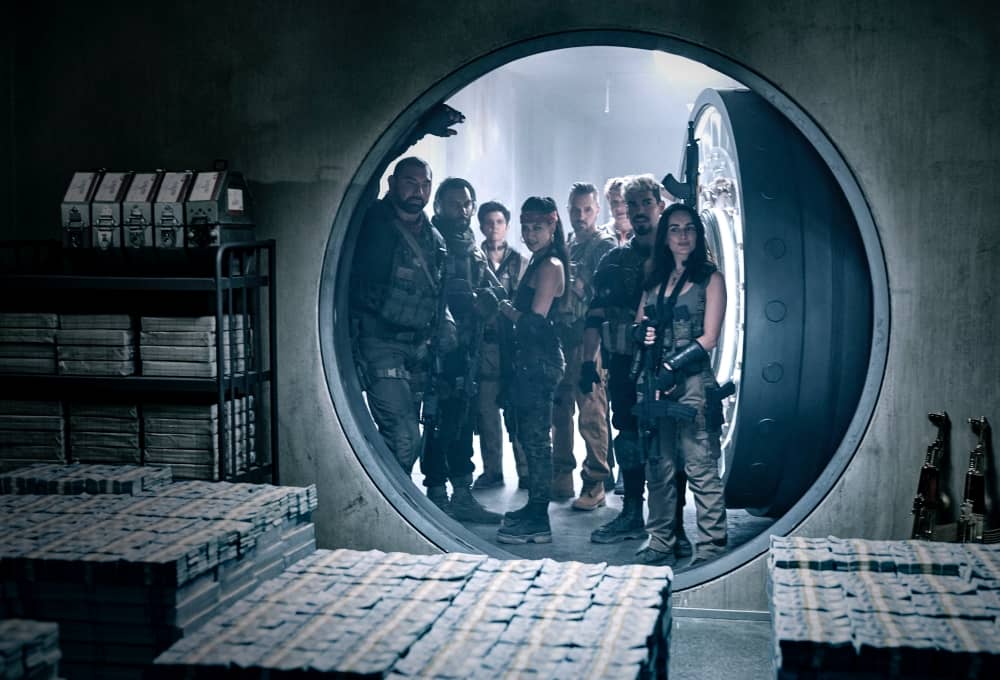 First Look at 'Army of the Dead'
First Look at 'Army of the Dead'
Army of the Dead has yet to arrive on screens but already an animated prequel is in the works, as well as a potential TV series sequel, so viewers can already gear up and mentally prepare for the AOTD universe to further expand.
All bets are off as Army of the Dead arrives on Netflix on May 21. Will you be streaming the zombie heist film?
---
All photos and screen caps are courtesy of Netflix