Here Are 20+ of the Best Movies on iWant
Everything from indies, mainstream hits, restored classics, and originals
Growing up, the TV in my room was frequently set to three channels: Disney, Nickelodeon, and PBO—Pinoy Box Office. Alongside my daily dose of That's So Raven, Lizzie McGuire, All That, and The Amanda Show was Sharon Cuneta's entire filmography, which, because of the channel, I had completed seeing by the age of 15. Like Maine Mendoza, I loved "cheesy Tagalog movies from the nineties," such as DoReMi and Honey, My Love, So Sweet, and I still get looks from people whenever I talk about how much I loved Kadenang Bulaklak and Wanted: Perfect Mother.
Imagine my delight, then, when iWant was relaunched in 2018 and it had become a "healthy archive" of the old, classic movies that I grew up watching. Formerly known as iWant TV, the streaming platform used to be exclusive to Sky Cable subscribers or those who had an ABS-CBNmobile sim card. There would be reruns of past episodes of select ABS-CBN shows, like Be Careful With My Heart or On The Wings of Love, as well as little specials that were only accessible to its members, like Forever and More, a retelling of Forevermore starring Liza Soberano and Enrique Gil.
Today, iWant offers currently airing teleseryes like Starla and the invincible Ang Probinsyano, as well as old favorites like Maging Sino Ka Man and Tayong Dalawa. Its heart is in its film repertoire, though, which has everything from three Darna movies (Vilma Santos', Nanette Medved-Po's, and Anjanette Abayari's, in case you were wondering) to digitally restored classics and award-winning indie films to box office hits. Below, we've rounded up 17+ of the best movies on the platform.
Ekstra (2013) dir. Jeffrey Jeturian
In her first foray into indie films, the Philippines' Star For All Seasons Vilma Santos plays the farthest thing from her: a bit player in teleseryes. As Loida Malabanan, she works long hours and gets paid very little, but she cherishes the moments in which she gets to meet her favorite movie stars. Ekstra shows the grim realities of filmmaking and television-making in the country, from the unfavorable treatment of extras to the hierarchy of power that operates within the system.
Sa North Diversion Road (2005) dir. Dennis Marasigan
Sa North Diversion Road, a film adaptation of Tony Perez's play of the same name, features two seasoned film actors, Irma Adlawan and John Arcilla, as they play ten different couples going through the same scenario: as they ply the North Diversion Road (now known as the North Luzon Expressway), the wife finds out about her husband's infidelity. In one vignette, she cries; in another, he does. They argue, they scream, they suffer in silent. The film is often hailed as a masterclass in acting, thanks to its leads, but it also works as poignant commentary on the aftermath of an affair.
Changing Partners (2018) dir. Dan Villegas
Another stage-to-screen adaptation, Changing Partners stars Agot Isidro, Jojit Lorenzo, Anna Luna, and Sandino Martin. Based on a musical with music by Vincent de Jesus, the movie tackles the universality of love and shows this through Alex and Cris' relationship, who are interchangeably played by the rotating cast. The stage version has played to critical acclaim, as does this adaptation, winning all the awards it was nominated for at the 13th Cinema One Originals Film Festival.
Heneral Luna (2015) dir. Jerrold Tarog
Heneral Luna marked a shift in the way Filipinos received movies. The dichotomy between mainstream and indie began to blur, and when there came news that Heneral Luna began to play to 70 cinemas (as opposed to 100), Filipinos on the internet were upset. The film earned a total of Php 256 million, and its sequel, Goyo: Ang Batang Heneral was received just as warmly, both commercially and critically. Heneral Luna tells the story of Antonio Luna's leadership of the Philippine Revolutionary Army during the Philippine-American War and it stars theatre and character actor John Arcilla.
Lorna (2014) dir. Sigrid Andrea P. Bernardo
In Lorna, Shamaine Buencamino plays the titular role, a 60-year old woman in search of love, and finding it in the most unexpected of places. This dramedy first premiered at the Cinema One Originals Film Festival in 2014 and includes a joyous portrayal of middle-aged life, with one's best amigas right next to her doing Zumba, and various men to love (and make love to).
Ang Larawan (2017) dir. Loy Arcenas
Yet another adaptation, Ang Larawan is the film version of Bienvenido Lumbera and Ryan Cayabyab's stage musical of the same name, further adapted from Nick Joaquin's A Portrait of the Artist as Filipino. Starring Joanna Ampil and Rachel Alejandro as sisters Candida and Paula Marasigan, Ang Larawan explores what it really means to be Filipino in an ever-changing world.
It Takes A Man and a Woman (2013) dir. Cathy Garcia Molina
What does it say about Filipinos' filmgoing culture when its lone and most successful movie trilogy is in the form of a romantic comedy? (Personally, I love it.) In the final installment of Miggy Montenegro and Laida Magtalas' romance, John Lloyd Cruz and Sarah Geronimo play a grown- and broken-up version of the characters that their fans last saw in 2009's You Changed My Life. The film is bright, both in tone and in coloring, even as some scenes are not. It's the story of a breakup, but also of reconnection and forgiveness, with an adorable ensemble cast to boot.
Anak (2000) dir. Rory Quintos
Until today, one of the most iconic scenes in Philippine cinema remains to be Vilma Santos' monologue in Rory Quintos' Anak, a family drama about a mother who flies and works abroad in order to give her children a better life. When she returns, they welcome her coldly. A young Claudine Barretto plays Carla, who repeatedly challenges her balikbayan mother's authority because she believes that her mother abandoned her and her siblings. A stapled in Filipino and film syllabi everywhere, Anak was the Philippines' submission to the 73rd Academy Awards for Best Foreign Film.
Paano Kita Iibigin (2007) dir. Bb. Joyce Bernal
Regine Velasquez and Piolo Pascual star in this Joyce Bernal romance drama as Martee and Lance, two individuals who meet at a resort in Zambales, but have unknowingly met prior—on the phone, just before Martee gets fired from her job as a call center agent. It's the classic story of two people meeting, clashing, then slowly understanding each other and falling in love. Velasquez proves her capabilities as a leading lady opposite longtime movie heartthrob, Pascual.
Anything by Antoinette Jadaone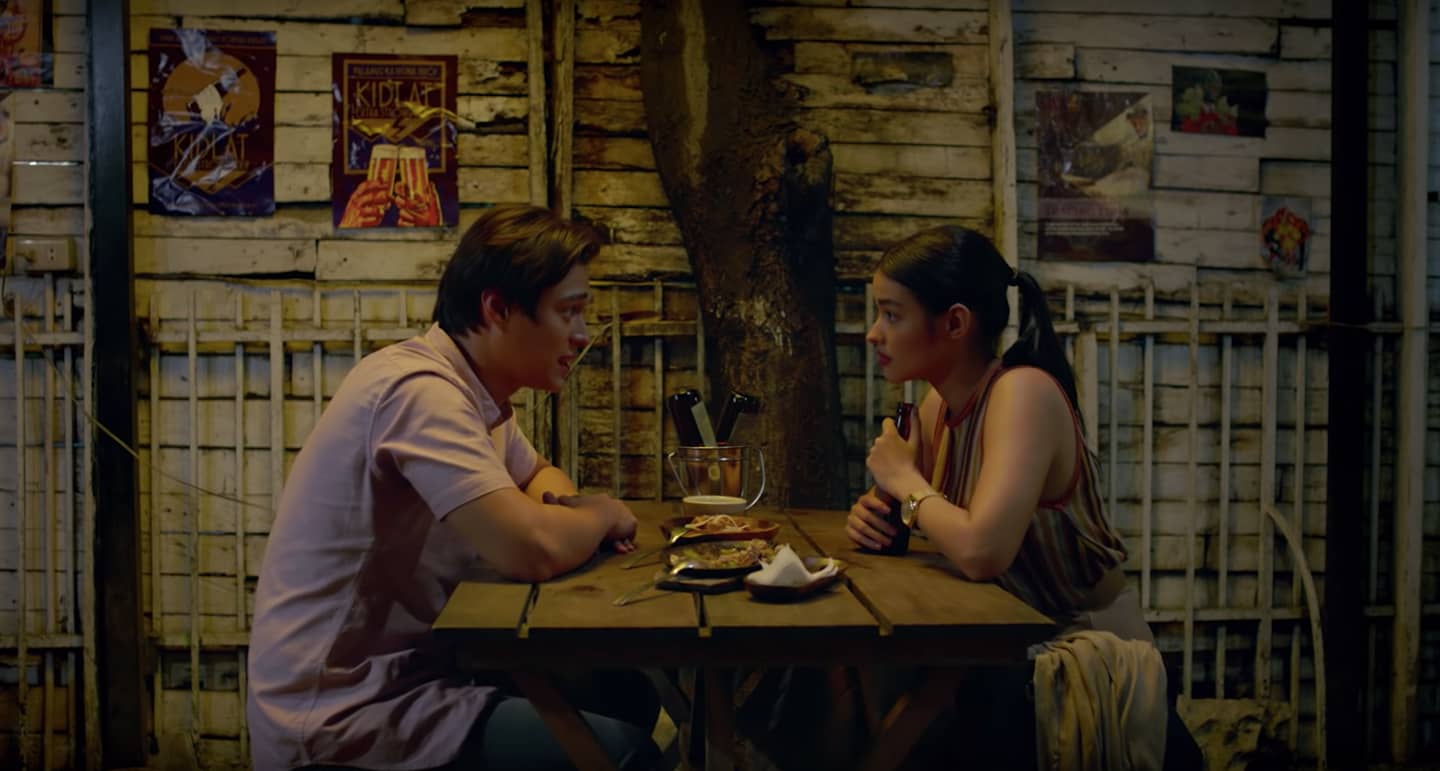 Liza Soberano and Enrique Gil in Alone/Together | Screencap from YouTube
Let's face it—anything Jadaone makes is gold. We recommend Never Not Love You, starring James Reid and Nadine Lustre; Love You to the Stars and Back, starring Julia Barretto and Joshua Garcia; and Alone/Together, starring Liza Soberano and Enrique Gil. Jadaone's romcoms and romantic dramas are the some of the best of the genre, often a perfect balance of romance and reality. They're all very charming, too!
Hihintayin Kita Sa Langit (1991) dir. Carlos Siguion-Reyna
An adaptation of Emily Brontë's Wuthering Heights, Hihintayin Kita Sa Langit is one of the two movies that earned Dawn Zulueta her back-to-back acting awards at the 39th FAMAS Awards. The movie, directed and produced by the Siguion-Reynas, tells the story of Gabriel (Richard Gomez) and Carmina (played by Zulueta) and their unbending love for each other, even as she marries a different man. It's a lot more complicated than that, of course, as the film—often described to exude a Victorian kind of quality, like the novel it is based upon—also tackles class differences and vengeance.
Himala (1982) dir. Ishmael Bernal
Before it became a hit musical, Ishmael Bernal's Himala was—and still is—one of the most critically-acclaimed Filipino movies of all time. In Himala, Nora Aunor plays Elsa, a girl who is hailed, to much hysteria, as a holy figure after reporting to have experienced an apparition of the Virgin Mary. It was one of the highest grossing films in the '80s and it has played to various film festivals abroad, including the Berlin International Film Festival and the Chicago International Film Festival. Until today, it is still considered to be essential viewing in the Philippine film canon.
Minsan Minahal Kita (2000) dir. Olivia Lamasan
In Minsan Minahal Kita, Sharon Cuneta reunites with her former flame and frequent costar Richard Gomez to play Dianne and Albert, two married individuals who carry on an affair with each other. But it's nothing like the mistress movies of today—in this Lamasan piece, love and all its tenuous, unexpected, happy, and sad parts are explored, acted masterfully by Cuneta and Gomez.
Oro Plata Mata (1982) dir. Peque Gallaga
Oro Plata Mata, like Himala, is one of the most critically-acclaimed Filipino movies, and it tells the story of two aristocratic families, the Ojedas and the Lorenzos, in the province of Negros during World War II. The film takes cues from its title, segmenting the 194-minute oeuvre into three parts: Oro (gold), showing the families' lives of luxury in the city before the Fall of Corregidor; Plata (silver), which sees the families seeking refuge in the province; and Mata (bad luck), where they retreat into the mountains. Oro Plata Mata won the Gawad Urian for Best Picture, Direction, Cinematography, Production Design, Musical Score, and Sound.
Sana Maulit Muli (1995) dir. Olivia Lamasan
Starring Lea Salonga and Aga Muhlach, Sana Maulit Muli, like Anak, consistently appears in academia as a film that tackles issues relating to overseas Filipino workers, or OFWs. It tells the story of Agnes and Jerry and their attempt at a long-distance relationship. Sana Maulit Muli has been nominated at the FAMAS Awards as well as the Gawad Urian, winning Best Picture, Best Actor, and Best Screenplay.
Glorious (2018) dir. Connie Macatuno
Everyone's heard about Glorious. This provocative, titillating movie about a May-December romance caused a stir on social media when its trailer first dropped. Starring Angel Aquino and Tony Labrusca, Glorious tells the story of Glory, a 52-year old who falls in love with someone thirty years her junior. Their relationship, of course, is juxtaposed against a disapproving public.
Momol Nights (2019) dir. Benedict Mique
Momol Nights stars Kit Thompson and Rak of Aegis' Kim Molina in this fun romp of a romcom where Peng, played by Molina, owns her sexuality confidently and comfortably. Reeling from a recent heartbreak, she believes that sex is a sacred act, so of course her friends dare her to make out (or MOMOL, "make out-make out lang") with a stranger. This leads to shenanigans—and a relationship, of course!—but they're all lighthearted and fun. Momol Nights is a feel-good film perfect for lazy, hazy nights.