'Isa Pa, With Feelings' Is A Film That Urges You To Just Feel
This Maine Mendoza- and Carlo Aquino-starrer is a rollercoaster ride of love and acceptance.
Our verdict: A pleasantly enjoyable movie—one you must not miss!




The release of the teaser trailer of Isa Pa, With Feelings, starring Maine Mendoza and Carlo Aquino, last month turned the internet abuzz
—
with the unexpected pairing as the major point of excitement, while the deaf-hearing love story angle fired up everyone's curiosity. In our heads, questions linger: Won't this just be another rom-com film? Will this tandem work? The answers: Not, not just another rom-com, and yes, this tandem is just perfect.
What they excel at, individually, and collectively, is their haunting portrayal of loneliness. We latch on to this, and they delivery so incredibly well. It brings to mind the emotions set off in a Craig Morgan Teicher poem called "Tomorrow And Tomorrow Again," which says, "... Loneliness / has depths writing fails to fathom. / I could be clearer, say more, but / it would mean as much..."
The two make us feel that individual lack of the two characters, can in fact bring the Maine's Mara and Carlos' Gali, together. The former, an aspiring architect whose life went downhill after failing the licensure exam, meets the latter, who turns out to be her neighbor and, eventually, her sign language teacher. Both meet at a time of despair, and despite not being able to share verbal language, the two find other means to communicate. In this movie, actions can speak much louder.

Without giving out spoilers, we proclaim it a winner with its straightforward storytelling and powerful emotional moments. The beginning might feel somewhat awkward—but it transitioned so naturally to the undeniable chemistry between the two. It's as if we're watching unfold in reality.
Isa Pa, With Feelings is a laid-out-in-front-of-you kind of tale. It's not a film that taken you for a spin in mind games, but it isn't a formula-type of romance film, too. Its rawness stems from the astounding performances of the actors, as Maine proves her mettle in drama, while Carlo takes our breath away in his realistic and tender portrayal of a deaf man. You'll find yourself carried away as you follow Mara and Gali in their sweet adventures together, threading the ups and downs of real relationships, laughing and crying with them, and—crying and laughing some more.
It's a plus that viewers get to see this side of the hearing impaired. While most of the film showed Mara's point of view, the parts from Gali's perspective are eye-openers. It shines the light on the struggles that people with disability go through, like discrimination, isolation, and lack of public acceptance.
All in all, it's an easily relatable film. We suggest you go watch Isa Pa, With Feelings, and let yourself do just that
—
feel. Without saying much.
In a way, it just shows how speech can only get you so far. In one of the scenes where Gali shows Mara how to sign 'sorry,' he tells her how facial expressions are important in sending the message. That no matter your lot in life, your sincerity can get the message across without the need for words.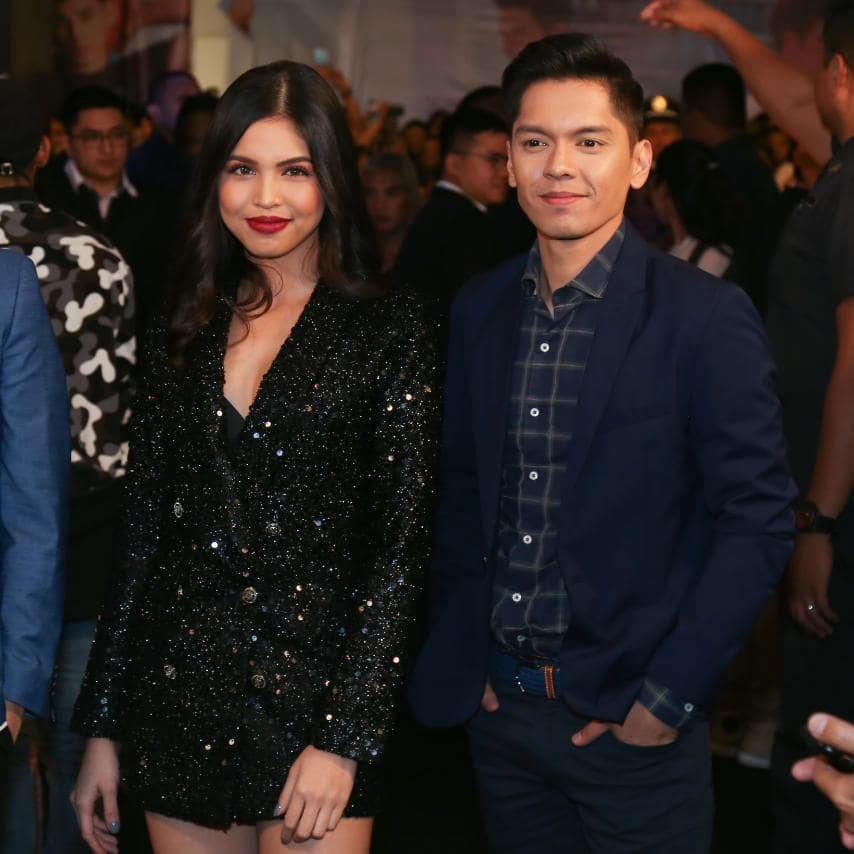 Photos by Vyn Radovan