More Bark And Cheese, Than Bite: A Review Of 'It: Chapter Two'
After the commercial and critical success of 'It' (2017), it's only fair for expectations to ride high for the sequel; just don't expect reviews to laud the messy narrative
Coming out of nowhere in 2017, It was a true cinema delight, lording it in the box office and having critics scurry for superlatives to describe the skillful blending of horror beats with emotional heft. Driven by the impressive acting of the young cast, there was a solid, beating heart in the 1989 narrative that had us cheering for our plucky Losers' Club band of heroes and one heroine, while heaping praise on Bill Skarsgård for his malevolent Pennywise—used sparingly and to greater effect.
In It: Chapter Two, Skarsgård reprises his role (with more screen time); the young cast is back, but now sharing screen time with their adult counterparts, as the premise of the film has to do with the return of Pennywise to the town of Derry some 27 years on. And right there lies one of the problems with this Chapter Two: it seems the screenplay doesn't really trust the 2017 narrative all that much, and we're thrust with far too many flashbacks, such that these adult versions never coalesce to create the chemistry that the young cast had in spades in the first installment. This reminded me of Star Wars: The Force Awakens; and how the young cast were saddled with narratives that didn't seem to really go anywhere, as so many scenes had to be devoted to the returning original cast members.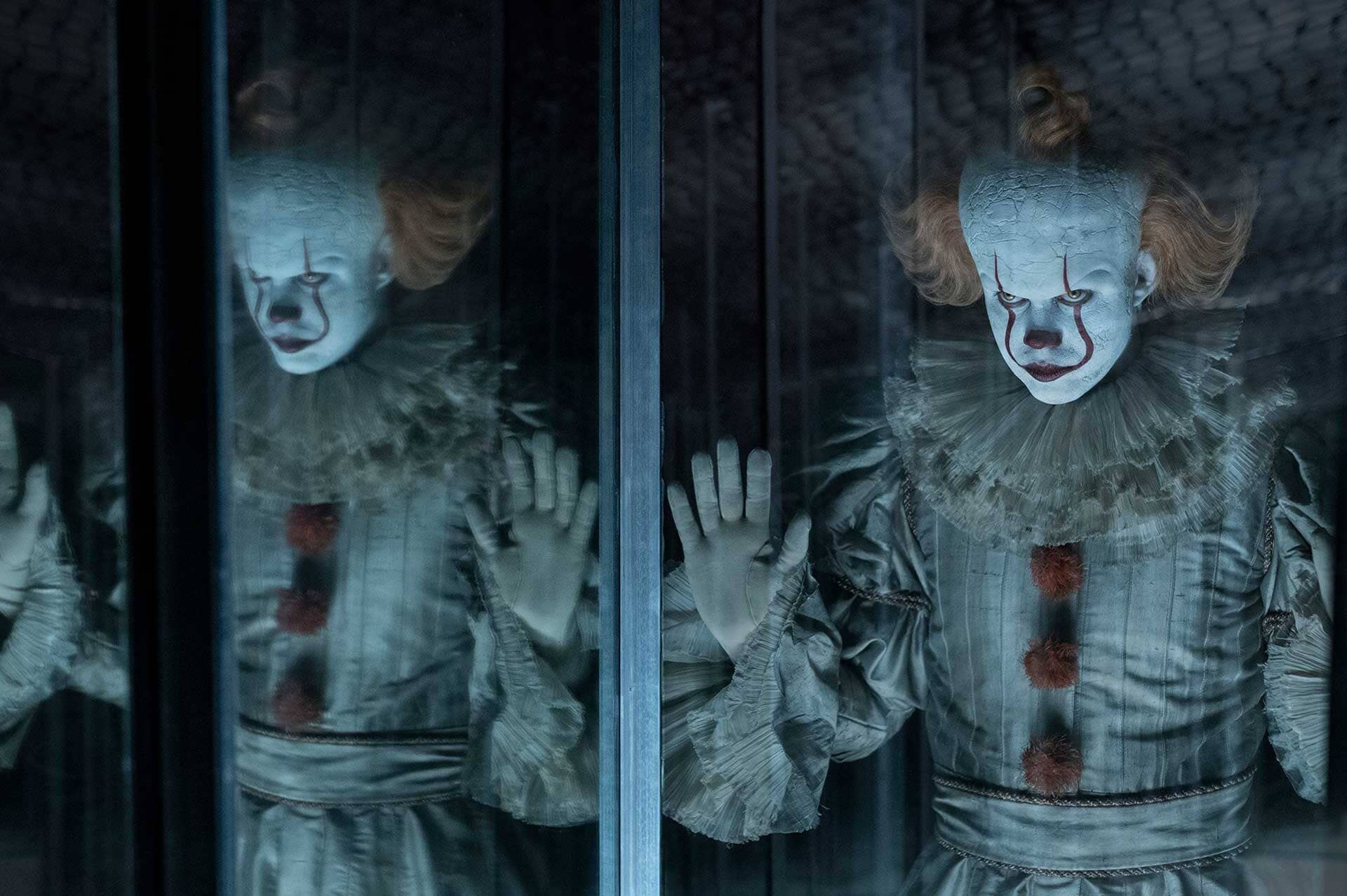 Bill Skarsgård as Pennywise | Warner Bros.
Andy Muschietti is back handling the directorial chores, with a screenplay from Gary Dauberman—that admittedly, is merely inspired by the 1986 Stephen King novel (that spawned a made for TV mini-series in 1990). As expected, there are disturbing violent images and bloody scenes throughout the close to three hours running time of the film. There are cameos from director Peter Bogdanovich (one of Muschietti's director heroes) and the man himself, author Stephen King. Reports have it that King initially demurred, saying his appearances have often resulted in those films flopping; but this cameo works, adding levity to what is an emotionally charged scene for Bill Denbrough (James McAvoy).
The first It was all about the three H's: horror, heart, and humor. In Chapter Two, you can see the effort to maintain quotients of the three are aimed for, but it just doesn't happen like how it magically sparked in the first. Perhaps adults contending with a villainous supernatural clown just doesn't have the same mystique as with children. There are overblown, and over-long sequences—children in a haunted house, or in a carnival funhouse, is just potentially more menacing than adults in the same situations.
The specter of coming of age, of guilt, and personal demons, also worked better when applied to children. Narrative strands that involve domestic violence, like the one of Beverly Marsh (Jessica Chastain) are introduced but don't really go anywhere, beyond hinting that perhaps she actually seeks this cycle of persecution. A homophobic hate crime is used to open the film, but other than saying the filmmakers are aware such crimes exist, no real rhyme or reason for introducing this particular type of crime is fully developed. Hard for me to say, but you can't bring in such serious weighty issues then treat them like juggling balls that impress and dazzle, but are then just discarded.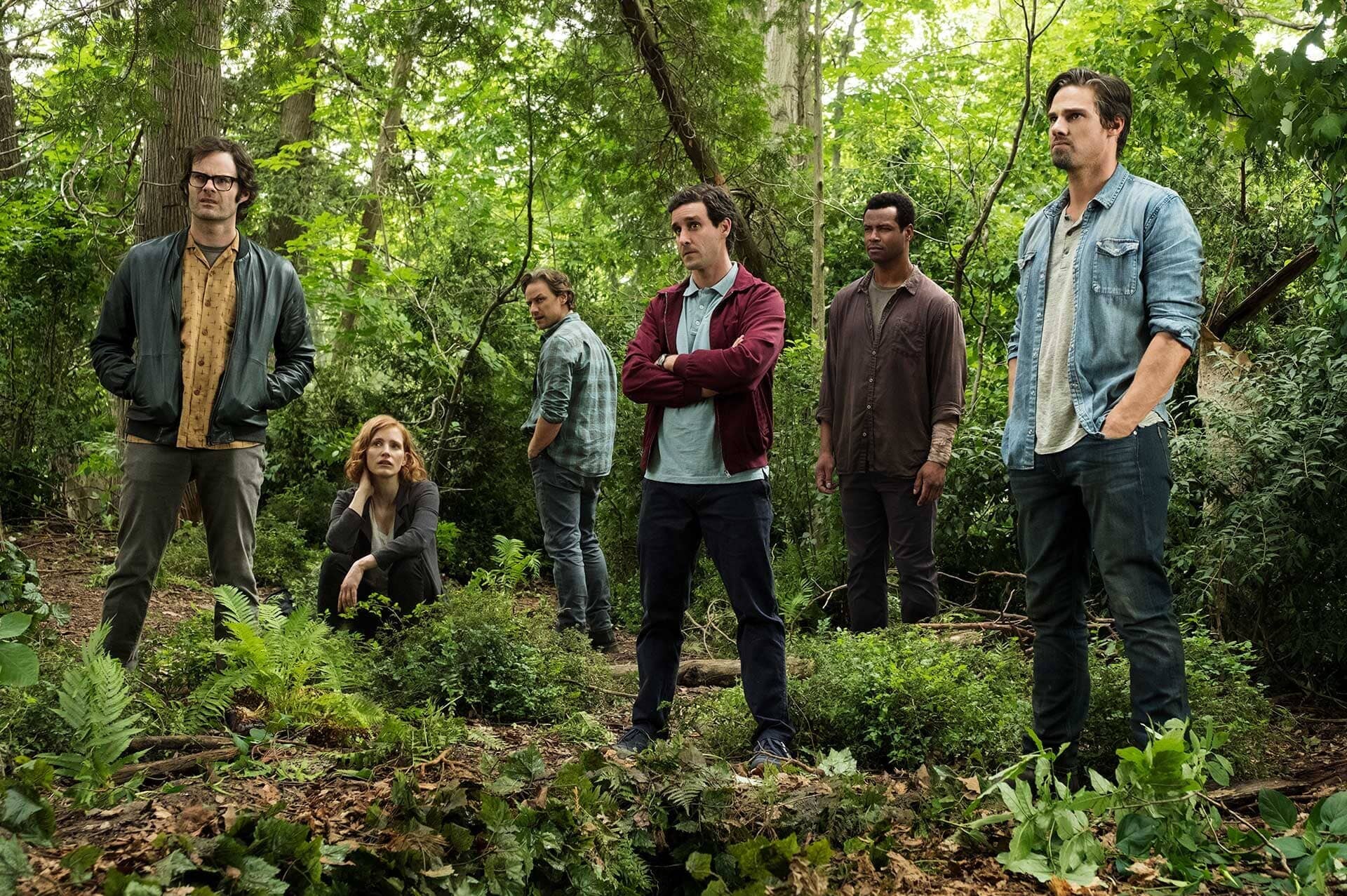 Bill Hader, Jessica Chastain, James McAvoy, James Ransone, Isaiah Mustafa, Jay Ryan | Warner Bros.
Bill Hader as Richie scene-steals his way by providing much of the humor, and Jay Ryan as a new, improved, buffer Ben should have the women swooning; but somehow, the emotional core that really drove the first film to such heights is never attained. The jump scares and horror sequences come on the dot so that this film will obviously satisfy audiences out for the gore and shock tactics. And everyone will love the creepy Mrs. Kersh (played by veteran actress Joan Gergson in her very first horror film).
In the end, It: Chapter Two will undoubtedly make good at the box office; it's a solid popcorn film, but of the cheesy variety. It also says something when the running time goes on for far too long and Pennywise begins to overstay his welcome, and isn't scary anymore.
It: Chapter 2 is will be in theaters nationwide on September 4.