Metro Editors React To The First Few Episodes Of It's Okay To Not Be Okay
K-drama fandom, come together! While we wait for another episode of It's Okay To Not Be Okay on Netflix, let's take a look at the best insights from our resident K-drama experts and our special guest in last week's episode of Metro K-drama round up—Richard Juan!
Get ready to be hooked on this unique story about mental health and journey toward healing in our new K-drama obsession, It's Okay To Not Be Okay.
Kim Soo-Hyun and Seo Ye-Ji are no strangers to the small screen. For those avid K-drama fans, we know how much you missed seeing Soo-Hyun in front of those screens as much as we do! But as both of them show another level of their acting skills in their latest K-drama series, let us delve into the characters they play in It's Okay To Not Be Okay.
Moon Kang Tae (played by Soo-Hyun); is a caregiver who has a brother with Autism Spectrum Disorder. He shows his selfless acts of love towards his brother Moon Sang-Tae (played by Oh Jung-Se) and focuses only on him. Then, fate intervenes when he finally meets Ko Moon-Young (played by Ye-ji), an unconventional fairytale writer with anti-social personality disorder.
Sounds intriguing, doesn't it?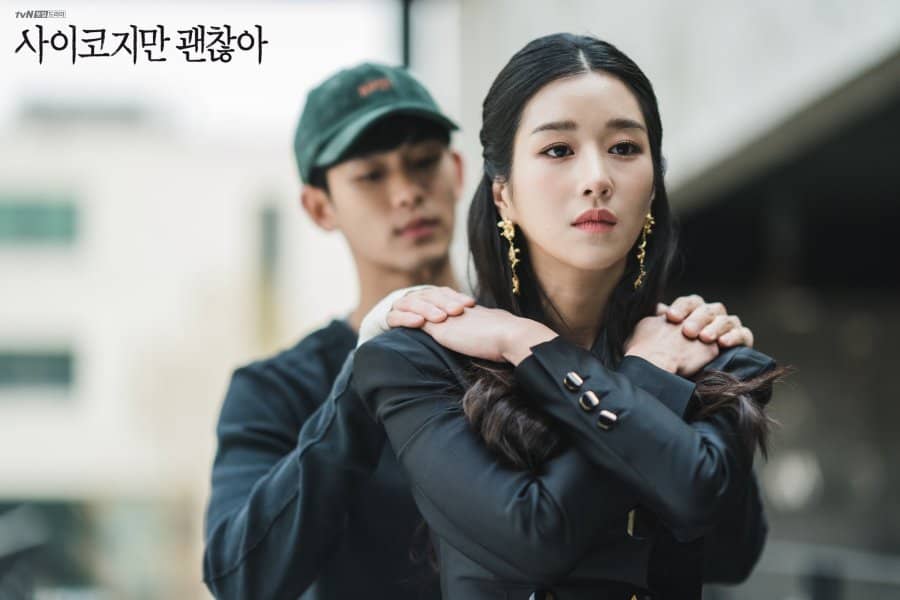 Photo from: Mydramalist.com
While this series gives a refreshing take on the usual K-drama 'kilig' factor and mental heath, there are a lot more reason for us to add it on our Netflix watch list this quarantine. If you haven't started watching It's Okay To Not Be Okay, now is the time to jump on that K-drama craze and indulge in a world of the whimsical tale of Moon Kang-Tae and Ko Moon-Young, as we give you the best insights from last week's Metro K-drama Round Up.
On the panel for this round up:
Geolette Esguerra: Metro.Style Editor-in-Chief
Grace Libero: Metro.Style People Editor and K-drama expert
Kate Paras: Metro.Style Beauty Editor
Justin Convento: Metro.Style Culture Editor
and special guest Richard Juan: K-drama fan and Youtube content creator
What do you think about Kim Soo-Hyun's character Moon Kang Tae?
Kate: Grace and I are big fans of Kim Soo-Hyun, way back when he was in "My Love From the Star." If you would remember, his character there was kinda similar in the sense that he was so quiert and he barely said a word, and he was brooding most of the time. It kinda reminds me of how he is now in the show. You wan't him to open up, you just want him to be able to finally show his feelings for this girl. You know there's something between the, diba? So that's something you look forward to in the episodes to come.
Grace: I'm so happy with his small screen comeback! I really like his character because his very caring and loving towards his brother. So like Kate, I also want to see his character open up. Because he has to be strong for his brother, I wanna kinda see him open up and allow somebody into his life so that he could depend on that person—and I think that person would obviously be Seo Ye-ji. So I kinda wanna see how he shows his vulnerability. He has to be strong for his brother, and all his life is all about his brother. Ever since his childhood, it's always been about the brother. So I wanna see how his life will evolve upon meeting Seo Ye-ji.
Justin: He's my favorite character. I love his boyish charms. This is the first time I watched him, this is only my fourth K-drama. But I'll have to say, I tried getting into other K-dramas after TKEM (The King: Eternal Monarch), this is a pretty good segue into the rest—I mean, I'm not disappointed. It's not TKEM levels for me, but it takes a different course and it's refreshing. I love that it's not just the kilig factor, although I like that there's the kilig factor even in the early episodes. I love how sweet and also not that sweet he is; the way that they interact together. I just like how he loves his brother. When he taught her the butterfly hug, I was touched, I actually teared up in that. I was just like, 'Wow. This is actually the person she needs for her to be trusting again.' I can't wait to see how they will help heal each other. Of course, they're not gonna fix each other, but I can't wait to see them heal in the process of knowing each other and getting to know each other.
Richard: For me, the word there is parang they complement each other in that sense. It's clear for Kim Soo-Hyun, like he needed to be with someone that's more aggressive, that's in charge. Kasi for the most of his life it's always been his brother, and he needs someone to kind of like tell him, 'Hey! Sometimes, you gotta live your own life also.' And with Seo Ye-Ji, she is more of the type where she needs to be calmed down. She's just so used to being in charge, so parang in a sense, they help each other grow and see how they can go from there.
What do you think about Seo Ye-Ji's character Ko Moon Young?
Geolette: Seo Ye-Ji, we all love her because her voice is ASMR. You could listen to it over and over again. And two, fashion-wise. We're in the process and actually released some fashion stories already because every single episode is like a fashion party. Like where did she get those boots? Episode 4, that eyelet white dress with those shoes, right? Even her personality. Like in the first episode, you really get the sense of something unnerving and so fascinating about this woman. You kinda wanna open her brain and see what's in there? What is she thinking? Why does she act like that to everyone else?
Kate: I just find it so ironic that she's a children's book author, at the same time, it's brilliant. You expect someone as a children's book author to be someone who's cheerful—someone who's a friendly and sunny person. But you get a dark and mysterious woman instead. But you can't help to really want to hear more from her. Just like Kim Soo-Hyun, you want to see her open up and tell her story as well. I'd say that both of them are really amazing actors.
Grace: I like how she expresses herself through fashion. The bold and daring personality is reflected on the way she dresses up, and it kinda complements her personality as well. Actually during the press con she mentioned, to take on this character, she has to put on this sort of 'witch-like' aura—which I know we can all sense. So it's really nice how she executes that vision, and she really pulls of that character role of Ko Moon-Young.
Richard: For me talaga, she's my new crush na. I'm like, 'Wow.' Her voice, the way she carries herself, and the way she speaks, parang you get that kilig vibes right away. Like, 'Oh my gosh. You're so pretty!' I just wanna keep listening to her talk for the whole day. She's mataray in a sense na nakaka-in love eh. Or is it just me? I don't know!
Watch the first part of our Metro K-drama Round Up on It's Okay To Not Be Okay below:
Stay tuned to our weekly Metro K-drama Round Up on our Facebook page, every Wednesday night at 8pm.
Lead Photos from mydramalist.com