Metro K-drama Round Up: Who Do You Think Deserves To Be With Our Heroine In 'Was It Love?'
We're down to the last two episodes of Was It Love, and we wish nothing but the best for the inspiring character of Noh Ae Jung, played by Song Ji Hyo.
Life surely has a way of turning things around in the most unexpected times. And in the case of
Noh Ae Jung
—a single mother and a film producer who suddenly finds herself in the middle of four equally dashing men, we just can't help but wonder, who deserves the fragile heart of this strong and independent single mom?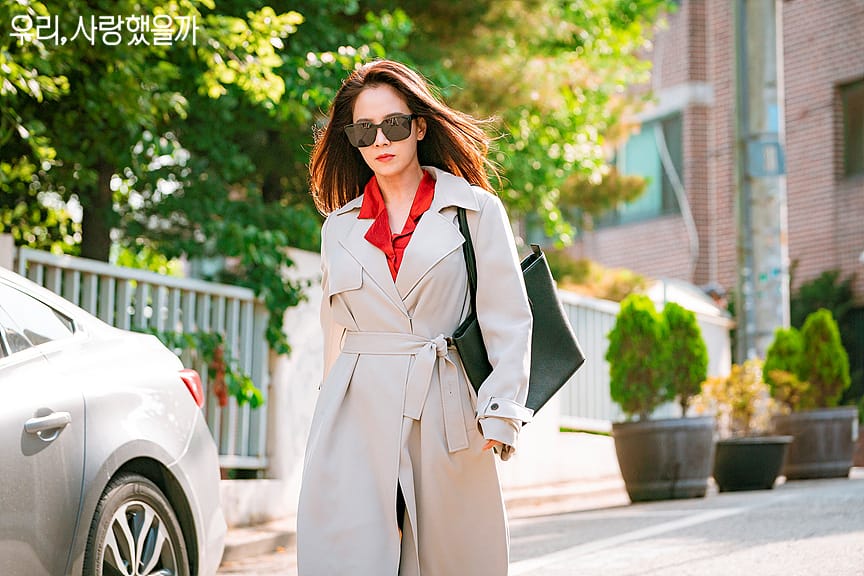 Noh Ae Jung of 'Was It Love' | photos from mydramalist
Was It Love has been one of our go-to romantic comedy series for weeks now. And in the past episodes, we have witnessed how Oh Dae Oh (Son Ho Jun), Ryu Jin (Song Jong Ho), Oh Yeon Woo (Koo Ja Sung), and Goo Pa Do (Kim Min Joon) showed their affection for Ae Jung, and they even went above and beyond in doing so. But as we come near the end of this another wonderful Kdrama, there can only be one man who wins the heart of Ae Jung.
Will it be the ex whom she shares great history with, the best friend who secretly loved her for years, the young and charming P.E. teacher, or a mysterious and protective gangster?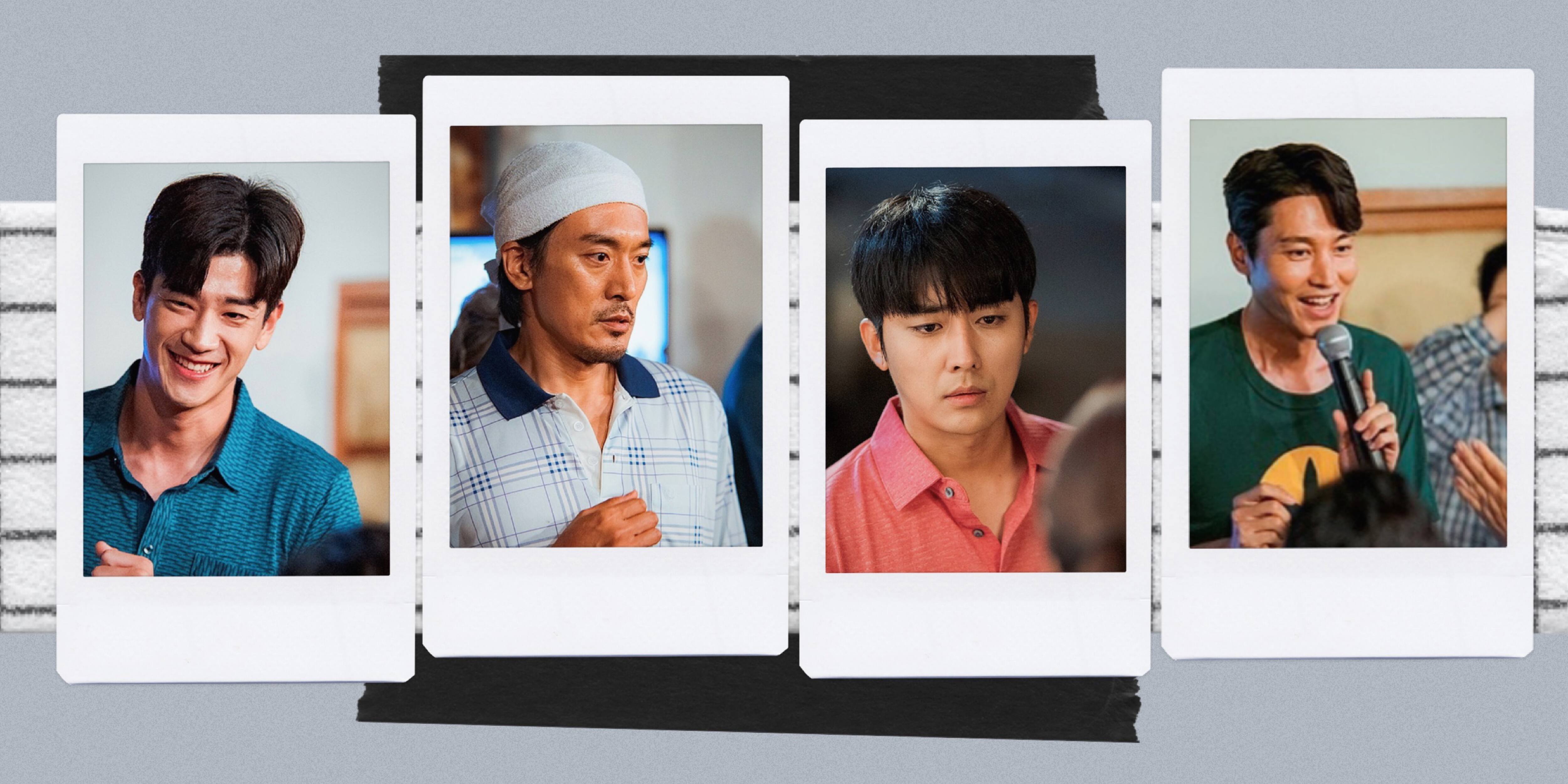 Left to right: Oh Yeon Woo, Goo Pa Do, Oh Dae Oh, and Ryu Jin of 'Was It Love' | Photos from mydramalist
By this time, we all have our own picks on who deserves to be with Ae Jung and her daughter after watching the past episodes. So, as we anticipate the last week of
Was It Love
, let's take a look back at our Metro K-drama Round Up with our editors and special guest, below!
On this round up we have:
Geolette Esguerra: Metro.Style Editor-in-Chief
Grace Libero: Metro.Style People Editor
Justin Convento: Metro.Style Culture Editor
Anna Rosete: Metro.Style Living Editor
and Leah Puyat: K-drama Veteran
What do you love about the show?
Grace: I like that it's not your typical rom-com because there's a family element to it. And for a change, it's not just a love triangle, they call it 'pentagon,' because the girl is involved with four men, and I like the differences of the guys. Parang if I were in her shoes, it would be really hard to choose who to stay with or be in love with, parang it's really hard to be in her position. It's a really fun show, it's a really feel-good show, and it's one of those K-dramas na you won't notice na you've watched so many episodes already, because it's so binge-worthy! As you've mentioned earlier, in the beginning I wasn't expecting so much from the series, but as I went along, I came to love it more and more.
Justin: For me it was a slow kind of burn, I guess. I didn't really like it automatically. After episode 3 or 4, when I've been invested in the characters and I had a strong preference for certain guys, and then it was like, 'Wow. I kind of see the guys I used to date.' And it kind of makes you reflect, 'Oh my god. That's what it looks like from outside looking in.' But I really like the light-hearted-laugh-out-loud moments, the family moments, the 'ajima ng bayan'—I love it when she's in the scene. Even if I'm not looking, I can hear her and I know she's there, and I'll turn to the TV. I enjoy it because it got such a strong female protagonist, and I feel like for anything to watch now, it's so nice just to see such a strong and independent woman lead. Also, it's a plus factor that all these guys are going after her and I love seeing that.
Leah: It's a recurring female fantasy to have so many men fighting over you. I like that the characters are not what you think they are. Like for example the gangster, you think he's so tough but he has this tragic love story. And then the writer, he has this charmed life, living off the royalty, he went to Hollywood even before his big-time actor friend, and then you're hit with this curveball that he was hiding all these family drama. Then the actor, he's got it made and everything, but he's living also with so many regrets. And then you think the female lead, 'oh, she's a paragon of virtue,' but she's had so many missteps along the way. She misjudged the situation and because of that, her daughter had to grow up without a father, and it didn't have to be that way. So, I liked that we're given situations that we see things so simple, but then all the ramifications are being felt as the episodes go on.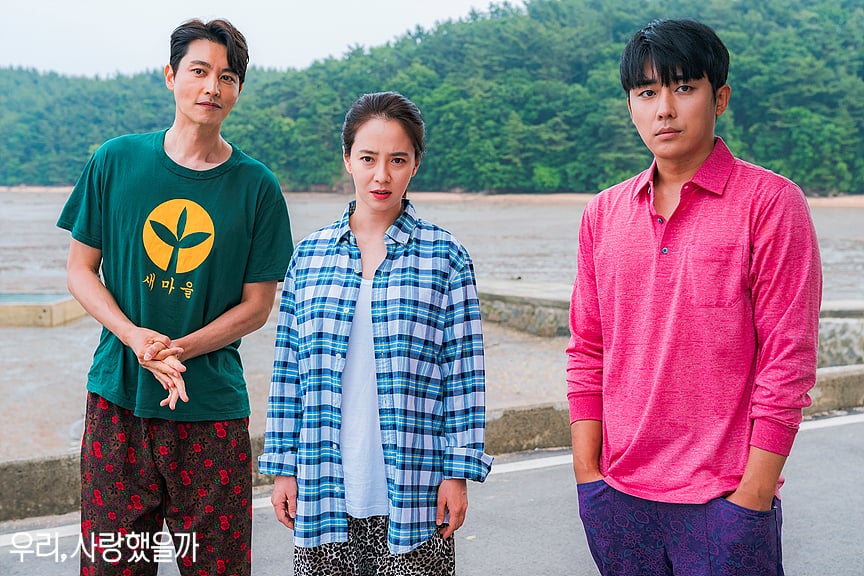 Ryu Jin, Noh Ae Jung, and Oh Dae Oh of 'Was It Love' | Photo from mydramalist
Anna: Like Justin said, I love the fact that we have a strong female lead; but also, I really like that she's imperfect. Like, she has all these men running after her, but it's not because she's like a fashion goddess, or like a perfectly beautiful woman, she's just like all of us working, multi-tasking, trying to do a million things at the same time. I like the little kid, also. I think her acting is great. It's tamang-tama lang, she's feisty without being super exaggerated. And I think the series teaches us not to judge people. Like what Leah also said, parang everybody has a backstory that doesn't come through with their personas immediately. So, that was really cool for me. All the characters are well-developed. In terms of location, I like the fact that we're in a neighborhood. We actually feel like we're walking the streets with Ha-nee, as she goes from the bar to home to school, you see more of Korea. Like the typical life of maybe a middle-class Korean life. I love that the office is not just shown within the interior, there's a streetscape. So, you can see yourself and imagine walking up to that building, and then it also looks like a production office, like an indie production office. So all those details, I really appreciate also.

Geolette: What I like the show is its plot. It uses several devices to tell the story. Like, coming form 'It's Okay To Not Be Okay' where you have fairytales, you have psychological issues to tell the story, you have the narrative of the novel that is really being produced to be a movie. That's the context, right? Because essentially, making a novel is a work of just one person, but making a movie, you have so many people involved, and that's why you have all these characters coming together, right? And we all know that if you're going to make a movie you need an actor, you need a writer, you need a director, you need an investor, you need a producer, and then all the different personalities come face to face. Like Noh Ae Jung the producer, she'll just do everything to make sure she gets things done, she's there on time, she'll get whatever actor or actress that they ask for, right? She had no idea how to pull some things off, but she manages to because she's the producer, and she's like the go-getter.
Team Oh Dae Oh, the writer:
Grace: I'm rooting for the writer because he's annoying but he is also charming. He has his annoying ways but he's charming over all, and not to mention that he's a talented writer. I like that the chemistry between him and Noh Ae Jung. I feel like he's not really super at fault with what happened because there was a huge misunderstanding between him and Noh Ae Jung. So parang for me, it highlights that you know, they always say that there's always communication in a relationship, so if they communicated properly back then, they wouldn't have had to go through this challenge and their kid would've lived with a father, and they would have been a happy family. So, it's a very small misunderstanding that could have been prevented, could have been avoided with proper communication. I'm really rooting for the writer because parang siya talaga yung one true pair of Noh Ae Jung.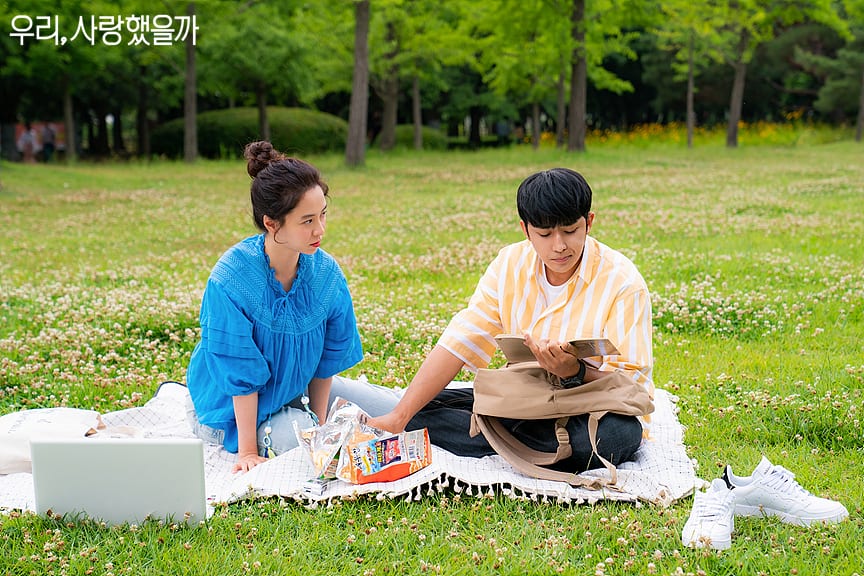 Noh Ae Jung and Oh Dae Oh of 'Was It Love' | photo from mydramalist.com
Anna: I like him too! Siya yung pinaka artist sa lahat sa kanila.
Justin: I think he's a little narcissistic because there was one scene in episode 8 or 9, where he didn't even realize that Noh Ae Jung went through so much pain. Even if it's a misunderstanding, he was so fixated on his pain, and I think that kind of solidified me being not 'team writer.' Just because if he really loved her, he would have been a bit more aware of her pain and think of how she feels. But overall, she has a lot of chemistry with him, so I do agree that it actually might end up being the writer, but I'm not a 'team writer.'
Team Ryu Jin, the actor:
Justin: I like him the most just because he's loved her the longest. But he's a bit wimpy, because that scene in the library where he declared his love and then he said, 'Oh. That's what Oh Dae Oh wanted me to say to you.' For me, like that pa lang, he's never been honest to himself or to others, and that's his biggest struggle as a person and in relationships. So I feel like, as much as I like him, and I do ship them together, I don't think he's ready yet to get there, because he's still obviously so fixated on his image, and he's so self-conscious. It's different from being narcissistic because he's just really self-conscious and maybe that's the problem with his job. He's loved her for so long, even in that scene where she was a freshman and she was like greeting the whole room in a bar, just the way he looked at her then, even in passing, Yah, okay, he's reserved. He's a little bit wimpy, but he's loved her for so long. He just hasn't acted on it. And that's the only reason why I'm 'Team Jin.'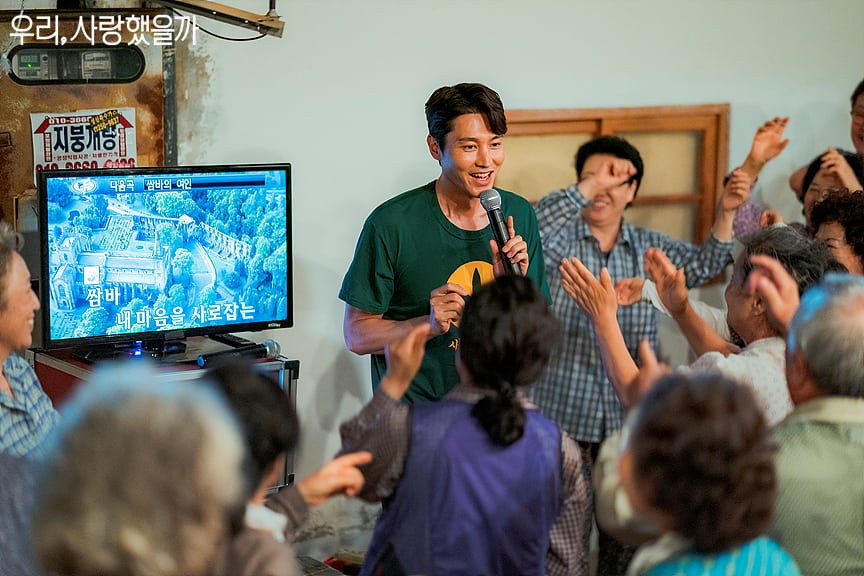 Ryu Jin of 'Was It Love' | photo from mydramalist.com
Grace: But then he caused the misunderstanding between Noh Ae Jung and Oh Dae Oh
Leah: That's a cardinal sin! Getting the phone of Oh Dae Oh and deleting the call. That's unforgivable.
Team Goo Pa Do, the gangster:
Leah: I'm shipping him because I feel that he's lived his life. Clearly, there's a lot of murder and illegal businesses and all that; I think he's the one who most needs a love life. Out of those four, he's the one who really needs someone who loves him, who cares for him, who can be a stepmom to his son, and he looks really good in a suit. And I'd move into his house. Normally, I don't like neutral living rooms, and I even like that there's a tacky white leopard, plus there's a secret room.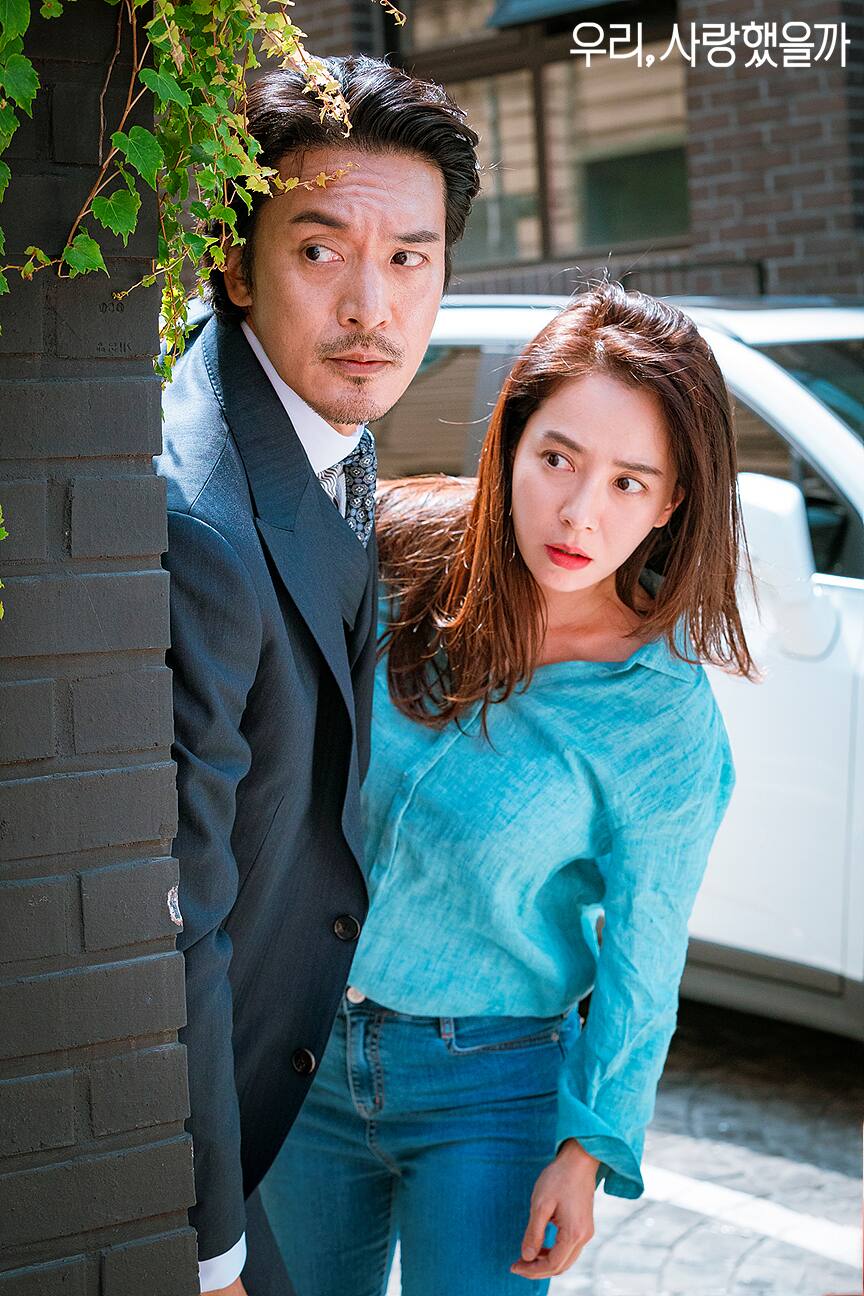 Goo Pa Do and Noh Ae Jung of 'Was It Love' | photo from mydramalist.com
Geolette: And also, among all of them, he's the one who knows her least and is suddenly attracted to her. So, that could factor in why he can be end-game because this is a fresh new start. And you could imagine that even in the end, she ends up with him, she still remains friends probably with all of them.
Leah: He can keep investing in her movies. He can bankroll her producing career.
Grace: He's the most mature and the most loaded in cash.
Leah: And he has the biggest house! So she, her mom, and her daughter will all fit in that house.
Team Oh Yeun Woo, the young P.E. teacher:
Justin: He's such an underdog here, eh.
Leah: He is the most kawawa!
Anna: Me, no. Talagang kawawa because he's so under to his mom. He can't even stand up to his mom, and I think the experience in life is not just the same with Noh Ae Jung. So I think I wouldn't ship them together because, I actually feel like episode 11 or 12 that he's be good for the young actress. There's something there, because she asked him, 'You know you're handsome and you're rich. Why do you go for somebody like that?' I think that discussion just had a spark like what if it's them? Parang the level of experience in life is the same as that girl.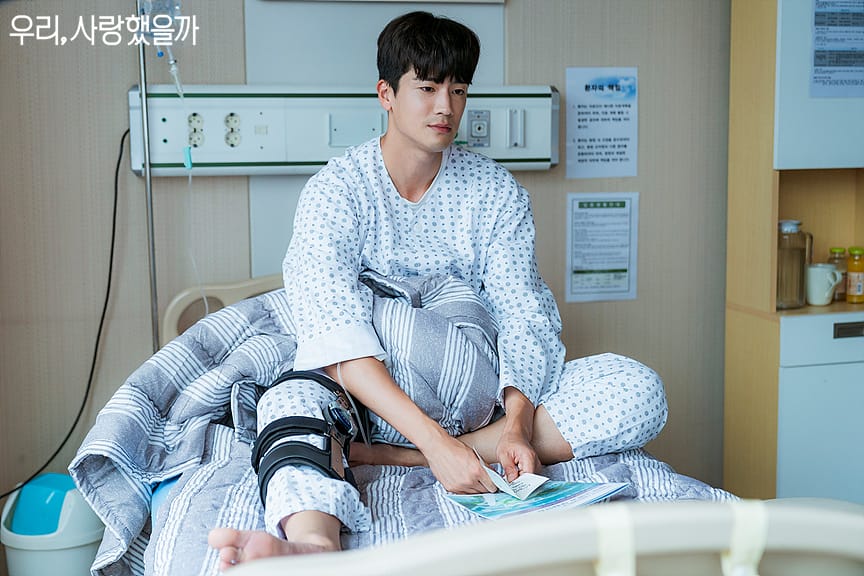 Oh Yeun Woo of 'Was It Love' | photo from mydramalist.com
Justin:
They are also both younger.
Anna: And his chemistry also with Ha Nee, he's protective of her but at the same time, it's not the fatherly protection yet. It's really like what you get from a teacher, so that's why I think it's not yet there. I think he has an ideal and he wants to give in to that ideal, but things are weighing him down, like his relationship with his mom and other concerns.
Grace: I find him too clingy.
Leah: And his backstory is a bit lacking when you put it side by side the other three. I mean like, Oh Dae Oh, glittering literary career but his family had that reversal of fortune. Then, Ryu Jin the actor has so many secrets. But the P.E. teacher's backstory comes up short, sadly.
Stay tuned to our weekly Metro K-Drama Round Up on our Facebook page, every Wednesday night at 8pm.
Lead photos from mydramalist.com