Metro Editors Give You All the Reasons To Watch "World Of The Married"
It's never too late to watch this explosive K-drama series that will surely make you feel for the character portrayed by this year's Baeksang Best Actress, Kim Hae Ee.
It's been months since World Of The Married first aired, and it surely took us in an emotional rollercoaster ride with Kim Hae Ee and Park Hae Joon!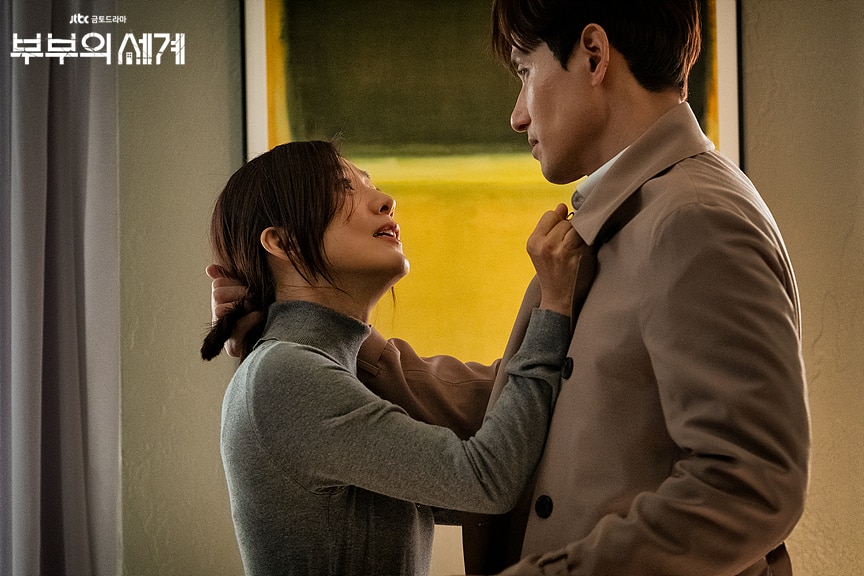 Dr. Ji Sun Woo and Director Lee Tae Oh of World of the Married | Photo from IMDB
This series first aired last March, then debuted in our very own
Kapamilya Channel
last June 15. If you still haven't watched this highest rated K-drama in Korean television series, Netflix just made it easier for you to tune in a story about a seemingly perfect marriage that covers the infidelity of one, causing a series of betrayals and revenge to both parties, and the people that surrounds them.
While there's no denying that this infidelity drama will get you hooked just by watching the first episode, do prepare yourself with its unique take and wide range of betrayals that the story manifests. Add this in your Netflix watch list as our our Metro Editors give you enough reasons to watch the World Of The Married, if you still haven't!
On the panel for this discussion:
Geolette Esguerra: Metro.Style Editor-in-Chief
Justin Convento: Metro.Style Culture Editor
Kate Paras: Metro.Style Beauty Editor
Anna Rosete: Metro.Style Living Editor
Grace Libero: Metro.Style People Editor
and Leah Puyat: K-drama Veteran
Why should everyone watch the World Of The Married?
Anna: The way I made my best friend get into it was, I remember it was a very stressful time for us both when it first came out. So I said, we should watch that because it will keep our mind out of the stress because it's other people's stress. I know that she's very well loved by her husband, so parang it's just a diversion and none threatening. She binged-watch it and she ended up getting so mad. It's not stress but anger! So I guess it's one way to relieve whatever you're going through. Watch someone else go through something and then in the end, watch the human spirit thrive, as long as they have good intentions.
Justin: I really meant to watch it, I just always heard that it was a lot to take in, so I could never really make tiyempo because I was really stressed with quarantine and life. But it didn't put me in a bad mood, it gave me like 'Gone Girl' vibes, and it just kind of like I couldn't look away. I was absorbed. Even the scenes where normally I sometimes look at my phone—like in a K-drama, they have that extended time looking at each other, sometimes I look at my phone—but this one, I didn't even look at my phone for like whole one hour and thirty minutes. I was absorbed! So definitely because it gives that 'Gone Girl' vibes, you do feel a little mistrusting of others. But I mean, also kaloka naman that this would even be real, right? I think it's enjoyable because you live the thrill or the chase, hoping that that's not your real life.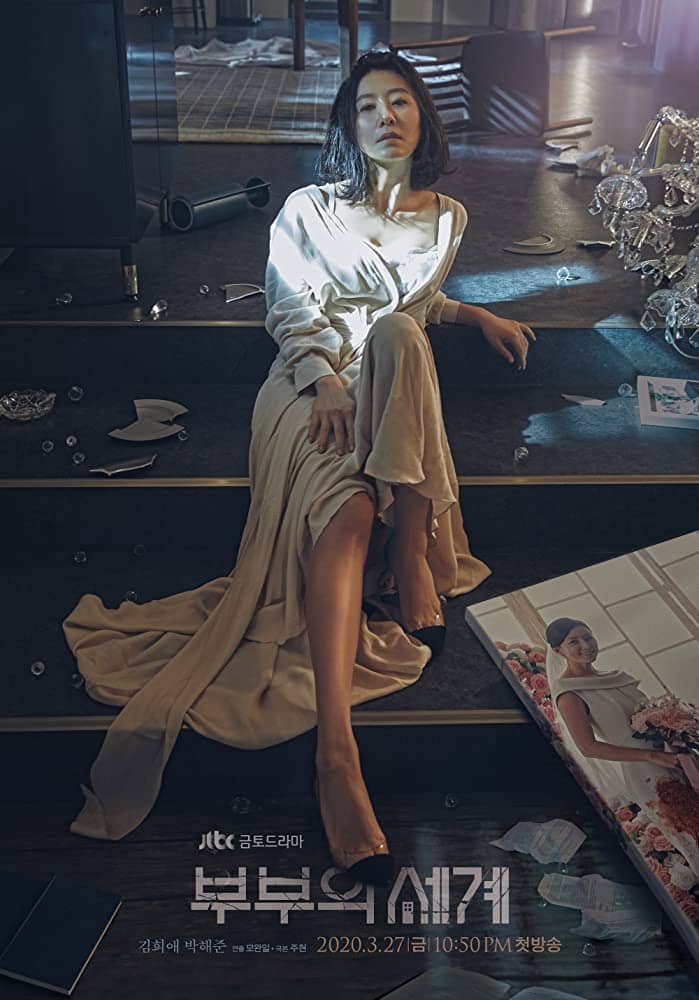 Photo from IMDB
Leah: I think it's a master class in structure of a show. The way they lay down her perfect life, she's planning his birthday party, she's the big shot at work, she's got a cute son, and then it all blows up in her face. But the thing is, it's not constant samapalan, sigawan, sabunutan. They lay the plot, they plant the seeds on the plot, and then when she finally gets her vindication—she reaches lowest if lows—maybe it's not the same on the level of perfection her life was, but it's sincere. Because the perfection of her life was just a lie. So, whatever flaws there are that she encounters in herself—it's like what Tyra Banks says, she's now 'flawesome.' Before, she was perfect, but it was all a lie. So for me, this show is worth watching if only for the way the drama is structured, the way the lines are set, and the acting is really a master class.
Kate: Me, I would tell my friends to watch it if they wanna see a strong female character on screen, because Dr. Ji is really someone you would really wanna root for. I mean, no one would wanna be in her place, but it's amazing to see how she deals with the entire situation. As every episode progresses, you would see na grabe yung control niya. Like, hindi siya yung magwawala lang basta, like she's so much in her head and she has so much control, and parang we ought to learn something from that. Na parang to not be super reactive even everything seems to be confirmed, or like everything's triggering you at that moment. So for that reason, I would tell people to give it a shot.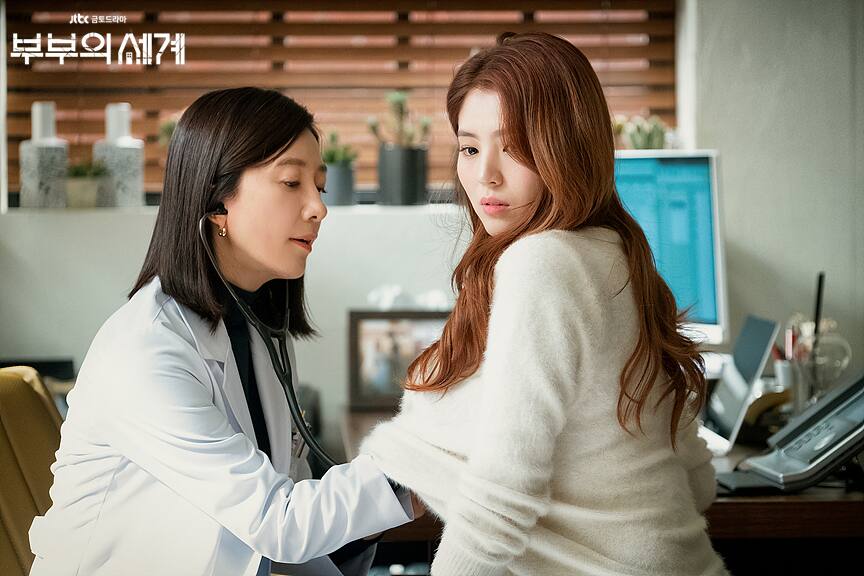 Photo from IMDB
Grace: Well you know, now that the series is over, it's easy to convince people to check it out because it's currently the top rated drama in Korean cable TV history. So it's proof that it's really well-made, well-executed. But what I really like about it is it's not your typical love-affair infidelity story, there's so many layers to it. There's even a layer of self love, friendship, family, so there are so many underlying themes that help make it binge-worthy. And apart from that, the female lead character is really likeable, because she's not your typical wife na parang you know, na-api. Pag nag-cheat yung husband parang mag gi-give up nalang, she's not that type of woman. She's a fighter, and you wanna root for her, and you wanna see how she's gonna cope with her situation until the end. So parang si Kim Hee Ae talaga, specially her portrayal is top-notch and you know, that's why she's chosen as the best actress at Baeksang. So, for those reasons alone, I think it's enough to encourage people to check it out. Kasi talagang once you start from the episode one, it would be hard for you to stop because yung ending of each episode, the cliffhangers are just gonna convince you to go on and on.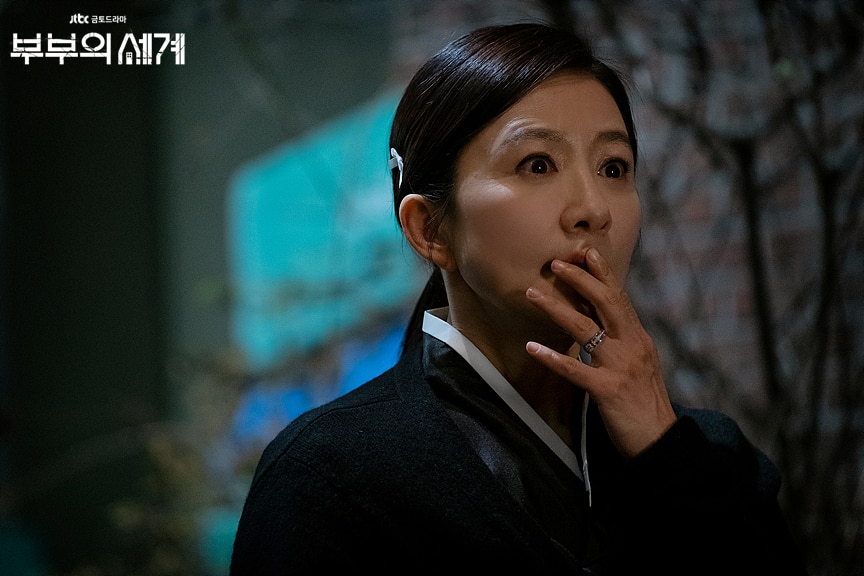 Photo from IMDB
Geolette: For me, Kim Hae Ee carried this show. She was the one who made us feel, who made us gigil, diba? We're so gigil with the show and that's why we love it! It makes us so mad, it makes us feel so much, and that's kinda hard with some K-dramas because you can watch a lot, and you can feel a bit numb with the plot already. Because you know, parang 'Oh, i've seen this' so parang skip skip ka na. But this one really makes you feel. It makes you so angry, it makes doubt. So, ang galing that this show can take you through a roller coaster of emotions. For me, it's very stressful. Like when I watched this, it took me a long time to finish this because I have to watch so many shows in between as a palate cleanser, like sorbet or something, because I just need something in between an intense show like this.
How unique is the plot of WOTM from all the other infidelity series you've watched before?
Geolette: I get the the sense that this one wanted to show the perspective of the people around, more than the people who are involved. And these people that you know, even if you're not the grieve party, you can be like the person na pinagdudahan, you could be the child, you could be the friends around the couple that's breaking apart and you're forced to choose sides—and that's what I find unique about this series. It really wants to show everyone around this couple, while showing the cracks in their relationship.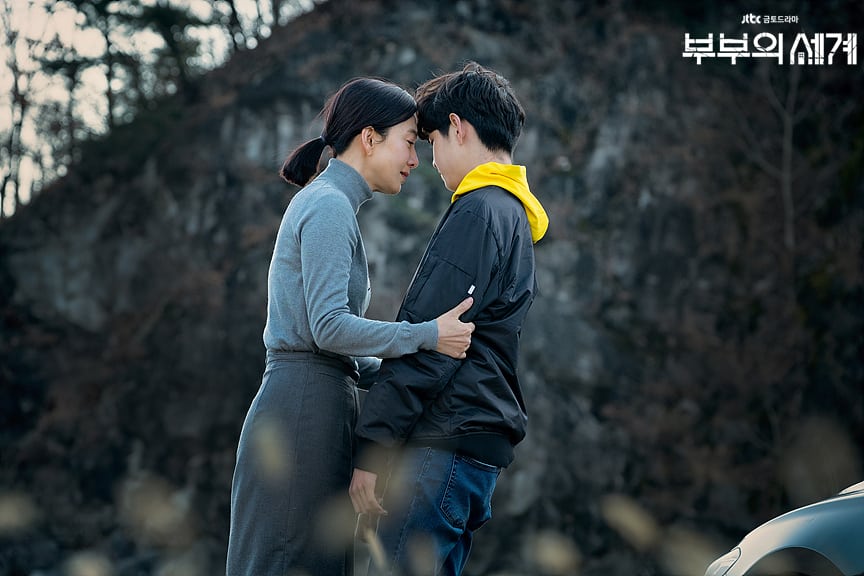 Photo from IMDB
Grace: I think the other thing that's unique about it is because they're living in such a small community; and then everyone knows everyone, everyone's aware of what's happening with everybody's lives. So, parang lahat ng tao may say sa lives nung people that are involved in situation. So, parang ang daming nangyayari kasi isa siya sa small community, so I think that's one of the unique elements of the story, because controlled yung environment. Nandun lang lahat ng gulo and issues, and then there's also parang discrimination against Dr. Ji Sun-woo. Parang people are saying so many bad things about her kahit na siya yung victim in this scenario.
Anna: For me, yung treatment nung show. Because if it was just a cheating drama, first of all, I have not seen so many cheating K-dramas, like it wasn't on my radar before. But from what I know of cheating dramas, this one was so unique because it was treated like a suspense thriller film/series, even the lightning of the show. So, I thought that was so unique about it, and that's what also compels you to go for more riveting episode to another. Hindi talaga ako bumitaw. Like every weekend, when this show is going on, I would really look forward and I'd keep watching. It was because of that suspense thriller, on top of it being a cheating drama. It was a cheating drama that was treated in feel and look like a suspense drama.
Leah: Me, I like it because it wasn't just her marriage that was breaking down. Even her friendships, and even how her son began to mistrust her. It wasn't like just this one thread, there's a kerida, it wasn't like that at all. It was really this exploration of, for me, illusion vs. reality. And she really convinced herself that her life was going so perfectly, that she couldn't see all the little holes. So that's one. What really hooks you in is that because there's already this idea in an infidelity movie, they try to make the infidelity so much more horrible by making the wife a saint. Like, here she is running the household and raising the kids, but here, when she starts to put her plan in motion to bring down her husband, she even sets up that confrontation with the mistress wife, she became a bida-kontrabida.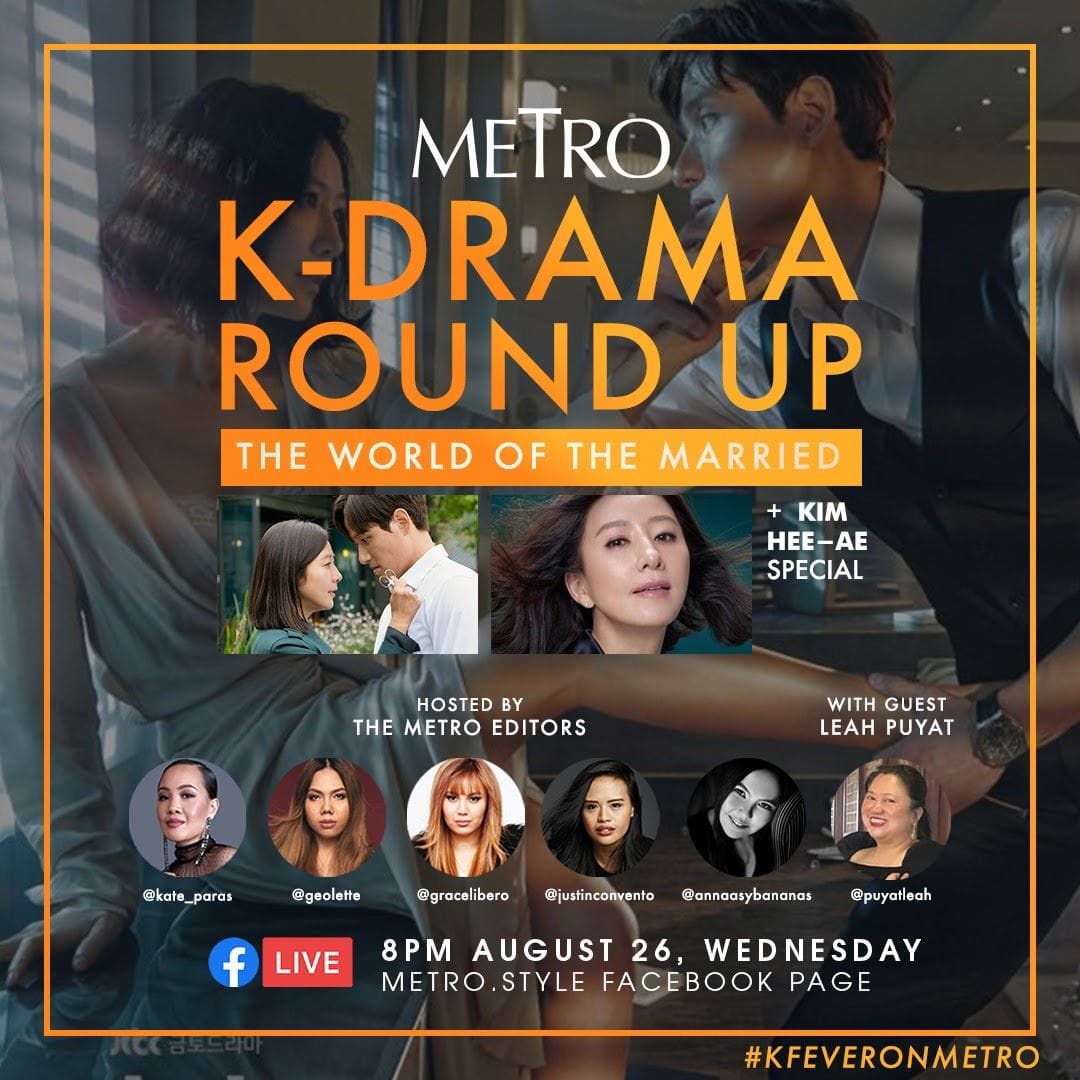 Watch the full episode of our Metro K-Drama Round-Up on World of the Married, here.
Stay tuned to our weekly Metro K-Drama Round Up on our Facebook page, every Wednesday night at 8pm.
Lead photos from IMDB and screenshots from Netflix