Kerwin's Wonderful Folly: A Review Of 'Mina-Anud'
If tropical crime caper is going to have a future as a legitimate film genre, it will owe much to Kerwin Go and his first feature film
Mina-Anud, the feature film directorial debut of Cebuano filmmaker Kerwin Go is one masterful, confident tropical crime caper that knows exactly where it wants to take the audience, and has sheer fun written all over the execution. Considering it's a dark comedy, ripe with social commentary, it's indicative of this young director's potential that he makes this such an enjoyable ride. On the strength of this film, and the Cinemalaya plaudits it got, Kerwin is one film director on the rise.
The story is by Kerwin Go and Stephen Lopez, and the screenplay by Lopez; but it's the intimacy Go has with the material that makes this so entertaining. As Go has mentioned, he was spending a lot of time surfing in Eastern Samar when the events occurred; so this inventive retelling of the incidents is filled with genuine local color and true to life vignettes. It all revolves around tons of cocaine being dumped overboard by a ship bound for Hong Kong, and how this cache of luxury drugs ends washed up on the shore of an unsuspecting fishing village. It's imagining what transpired after, as the fishermen, the surfing community, and the law enforcers all get into the act. And like some bastard offspring of the Coen Brothers and Tarantino, Mina-Anud takes this real life occurrence and turns the historical fact into one wild, shaggy-dog parable about people getting into things way over their heads, and paying the price.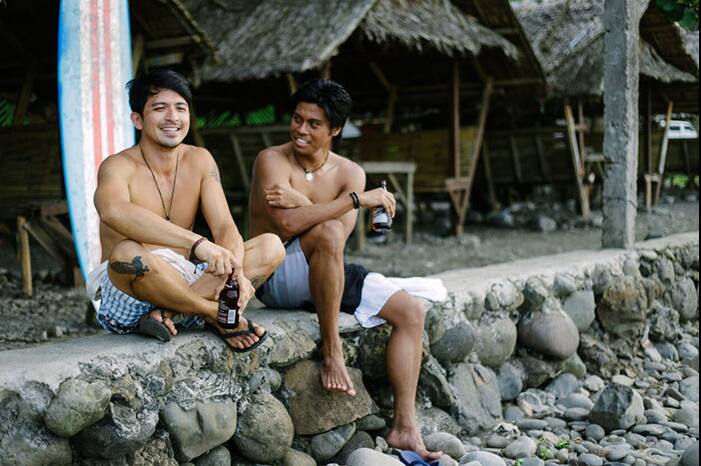 Dennis Trillo and Gerald Napoles | Cinemalaya
It would be a disservice to the film to go into more details about the plot. Suffice it to say that the screenplay and direction do a wonderful job matching, and playing to the acting strengths of Dennis Trillo and Jerald Napoles as the two main protagonists—members of the local surfing community, and both desperate people looking for that pot of powdery gold at the end of their rainbow. As the more responsible, rational one, Trillo gives us one of his most assured, understated performances. Napoles provides more of the antics and comedic elements, perpetually fantasizing about the better life and what could be.
Lou Veloso as the barangay captain of the fishing village is another standout in the cast, playing the man who wants to lead and throw his weight around, but always betraying his ignorance and lack of a moral compass. And wait for Matteo Guidicelli's scenes, where he's obviously having fun playing against type—the clean-cut, squeaky clean, romantic leads we know him for. Think of James Franco in Spring Breakers, or even further back to Gary Oldham in True Romance—and here's Matteo "playing" like we've never seen him before.
In fact, it's no coincidence that I mention 2012's Spring Breakers. Mina-Anud may be taking place half a world away, and in a simple, rural fishing village; but there's a vibe to it that reminded me of Spring Breakers, and how it's about people not knowing better.
What I loved about the film is how Go keeps the narrative moving, and yet throws jabs of social commentary about the drug war, law enforcement officers, and local politicians. This is a little gem of a film that announces the arrival of a filmmaker we should all keep our eyes on.
Mina-Anud will be in theaters nationwide on August 21