Question Your Values With These New Picks on Netflix: The Platform, Extreme Job, and Freud
From Spanish horror/suspense, to action-comedy from Korea, and a series from Austria about Freud's early days; there's something for everyone
With lockdown and quarantine still hanging over our heads, the homes that have Netflix can be thankful there are various options to help us while away the hours and days that melt into one.
The Platform
A winner of the People's Choice Award for Midnight Madness at last year's Toronto International Film Festival, The Platform is Spanish Director Galder Gatzelu-Urrutia's near-future dystopian horror/thriller set in a vertically-designed penal institution. From the outset, be forewarned that this is a grisly, blood-splattered film that doesn't pull its punches in being visceral and stomach-curdling.
The premise is that on a slab/platform, a true feast of food is laid out for every meal, and starts off at Level 1 for a short period of time. The two inmates incarcerated at that level can gorge on the feast before the platform descends to the next level and so on. You can't keep any food on your level, but can only consume while it's there. The obvious message, as there are over a hundred levels, is that consumption is dictated by who's on top, with no regard as to whether there's anything left for the people below.
The film has a potent message to say about humanity, consumerism, and our capacity (or lack thereof) for compassion. Of side note is that playing a pivotal support role is Alexandra Masangkay, a Filipina who's been doing well in the Barcelona film circuit. This is futuristic horror that hits the mark. Timely, but I just wonder how many will be in the mood for such a bleak reminder during these COVID-19 days.
Extreme Job
The top-grossing film in South Korea last year (and second top-grossing of all time in the country), Extreme Job is a likable action/comedy film that's smartly done and executed. The word is it's been optioned by Kevin Hart, who plans to produce an American remake—and I can see why it would be such a natural, shifting to the USA and its Southern fried chicken tradition.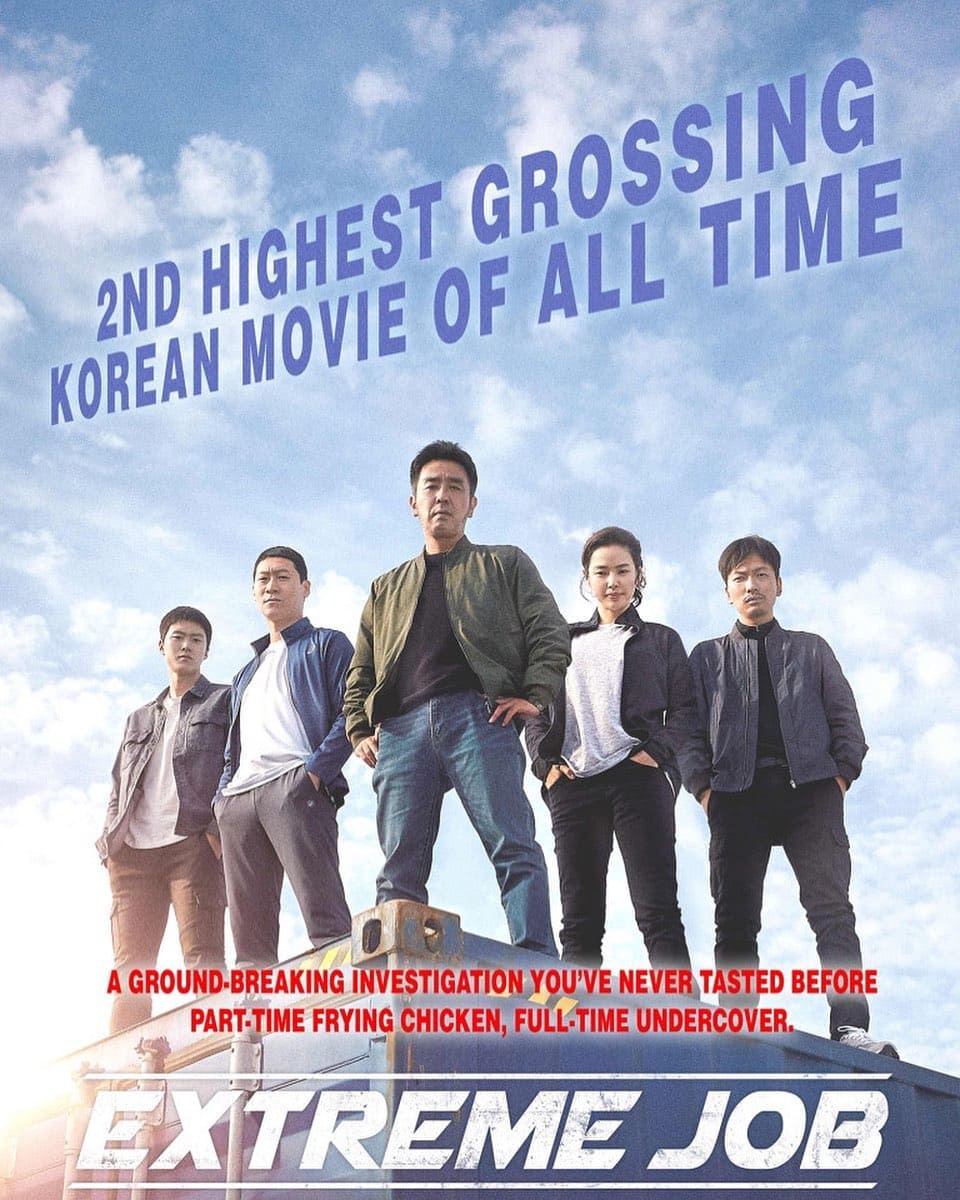 Facebook | Showbiznest
The storyline revolves around a police captain and his bumbling undercover team, who, in a hilarious manner, perpetually end up with the short end of the stick. Tasked to perform surveillance on a narcotics crime boss who operates out a side street employment office, their bright idea is to take over a fried chicken joint that's situated across the street. The real fun commences when the crew stumbles upon a sticky chicken recipe that becomes the talk of the town. How do you manage to still do the police work, when so many customers are entering the food outlet?
You'll love the casting, how Director Lee Byeong-heon makes full characters out of all the members of the undercover team, and even the main villain and his henchmen. They're all fully fleshed out, and we get attached to our favorites. The blending of action and comedy is so skillful; and this will once again, make you a believer of the range of artistic output coming from South Korea.
Freud
A Netflix Austrian production, Freud basically chronicles the early professional career of Sigmund Freud in 1885 Vienna. Rich in atmosphere and detail, it's a Gothic period outing that was filmed on location in Prague, as too much of present-day Vienna has been modernized. Father of what passes today as modern psychoanalysis, Freud is often referred to, and there are words and terms such as libido and Oedipus complex which he coined; but not much is known about the man, as he was extremely controlling about what was written about his own life, while he was alive.
As such, Director Martin Kren conjures up a young Freud (Robert Finster) who, in over eight episodes, is seen at university, attending seances, exploring hypnosis, and getting caught up in both detective work and the fraught political situation of the era. He's a cocaine-addicted student, faces prejudices because he's a Jew, and somehow; sets the foundation for creating groundbreaking work in psychoanalysis.
If there is a drawback to this series, it would be that we're basically covering a period of time before Freud did anything truly groundbreaking. There's more a feel of turning Freud into an Austrian version of Sherlock Holmes or a profiler. The detail is wonderful, and 'fin de siécle' Vienna is wonderfully depicted; but you don't end the series with a better understanding of Freud's contributions to our world today.
Photos from @seriefreud, @elhoyopelicula, and Showbiznest