Premiere Watch: Metro Editors on 'It's Okay To Not Be Okay'
The Netflix K-drama has been the talk of the town since its premiere last weekend! Here, the Metro team reacts to its intriguing narrative on mental health, healing, and love. (Warning: Spoilers ahead!)
Raise your hand if last weekend's premiere of It's Okay To Not Be Okay left you speechless and wanting more! The new romance fantasy drama, produced by tvN and Netflix, premiered to number 1 ratings, a very promising start. It had scored an average nationwide rating of 6.1 percent with a peak of 7.0 percent, according to Nielsen Korea.
Starring Seo Ye Ji and Kim Soo Hyun, It's Okay To Not Be Okay offers a stunning and intriguing narrative on mental health, healing, and love. It tells the story of Moon Kang-Tae (Kim Soo-Hyun) who works in the psychiatric ward of a hospital. His job is to write down the patient's conditions and to deal with unexpected situations. His life intersects with a woman, Ko Moon-young, who is a popular writer of children's books. Clouded with mystery, she comes across initially extremely selfish, arrogant, and rude.
Before we get into our editors' reactions to that wonderful premiere, let's do a quick recap of the first episode.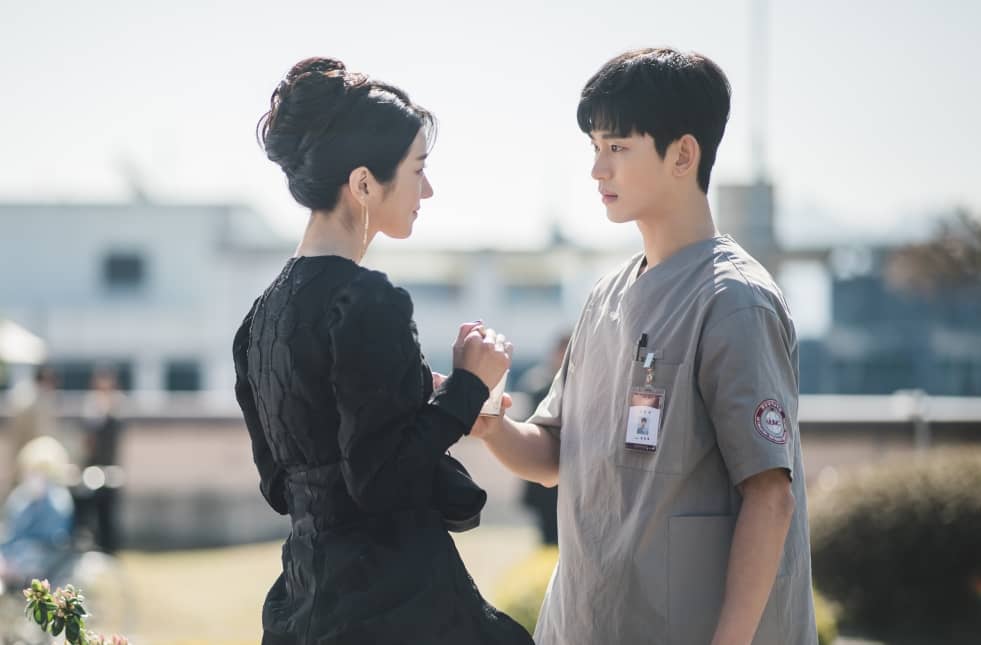 RECAP: "The Boy Who Fed On Nightmares"
RECAP: "The Boy Who Fed On Nightmares"
---
Phew! That's your recap of the first episode of IOTNBO! Now, the Metro team weighs in with their reactions to the premiere.
On the panel for this discussion:
Grace Libero: Metro.Style People Editor
Kate Paras: Metro.Style Beauty Editor
Justin Convento: Metro.Style Culture Editor
Anna Rosete: Metro.Style Living Editor
Geolette Esguerra: Metro.Style Editor-in-Chief
and Chris Lopez: Head of the Metro Group
What did you think of the first episode?
Kate Paras: I thought the production looked amazing—right from the start where it was animated, down to the main scenes, you know the show has a budget in terms of production. I came into this with just a vague idea of the theme, but I am amazed that this show tackles such a deep, taboo subject in a way that makes a lot more people understand mental health issues. I also loved seeing Kim Soo-Hyun on screen again! He is such a talented actor, and I know that I'll be in for another treat as the episodes come.
Anna Rosete: I am so into the animation and the premise of this storyteller/children's book author with somewhat dark, magical powers! I like how the animation is used in pivotal moments, functioning sort of like a narrator or a Greek chorus, as the plot progresses. It's just an amazing looking production, too. From the costumes to the locations.
Justin Convento: I enjoyed it! The episode left me intrigued, and I thought it was beautifully produced.. It's got a very pretty aesthetic but I think what stood out was the dark beauty about its story, overall and that of its characters. I'll be honest, I found the first episode a bit heavy and eerie. It does feel very ambitious, too, and I hope the drama can live up to the expectation of something very special. I loved the Coraline-like animation sprinkled throughout the episode but most especially at the beginning and the end. I also love how storytelling and narrating work in offering another layer to the drama as well as establishing a very powerful message as early as here: experiencing pain is a sad but integral part of life, shaping us to the people we are destined to become, and also help us become more passionate, caring, and kind to others. It also allows and offers us the gift of finding joy in life.
Grace Libero: Amazing is an understatement! I loved the animation intro; it was well thought out and beautifully executed. I like the irony between the female lead character's heartbreaking childhood and the current life she leads as a bestselling children's book author. In my opinion, it's the best way to kick-off a heavy drama that delves deep into the topic of mental health, wellness, and personality disorders, which are typically considered taboos. I'm also impressed with the pacing and how the team behind this series manages to balance out the dramatic scenes with lighthearted moments—not by taking things lightly but by treading a path less traveled with much mindfulness about how the drama would uplift its viewers. And oh, the details; there's just so much thought put into the transitions of the scenes. The actors are a perfect fit for their roles. I've always known Kim Soo-hyun and Oh Jung-se as great actors, and I'm certain they won't disappoint here, especially after seeing their chemistry in IOTNBO as brothers who have a painful past. As for Seo Ye-ji, it's the first time I'm seeing her in a K-Drama, and I must say, she's a great actress! Her acting is on point, and she has this whole "dark," mysterious aura to match that, not to mention that her character here is just absolutely stunning, fashionable, and powerful. This series started off great; it has all the ingredients for a winning recipe: brilliant cast members, intriguing plot, script, direction, beautiful cinematography and graphics (okay, spoiler, that scene where a patient threw up and all sorts of graphics flashed was hilarious and that part where Moon Kang-tae received a text message from Go Moon-young's publisher and instead of a plain text, the publisher's face appeared on the cellphone screen and delivered his message), and hopefully as it goes on, OST as well.
Chris Lopez: I loved the first episode. It was very interesting and intriguing. The characters are fascinating. I love the Moon brothers—their closeness and devotion to each other is moving and inspiring. This is the heart of the drama. I also love Go Moon-young who is beautiful, strange, mysterious and scary sometimes. But you know deep down she has good intentions.
Geolette Esguerra: Off the bat—I'm impressed, engaged, and intrigued. The opening credits were reminiscent of the whimsical bent of Tim Burton, mixed a bit of Neil Gaiman storytelling through the stop-motion animation of their backstory. It had that mix of fairytale and romance, mixed with gothic motifs. The themes are about mental illnesses, autism, treatment and the stigma that comes with it, and while they were fearless in approaching these taboo subjects, they were able to execute it in such a poignant yet light way, that you don't feel bogged down by the severity of the themes. Yet, it urges you to examine how you feel scene after scene, and as you inspect your emotions and judgements, you also get to be a bit more human.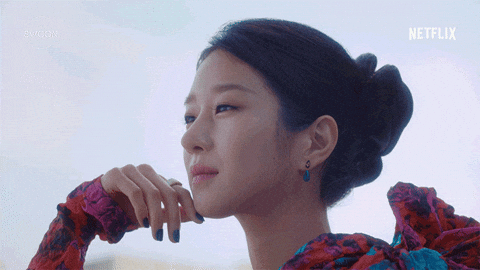 Netflix
What do you want to see in the next episodes?

Grace: I'm excited to see the romance between Moon Kang-tae and Go Moon-young flourish. I bet it'll be fun to see how she would pursue him. I like how she's so straightforward. I'm also looking forward to how they'd eventually realize the connection between their pasts. It'll also be heartwarming to see more moments between the Moon brothers, and how they'll survive challenges together. I can already feel I'd be crying a lot with this drama, especially when it has something to do about Moon Sang-tae. As the series goes along, I also hope to get enlightenment on mental health issues, and be uplifted with inspirational quotes and musings. Overall, I can't wait to see how events will turn out to heal their psychological wounds, and in the process, heal viewers' too during such a challenging time in all of our lives. I'm also wondering who will mention the title, "It's okay to not be okay," as part of his or her lines, or if it'll even be mentioned directly.
Chris: I am looking forward to seeing the misunderstood but strong and persistent Go Moon-young pursue the bashful and handsome Moon Kang-Tae. I am also looking forward to the outfits of Go Moon-young. She looks good in everything! Loved the outfit at the book signing where she looked so tall in those shoes! Also, it is commendable to have a K Drama tackle mental health issues. I like the essence of the story—an unlikely romance between two people who help each other heal from emotional and psychological wounds. I also look forward to seeing and learning about ways that help people who suffered trauma and with special needs. Like the butterfly hug method.
Geolette: I look forward to seeing more Go Moon-young! I am absolutely enchanted by Seo Ye-ji! Most especially her really unique voice—one could listen to it over and over again. I also look forward to another nuanced role of Moon Kang-tae by Kim Soo-hyun, who often plays the intelligent, empathic, yet seemingly unemotional leading man who lets his characters unfold slowly.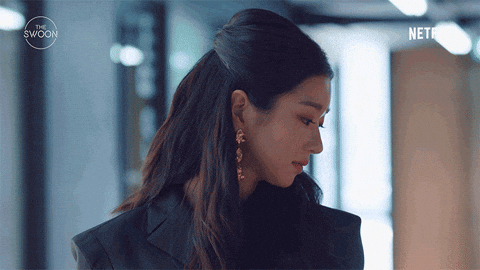 Netflix
Justin: It would be interesting to see the chemistry and how a relationship blooms between lead stars Moon Kang-tae and Go Moon-young!
Kate: I want to see how the show will tackle all the different facets of mental health, and how they will provide resolutions for each. In a way, I feel like it is a show that educates the audience, not just entertains. I am looking forward to seeing how Moon Kang-tae and Go Moo-young find love despite the rather unconventional setup they have.
Anna: I am so intrigued to know about what happened to each character as children. The first episode hinted at a backstory, so I can't wait for that to be revealed fully. Also, I'd like to see how this series justifies the title. I am looking forward to that takeaway.
Kate: I found the scene backstage really chilling, and adrenaline-inducing! It sets up the entire mood of the show, giving us unconventional characters we will come to understand and empathize with as the episodes roll by.
Justin: Memorable moments in episode 1 were backstage after Go Moon-young's storytelling was abruptly cut short due to a manic patient that escaped and was causing a scene, wanting to commit double suicide with his daughter. Elements from the knife from the restaurant (in an earlier scene) and the tussle that ensued between the characters left me on the edge of my seat. I also loved the moment in the publishing house where Go Moon-young lays her eyes on Moon Kang-tae again, from across, as she watches him thumb through some of her books. I thought it was such a well-shot scene.
Anna: I am quite fond of the scene where the Go Moon-Young "grew," attempting to control Moon Kang-Tae. As a designer, I was thinking of how they made it, if it was CG or if they truly had a scale model of the city. I also felt that the scene where Moon Sang-Tae saw the autograph and immediately knew that it was a fake. The chemistry between the brothers is tender, and it really adds heart to the series.
Netflix
Grace: My favorite scenes in the first two episodes are: Episode 1 (that scene where a child saw Go Moon-young and asked for her autograph; that scene where Moon Kang-tae talked to a patient and she threw up at him; that book reading event that ended up in an intense, bloody confrontation backstage; that scene where Moon Kang-tae and his friend faked Go Moon-young's signature and Moon Sang-tae noticed it right away, that scene where Moon Kang-tae and Go Moon-young crossed paths at the publishing company's office) and Episode 2 (that scene where Moon Kang-tae was walking and Go Moon-young was looking at him from afar and suddenly there was a visual effect where she became a giant; the autograph signing event; the butterfly hug method; the Moon brother's bus ride home where Moon Kang-tae gifted his brother with a dinosaur encyclopedia; and the last scene at the hospital where it was raining and the two lead characters meet again).
Chris: My favorite moments were—
cinematic scene of the little boy following the pretty little girl in the snow, rain, field of flowers and grass
post book signing event interaction between the 2 lead characters—especially when he (for once) protects her from a old man
when he tried to teach her the butterfly method
brothers in the bus
Geolette: From Ep1, I loved the first appearance of Go Moon-young, who was eating in a restaurant alone. As she terrorized a young girl who wanted to be a "princess" you immediately get a sense of her character. When questioned by her publisher, she runs her knife through her plate, and also takes off carrying the knife from the restaurant!
Favorite characters and why?
Kate: Ko Moon-young and Moon Kang-tae for sure! I'm excited to see their characters grow and unfold throughout the series. Oh, and Moon-young (played by Seo Ye-ji) looks amaaaazing.
Grace: Kim Soo-hyun is one of my favorite Korean actors; in fact, My Love from the Star is my number one favorite K-Drama of all time. But I'd have to say, my favorite so far is Seo Ye-ji's character. There are just so many layers to her profile that I want to see unfold with each episode. It's a huge factor, too, that she's so stylish and uses fashion as an expression. Her style is as bold, daring, and fierce as her personality.
Justin: I love Moon Kang-tae's boyish charm, his character for being such a good, honest guy, how he is devoted to caring for his brother Moon Sang-tae.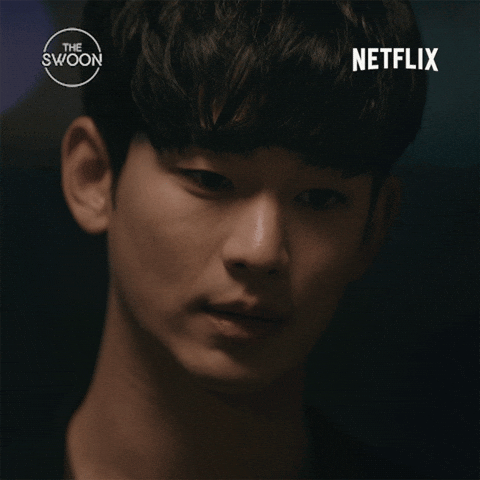 Netflix
Anna: Well, Go Moon-young for one. I love watching her: her fashion, her mannerisms... Seo Yo-ji's voice, especially, really fits the character. I also like that the character is not typically virtuous, like so many Asian female leads. The character doesn't fit the mold of the cute Asian girl or the hard working Asian girl who keeps trying no matter what. I think that's interesting.
Geolette: Go Moon-young for sure because of her lovely voice and how she makes every appearance some kind of gothic fashion show! I also like Moon Sang-tae, the brother of Moon Kang-tae—gives so much color to every scene he is in.
Will you watch this again?

Kate: Definitely! It's my new weekend habit!
Chris: I will definitely watch this drama.
Geolette: Wouldn't miss it!
Justin: Definitely! Even if I haven't warmed up completely to the story yet, I'm tuning in because of the wardrobe and makeup, the production, and the editing and cinematography!
Anna: I'll look forward to each new episode!
Grace: YES! I can't wait for the next episode. Weekend, please come sooner!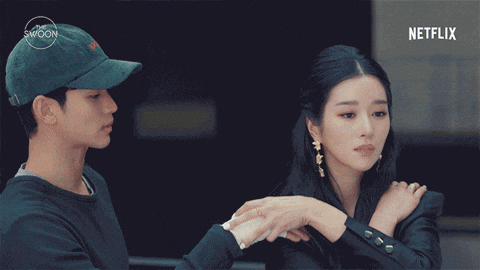 Netflix
---
Did you tune in to the premiere of It's Okay To Not Be Okay? Will you be watching its next episodes this weekend? We definitely are!