A Grounded Bird: A Review Of 'The Goldfinch'
Like the manacled Goldfinch in the painting, this film adaptation of the Pulitzer Prize-winning novel never takes flight and suffers from taking itself too seriously
When Donna Tartt came out with The Goldfinch back in 2013, I loved reading it, slowing down to savor the experience, and keep it from ending. It came as no surprise to me that it went on to win a Pulitzer Prize for Fiction; and secretly, I was hoping no one would acquire the film rights and make a mess of the adaptation. Too often, we've seen dense, contemporary literary masterpieces, resist this transition into film, and lose so much in the process. Cloud Atlas of David Mitchell comes to mind; another novel I truly admired and loved, and the movie was a mess.
Mind you, I was hoping against hope for The Goldfinch, as James Crowley was directing. Crowley gifted us with Brooklyn in 2015, based on a novel by Colm Toíbín, with a screenplay from Nick Hornby. The film really brought to vivid life the characters of Ellis, played by Saoirse Ronan; and Julie Walters as Mrs. Kehoe was magnificent. Could lightning strike twice for Crowley? Well, if you've never read the novel, you may be happy with this film, and hopefully, be driven to read the book. If that does happen, then this film would have served a purpose.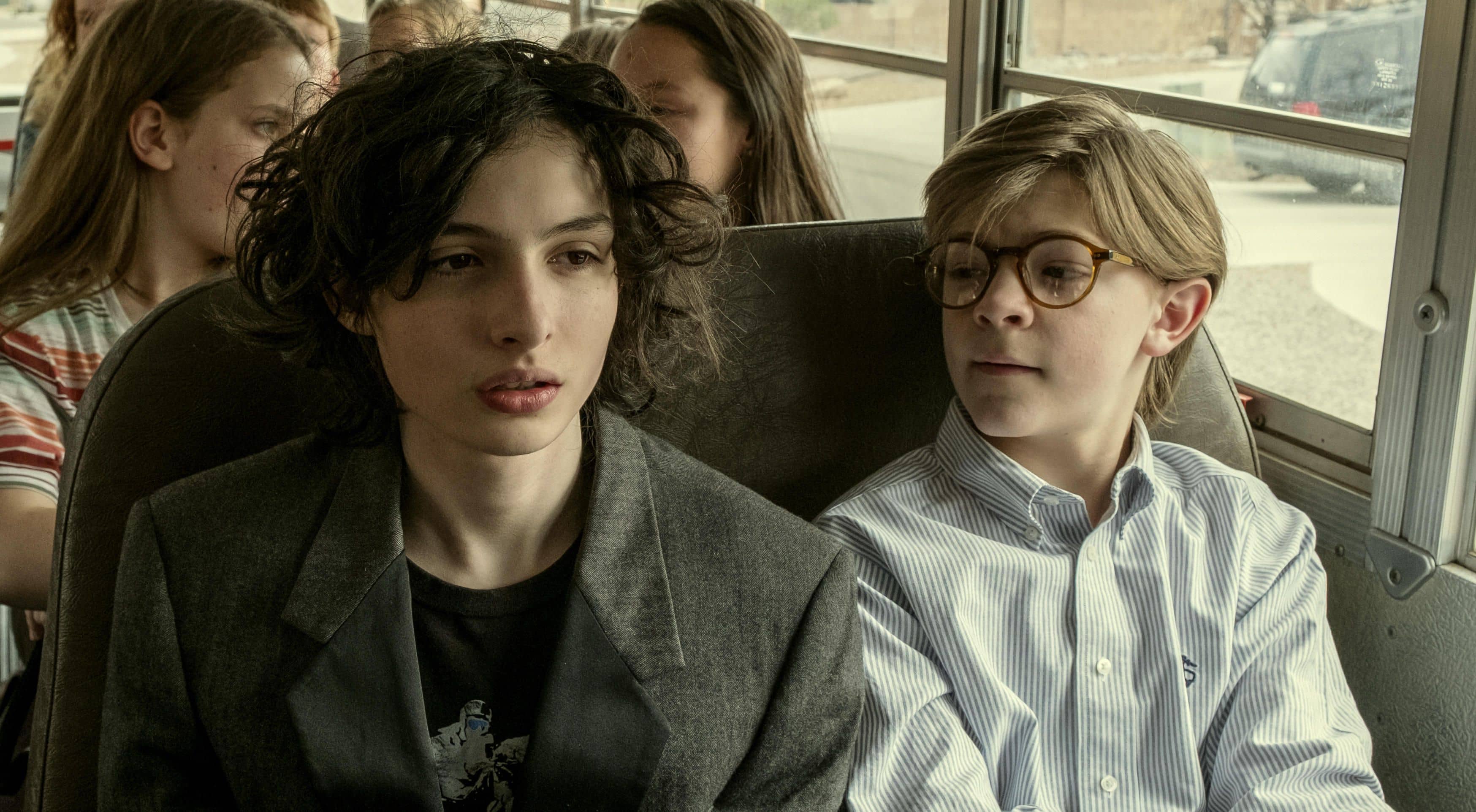 Finn Wolfhard and Oakes Fegley | Warner Bros.
The Goldfinch is, at one level, a coming of age story of one Theo Decker. We meet Theo as a bespectacled 11-year old (Oakes Fegley), and as a horn-rimmed twenty something (Ansel Elgort). The younger Theo accompanies his mother to the museum where he views the titled painting, and where a terrorist attack leads to tragedy and an act of larceny. With an absentee father, the film then turns into a Theo picaresque; how he turns to the Barbour family led by matriarch Samantha (Nicole Kidman), how he's introduced to the world of antiques via Hobie (Jeffrey Wright), and how when the father (Luke Wilson) does turn up, he ends up in Las Vegas and befriends a Russian boy named Boris (Finn Wolfhard, and Aneurin Barnard as the grown up version).
Ansel Elgort was terrific in Baby Driver; so once again, I was guardedly optimistic about this screen version of Goldfinch. But alas, he is no Saoirse Ronan, or Crowley was too much in awe of the material? In the book, reams of pages are devoted to delving into the inner thoughts of Theo, so that even if he seems too prim, prissy and tightly wound on the surface, we catch a glimpse of his depth and internal turmoil. Here, whether as the young boy or young man, Theo just rubs off as boring and mechanical.
Ansel Elgort and Aneurin Barnard | Warner Bros.
It's Wolfhard and Barnard as Boris who come up with a portrayal that has some spark, and rekindles our interest in what's transpiring on screen. Kidman is a great actress—but even she seems to be acting under restraints here, echoing the situation of our Goldfinch in the painting, manacled and forced to just exist on its perch. In fact, that would be my major gripe, how most of the actors seem to just be on display, going through the motions, and monologuing at the drop of a pin.
The material almost cries out to be given a subversive twist, not to be taken too seriously. Instead we have a too sincere, too earnest attempt to bring the book to life, and by being perhaps too faithful or letter perfect, we strip the action of any vivacity and life.
The Goldfinch is still a literary masterpiece; a textured, enjoyable read—and honestly, I wish I could say I enjoyed the film as well. Unfortunately, this is one of the times I can say a limited mini-series on TV might have done more justice to the book.
The Goldfinch will be out in theaters nationwide on September 24.