Coming Soon: '#ALIVE', A Korean Zombie Film
Everything you need to know about Park Shin Hye and Yoo Ah In's highly-anticipated zombie film out in June—posters, plot synopsis, and trailers, here!
Yoo Ah In and Park Shin Hye are starring in a new film '#ALIVE'! Directed by Cho Il-hyung and distributed by Lotte Cultureworks, '#ALIVE' is a zombie film based on the original script '#Alone' of Hollywood screenwriter Matt Nayler. The screenplay has been adapted by Cho Il-Hyung and Matt Nayler for the Korean market.
'#ALIVE' is a survival thriller about two lone survivors Joon Woo (Yoo Ah In) and Yoo Bin (Park Shin Hye) amid a mysterious outbreak that plagues the city of Seoul. Swarms of people are struck by this strange illness, which makes them rabid, uncontrollable, and unable to stop themselves from attacking others. Those without symptoms are trapped alone, in their homes, without any cellular data, Wi-Fi, texting, or phone calls.
A mobile trailer was released just recently, set up as a phone screen (fitting the movie's thrilling storyline) in which the asymptomatic, surviving citizens find themselves completely and abruptly cut off, with no access to data or Wi-Fi.
In the video, Joon Woo (Yoo Ah In) gets a flood of notifications on his phone about how serious the situation has become. He has four missed calls from his father, alerts about riots, and warnings not to come in contact with the infected. He finds out here that the mysterious illness can be passed through bites and wounds from the diseased. "Did you see the news? Are you okay?" reads a text from his father.
Joon Woo's father tells him that it seems he won't be able to go to him now, sending him a final message that reads: "You must survive. Joon Woo's phone screen suddenly cracks. The trailer then shows a terrified Joon Woo trying to keep out a horde of 'zombies' who are infected.
Watch the second trailer below:
'#ALIVE' is scheduled to hit theaters in Korea in late June. To date, the film has released a total of three posters, getting fans super excited about the zombie thriller.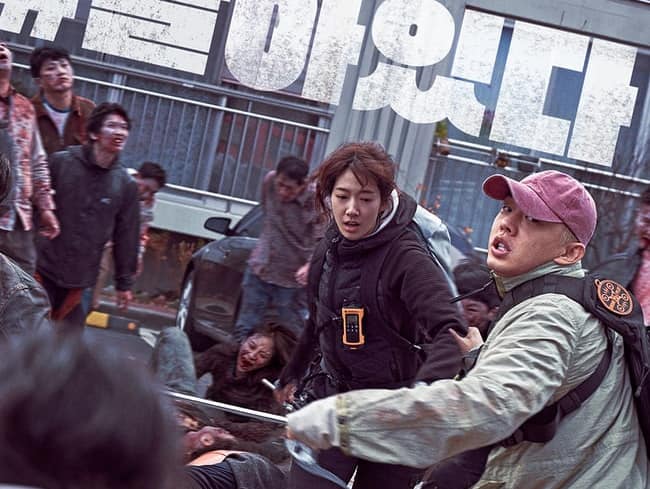 '#ALIVE' OFFICIAL MOVIE POSTERS
Are you excited to see the Yoo Ah In and Park Shin Hye in this thrilling new film? Stay tuned to Metro.Style for more updates on the film's release!