What To Expect From The 'BH90210' "Quasi-Reboot"
In one of the most anticipated TV reunions, the original stars of the '90s teen hit will be playing "heightened versions of themselves" in the new miniseries
Often credited as the show that pioneered the teen drama genre, Beverly Hills, 90210 captured an entire generation, and was no doubt one of the biggest pop culture sensations of the '90s. Who could forget one of the infamous love triangles on TV between Dylan, Brenda, and Kelly? Or when Donna Martin graduated?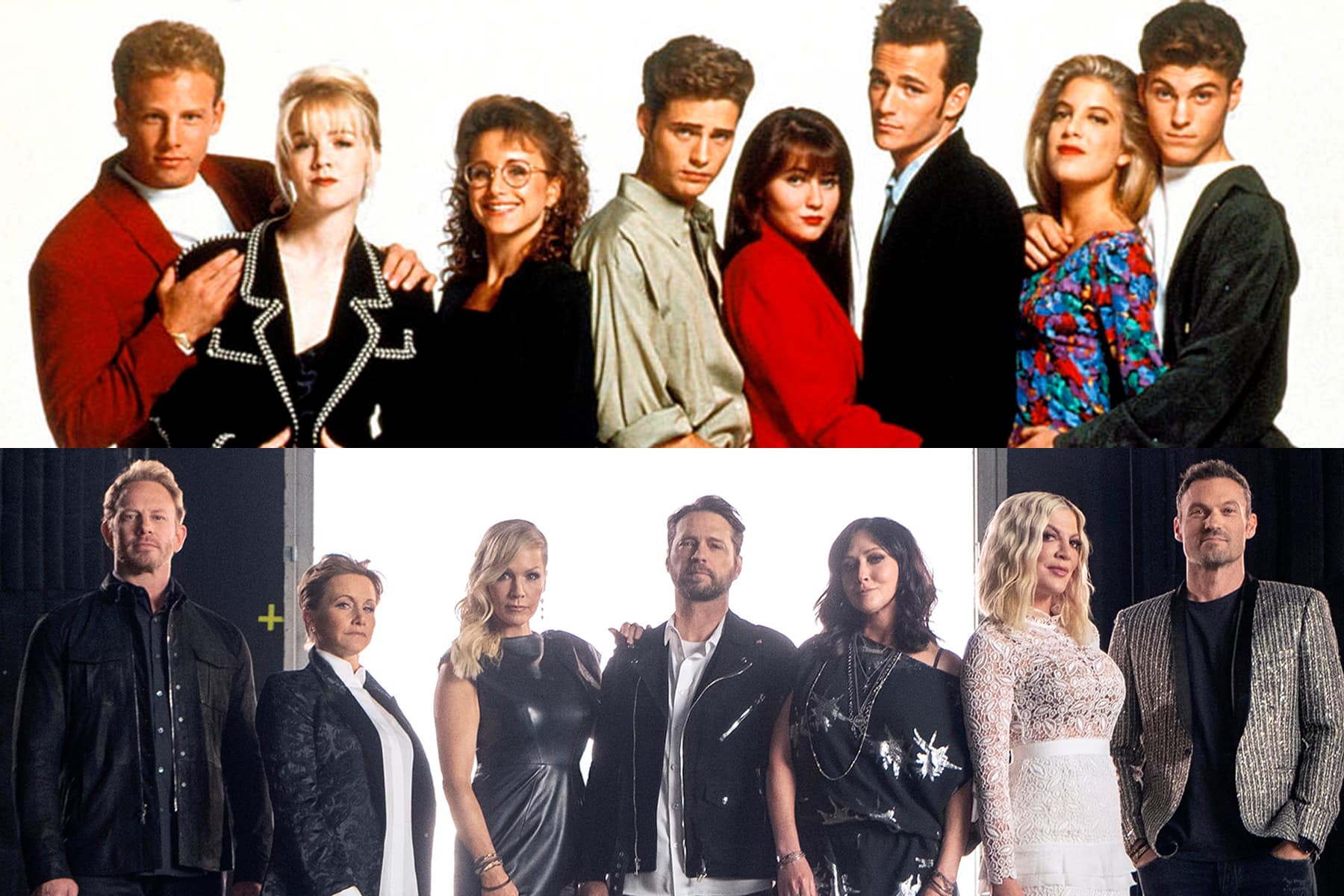 Well hold on to your scrunchies and get ready for a load of nostalgia, because Jason Priestley, Shannen Doherty, Jennie Garth, Ian Ziering, Tori Spelling, Brian Austin Green, and Gabrielle Carteris are bringing Brandon, Brenda, Kelly, Steve, Donna, David, and Andrea back to the Peach Pit on BH90210, premiering this week!
It went on to launch a whole franchise, with spinoffs Melrose Place and Models Inc. released a few years later, and in the late aughts, reboots 90210 and Melrose Place (2009) on The CW. The 90210 spin-off followed a new generation of kids at West Beverly, with Jennie Garth, Shannen Doherty, and Tori Spelling making small appearances, reviving their roles and revealing the fates of Kelly, Brenda, and Donna as adults. This time, the entire original '90s gang (sans Luke Perry, RIP) will all be back, as both themselves and their respective characters.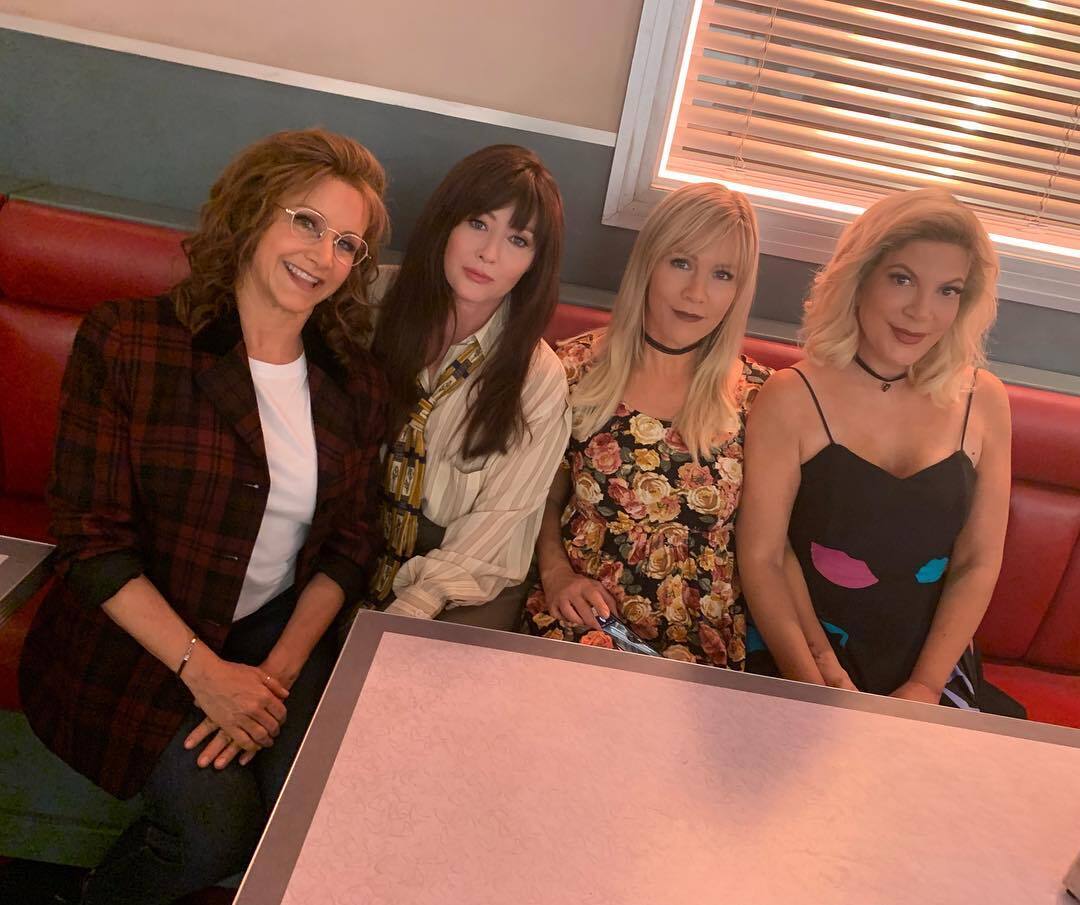 Andrea, Brenda, Kelly, & Donna in 2019 | @theshando
The 6-episode miniseries will be a fictional behind-the-scenes of the stars playing "heightened versions of themselves," coming together to get a
Beverly Hills, 90210
reboot off the ground at this point in their lives. With a "healthy dose of irreverence," the characters' stories will be inspired by their real lives and relationships with each other, leaving the audience left to wonder whether certain elements are indeed fact or just fiction. With all the tabloid stories that have accumulated over the years, and especially, the highly-publicized behind-the-scenes drama that also occurred on the original set—most notoriously, Doherty's firing after season 4 and bitter rivalry with Garth—they surely have plenty material to work with.
The novel idea came from Tori Spelling, who with Garth, approached the rest of the cast last year and shopped it to several networks. Initially partnering with CBS, who currently owns the rights to the franchise, it was eventually Fox ordered the miniseries—fitting, as it was the channel the original show premiered on. Last December, it was confirmed Priestley, Green, Carteris, and Ziering were on board, with Perry agreeing to participate as much as he possibly can, given his contractual obligations with Riverdale. After Perry's passing, Shannen Doherty confirmed she will be joining the reboot in honor of her late friend. All are also executive producers on the show.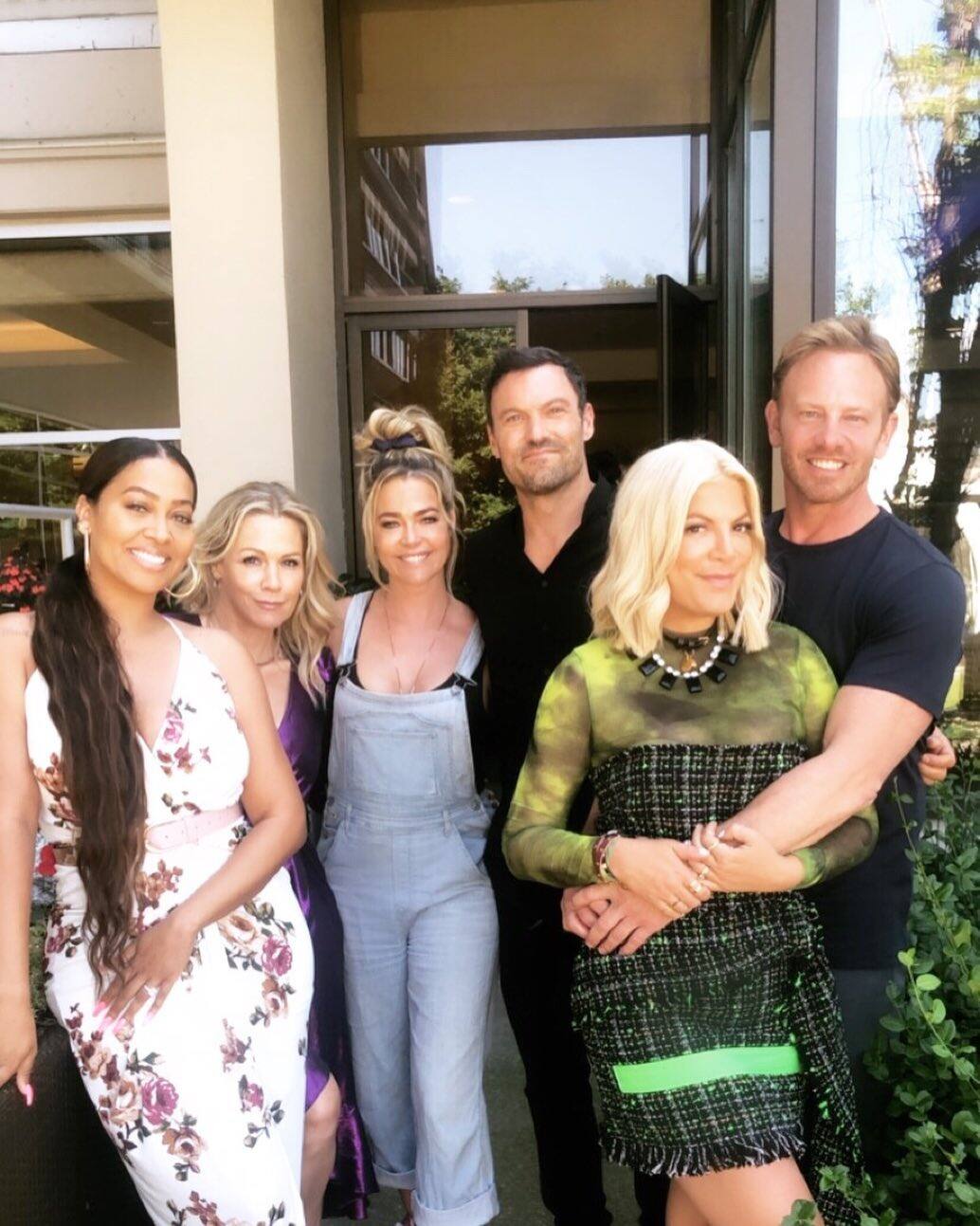 La La Anthony & Denise Richards join the cast | @torispelling
Filming for the reboot began in May in Vancouver, and additional actors were announced to join the cast. The supporting cast will include
La La Anthony
, as Brian's (who is married to Megan Fox in real life) fictional wife, Shay;
Vanessa Lachey
as Camille, Jason's fictional wife; and
Iva Sergei
as Nate, Tori's fictional husband. Other
Beverly Hills
alums have also been confirmed to make appearances, likely as themselves, including,
Carol Potter
, who starred in the original show as Cindy Walsh, and
Christie Elise McCarthy
, who played bad girl Emily Valentine and dated Priestley on- and off-screen back in the day. Having just wrapped her first season on
The Real Housewives of Beverly Hills
,
Denise Richards
, who made a cameo on the original as Kelly's (Garth) cousin, is going from one Beverly Hills franchise to another, and has been the latest addition, also to play a "heightened version" of herself.
BH90210 premieres on Wednesday, August 7th, with new episodes every week on Fox.