7 Reasons Why BTS is the Best (And Why It's Easy to Love Them!)
The Korean supergroup is out for world domination. We're here to list down seven reasons why these boys are the best and why you should stan them.
Since catapulting into global stardom in 2017 after being one of the first K-pop acts to perform at the American Music Awards and winning the Top Social Artist award at the BBMAs, Korean supergroup Bangtan Sonyeondan (popularly known as BTS) have won the hearts of millions of fans worldwide. Now celebrating their seventh year since their debut in 2013, the seven member boy group composed of RM, Jin, Suga, J-Hope, Jimin, V, and Jungkook show no signs of slowing down.
With the anticipation surrounding their first English single, Dynamite, on August 21st, we're here to list down seven reasons why BTS is the best and why you should definitely stan them.
1. They're talented beyond belief
If you've ever chanced upon a BTS performance online, you'll know what we're talking about–these boys will leave you breathless with their ability to own the stage.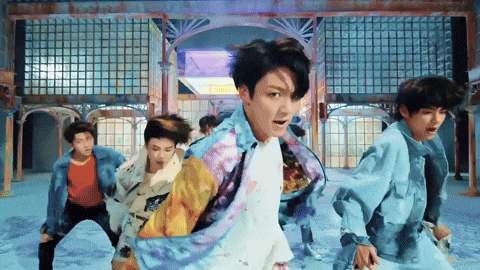 All seven members of BTS can sing, dance, AND rap! | @btsofficial
While it's a given that they should know how to sing, dance, and rap, all seven members also produce and write their own songs!
After living with each other for the majority of their lives–weathering every hardship and celebrating every win together, their bond goes beyond just having a good group dynamic.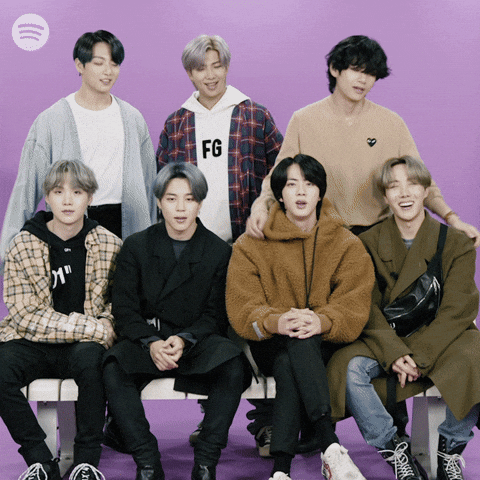 BTS group huuuug!!! | @spotify
They know each other's strengths, struggles, and how to manage each colorful personality in the group, which allows them to have that undeniable chemistry on and off stage that we love to see.
3. They're extremely down-to-earth and humble
Despite bagging awards both locally and internationally, selling out stadiums, and topping the charts left and right, at the core of it, BTS is still the same group of seven boys who get excited over the little things–like winning gift certificates and free food on their variety show, Run! BTS.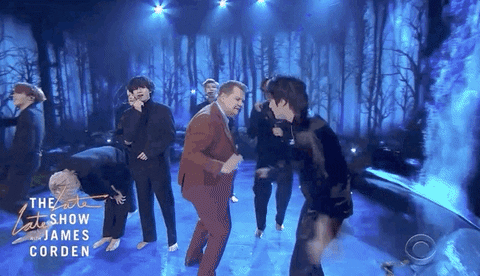 Being silly on 'The Late Late Show with James Corden' | @btsofficial
While it's no secret that these boys have worked hard to get to where they are, they never forget their fans–from their ending mentions during concerts down to the songs that they've written and produced, they've dedicated just about everything to A.R.M.Y.
BTS has big love for A.R.M.Y. dedicating everything they do to their fans from all over the world | @btsofficial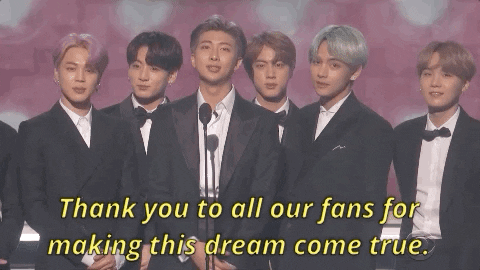 BTS thanking A.R.M.Y at last year's Grammy's! | @recordingacademy
4. They keep it real
Authenticity is something that's hard to come by these days, but with BTS, you can expect nothing but that. They're unapologetically real and not at all averse to showing all sides of themselves–from the cute and funny moments on and off stage down to the struggles and vulnerabilities they face as a group and as individuals. A constant reminder that they're just as human as the rest of us.
5. Positive messaging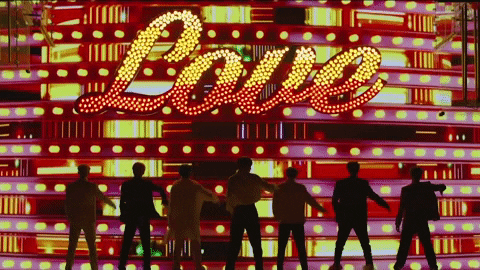 Spreading love and positivity to fans all over the world! | @btsofficial
In times when you're looking for more things to hold on to, their words give you a sense of reassurance. From their socially conscious lyrics focused mostly on the exploration of identity, positivity, and acceptance–to the tidbits of advice they give during their live streams, it's not hard to see why fans often say that BTS came into their lives at a time they needed them the most. They've transcended beyond entertainment and have become a source of comfort for many.
6. They're socially aware
In 2017, they launched a global campaign in partnership with UNICEF, building on the mantra love yourself, which the group's frontman, RM, says is the core of BTS' identity. Since its launch, the campaign has raised over $1 million in donations and was quickly followed by an invitation to address the United Nations General Assembly in New York City the year after. Being no stranger to social injustices, the group also spoke up and made a notable donation to the #BlackLivesMatter movement that happened early this year—triggering a ripple effect amongst their fans who matched their $1 million donation to the cause.
7. They bring people together
Beyond their breathtaking performances and visuals, the group has successfully cultivated a worldwide community of fans that have come to embrace their message of positivity and acceptance. Despite much of their content being in Korean, BTS has created an avenue to look past the language barrier, eliminating any biases of what people deem good music is and what it should be, forming a deeper connection with anyone who is willing to listen. At the end of the day, it doesn't matter who you are–there are seven boys in South Korea named Namjoon, Seokjin, Yoongi, Hoseok, Jimin, Taehyung, and Jungkook who are here and who understand you.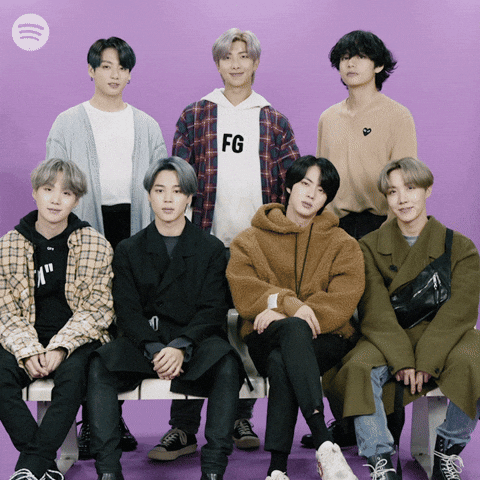 Breaking barriers of all kinds, BTS has found a solid A.R.M.Y base in the hearts of so many fans across the world! | @spotify
---
While seven reasons are barely enough to talk about why BTS is the best, we acknowledge that there needs to be an eighth... and that's A.R.M.Y.! As the boys say, "we are not seven with you." Borahae!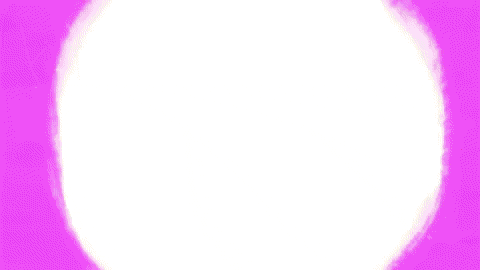 As our BTS boys say: "we are not seven with you" | @btsofficial
Lead photo from @bts.bighitofficial