An "Old" New World: Lea Salonga's 'Perfect Ten' Concert
Ushering in celebrations marking the 10th year of Resorts World Manila, Lea Salonga's two-night concert series 'Perfect 10' was a skillful blend of looking at her past, while gazing into the future
Lea Salonga is undoubtedly one of our national treasures. In time, she will be conferred National Artist—as no one, to this day, comes close to attaining the kind of global recognition she has garnered in her chosen field of the performance arts. The ultimate accolades for any stage actress in a musical, of a Laurence Olivier and a Tony, which she picked up for Miss Saigon, will be hard to top—and that's something she can claim for posterity, and for the Philippines. So it was only fitting that as Resorts World, and their Newport Performing Arts Theater, celebrated their 10th year, that a two-night Lea Salonga Perfect Ten Concert series was conjured up to kick off the festivities.
Directed by Floy Quintos, and with Gerald Salonga handling musical direction with the ABS-CBN Philharmonic Orchestra, the first night that I got to watch was a thrilling reminder of Lea's achievements, and the crystal voice, with clarity of diction, that has propelled her into the stratosphere of her professional arena. From Miss Saigon to Les Miserables and Once On This Island, her Broadway forays were covered; and of course, her engagements with Disney via Aladdin and Mulan were similarly noted. And while the essence of a retrospective did exist, I loved how the musical arrangements were playful; adding little tweaks, flourishes, and new touches here and there, making full use of the orchestra. And can I say here that watching Gerald Salonga conduct is a show unto itself; how he immersed himself into the music with his gestures & body movements!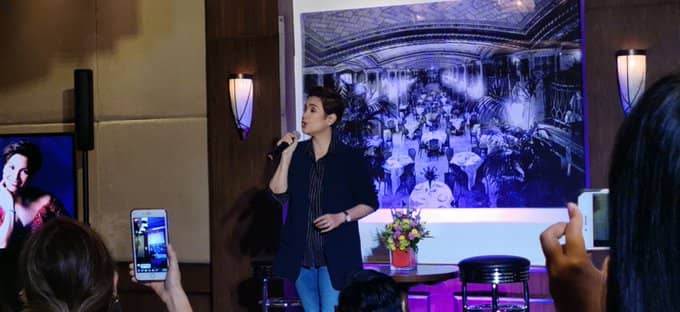 Lea Salonga | MJ Felipe
Lea handpicked her musical guests and they all added to the luster of the show's concept. First up was Esang De Torres, who was mentored by Lea on The Voice Kids, and has since starred in productions of Matilda and Les Miserables. And there was Tanya Manalang, who performed abroad as a Miss Saigon Kim alternate; and was back on the Newport stage as she was in the Huling El Bimbo cast. Motherly pride was also part of the show as Lea performed one duet with her daughter, Nicole Chien.
Michael K. Lee was the guest flown in from abroad, and he was a definite showstopper. A veteran of Miss Saigon and Allegiance, he sang with Lea as she musically reminisced Aladdin and Miss Saigon; and brought the house down with his solo number—his rendition of "This Is the Moment" from Jekyll and Hyde. Just to show us how topsy-turvy the world of theater can be, he recalled how the first time he flew back to Korea to perform, he played an American GI in a traveling tour of Miss Saigon.
When Lea returned for her encore, she showed us that she had reserved the fun part for the last numbers of the night. It started with a full rendition, including the intro verses, of "Somewhere Over the Rainbow." And then, there was the ABBA medley that had her sashaying with the audience that had got up on its feet to dance with her.
As someone who's watched her when she first performed as Annie, and even seen her do movies with Aga Muhlach, all before those fateful auditions for Miss Saigon; it's hard to believe she's all of 48 years old now, and joking about how she's called "Manang" on the sets of the stage plays and reality talent shows she's involved in. She was quick though to say that it's the Bisaya version of Manang which is like older sister.
Like the song "Reflection" from Mulan, there was a sense of taking stock, by songs, of where her career has taken her through the years. This concert had this in mind; but it's also revealed how as performer, as mentor, as somebody who can influence, there is still so much we can expect from Lea Salonga. If like Resorts World, her life seems to look like a Perfect Ten to this point, Lea was here to remind us it's far from closing curtain time; and why be satisfied with Ten?