MTV VMAs 2020 Performances: Watch Them All Here
Amazing performances by BTS, Lady Gaga, Ariana Grande, the Weeknd, Miley Cyrus, and more!
The 2020 MTV Video Music Awards was broadcasted live on August 30 from various locations in New York City and what an epic show it was!
Lady Gaga at the 2020 MTV VMAs | @vmas
The show started off on a high note with The Weeknd performing his smash hit "Blinding Lights" at a whopping total of 1,100 feet above New York—at the Edge at Hudson Yards, the city's highest observation deck. Other highlights include Ariana Grande and Lady Gaga's debut live performance of Chromatica's "Rain on Me," Miley Cyrus singing her latest single "Midnight Sky" on a wrecking ball, and BTS performing "Dynamite," their newest track!
Watch all the performances from the main event and pre-show below!
Lady Gaga and Ariana Grande

Julia Michaels and JP Saxe
Host Keke Palmer also opened the ceremony with a moving speech that gave voice to the voiceless, touching on the Black Lives Matter movement. "We've seen our generation step up, take to the streets and make sure our voices will be heard. Enough is enough... The leaders of that movement are you, us, the people watching tonight. It's our time to be the change we want to see. We need to come together and music. Music has that power, music can help us heal. It's all love. And that's what's important. We are making the impossible possible pushing the boundaries of music performances because that's what we do on the VMAs."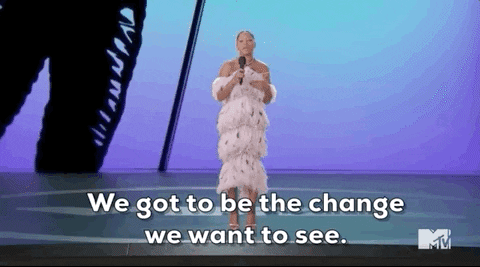 Host Keke Palmer opened the 2020 MTV VMAs with a moving speech on the BLM movement | @vmas