ArteFino's Originals Return For Week 5 Of The Festival
For the final week, some of the pioneer vendors of ArteFino serve up new collections made especially for festival
Throughout its five week run at the PowerPlant Mall, ArteFino showcased a new set of brands of designers each week.This year's artisanal event, proved even bigger and more exciting with over 150 vendors filling the festival ground. There was always a reason to return, especially for the final week which showcased ArteFino's most-loved originals.
Cedie Vagas and Marimel Francisco reminisce, "Since we launched in 2017, ArteFino has taken on a life of its own." Throughout the years, they've launched countless local labels and designers. "We've worked with many emerging brands and designers, all of whom have grown with us. We've followed their journeys and evolved with them."
Some, if not most of the pioneer vendors of ArteFino have grown leaps and bounds. They've evolved into household names patronized by the country's well-heeled.
For the final week of the festival, the very same labels and designers serve up new collections made especially for ArteFino. Their signature pieces once again fill the fairgrounds, but for Week 5, the pioneers serve up fresh, new iterations of distinctly Filipino craftsmanship and sustainable design.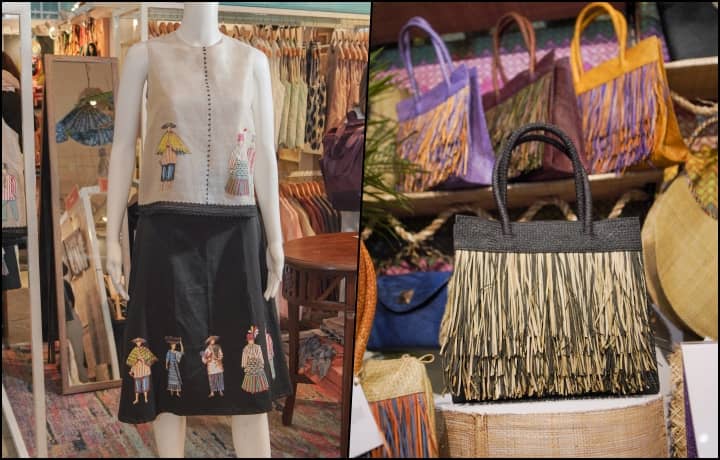 ArteFino Originals Come Back for Week 5
ArteFino Originals Come Back for Week 5
Check out the brands and their signature pieces presented for ArteFino's Week 5 below:
TATSULOK featuring Natalya Lagdameo, Al Valenciano, and Len Cabili: An umbrella label that brings together Natalya Lagdameo's contemporary take on local metal work; Len Cabilis' and Al Valenciano's mastery of local weaves.
Rhett Eala: Iconic shapes and separates of the well loved designer return to ArteFino. This time around, Eala infuses his signature silhouettes with details that echo local life and landscapes.
Zarah Juan: The bag designer, known for her quirky, distinctly Filipino shapes, reimagines the daily tote via vibrant colorways and layers of texture.
Goodluck Humans: For ArteFino, the sustainable Philippine label, utilizes recycled fabric to create statement patchwork garments.
Coco & Tres: The proudly Philippine made label offers patchwork maxi skirts and trousers, infused with distinctly Filipino patterns and details.
Adante Leyesa: Adante creates wearable art for ArteFino using upcycled materials. His festival masterpiece? The Floral Micro Cocoon bag.
Jor-El Espina: Jor-El presents a new way of dressing up via layers, asymmetric hemlines doses of texture. His holiday collection debuts at ArteFino for Week 5.
Joanique: An editor's pick by international fashion glossies including Harper's Bazaar and Vogue France, Joanqiue returns to ArteFino with a collection of woven and wooden clutches reflective of local artistry.
Sustainably Made by Marsee: Sustainable, statement woodworks by Marsse at ArteFino tops the holiday shopping list at ArteFino.
Olive Tree: Olive Tree's collaboration with Ola Haus debuts at ArteFino. It features the Patong Patong Bolso–a statement bag following the shape and various shades of confetti.
Judy Jewels and Fedesto: The fine art of Philippine jewelry is punctuated by use of impeccable pearls, precious metals and gems by ArteFino pioneer Judy Jewels and Fedesto.
Micki Olaguer: For ArteFino Week 5, Olaguer returns to ArteFino with mother of pearl jewelry inspired by turn of the century design. Pieces are accompanied by precious stones like citrine, amethyst, aquamarine and red garnet.
Lara Samar: Sustainable, hand woven bags from Lara enliven the fairgrounds via oversized proportions, fun fringe details, vibrant colorways, and unexpected shapes.
Rags to Riches: The intentional lifestyle brand known for crafting multiway pieces, returns to ArteFino with a collection of functional bags utilizing deadstock weaves and upcycled materials.