Mandëko Kito 4 Continues To Uplift The Creative
With each edition of this Baguio Arts & Crafts Collective, Inc (BACCI) project, the community of artisans from the Cordillera region and beyond innovate and push design boundaries, proving that the future is indeed creative
There is no denying how much of a breath of fresh air a quick trip to Baguio City can be for those who get to visit—literally and figuratively. The UNESCO Creative City for Crafts and Folk Arts remains to be as inspiring in its dedication to artisans as ever, and its latest Ibagiw festival and the ensuing highlights and events around various creative hubs in the city have only further encouraged innovation in the region's major crafts and folk art traditions. A breath of fresh air, indeed, and a welcome respite away from Metro Manila's hustle culture.
Among these activities Mandëko Kito truly stands out. The Baguio Arts & Crafts Collective, Inc (BACCI) project, which was born last year as a means to help the local creatives at the height of the pandemic, evolved with each edition in several ways yet has remained steadfast in its vision and mission to foster and nurture the artisan community.
Mandëko Kito, which means 'Let's Sell' in Ibaloy (a dialect from Northern Benguet), is a premier artisans market that happens twice a year. Its current edition, Mandëko Kito! 4, operates from Friday to Monday until December 13, 2021—and makes for a worthwhile visit for those looking to get a little Christmas shopping done.
The fourth edition, held at the Berkeley School Baguio once more, gathers the finest handicrafts and local products from Baguio, Sagada, Pangasinan, and Atok. For yet another unforgettable fair experience—truly bigger and better than the last—BACCI was able to gather a total of fifty-eight participating merchants and artisans from the region. Compared to the June 2021 run, the number of participants nearly doubled!
Participating merchants in Mandëko Kito! 4 were Abiakak, Amparo's Apothecary, Anti-self, Benguet Souvenirs, Butatow Artist Collective, Denden's Furniture & Handicrafts, Easter Weaving, Everything is Pine, Gallery ErGo, Inabel ni Ina, Knitting Expedition, Monthly Monsoon, Narda's, Pangasinan Crafters, Pilak Silver Shop, Revival Indigo, Roby's Pick, Mayat-an's Handicraft, The Living Room, and Therapy Clinique Candles.
Of course, food was a major highlight for the fourth Mandëko Kito as the picnic area finds itself nearly doubling in size, too. A delicious mix of both savory and sweet, exciting foodie discoveries were had with a total of sixteen participants which included Atok Producers, Bad Boy Tikboy x Lil Bad Bakers, BerryBenj, Binnadang Shop, Canteen, Cookie Monster, Lala's Breads and Pastries, Log Cabin, Moe's x Diet Deli, Mountain Man, Sweet Treats by Rence, Sabel's Chilled Taho, Shiraz SmokeHaus, Smoink, Solibao, and The Cake Artisan.
To walk us through this year's edition, we had a conversation with Arvin Molintas, Executive Director of Baguio Arts & Crafts Collective, Inc. (BACCI). Read the interview below:
Tell us about this latest edition of Mandëko Kito.
Arvin Molintas: Every staging of Mandëko Kito, we offer something different, something new. Because it always gives us a different feel when we entertain new crafters, as they present not only their products but their stories and their culture, as well.
What are some challenges you faced with mounting the fourth edition? And what are some differences in this edition compare to previous ones?
Well, now we have 43 stalls with [over] 50 participating creatives. So mas malaki talaga siya compared to the third one and right now, of course, mas competitive ang participants natin, not only in terms of innovating their products but also in presenting it to the public.
Staging an event is always challenging, and you know, dealing with creatives is always challenging. It is challenging because we need to acknowledge the creative differences of the people. For me, I do perfectly understand that it's quite hard to deal with intellectual differences, but dealing with creative differences is more difficult because it's a more personal thing. And getting everybody into a common ground, siguro that's the biggest challenge and somehow, we were able to do that, we were successful.
A lot of the crafters and artisans stepped up their game for Mandëko Kito! 4. As examples, what are some names that come to mind?
When we speak of innovation, a brand that comes to mind is Roby's Pick. From designing tumblers to sealers made out of wood, her artworks or wood arts are really nice right now. She even has this somewhat Lego-like Christmas Village so that's something new, out of, you know, thin, thin wood. And our textile weavers—they are coming up with new designs incorporating not only the traditional designs and colors but trying to mix it up, to make it more timely and appealing to the younger generations.
When it came to planning this edition, were you thinking more about families?
Berkeley [School] as a venue is more, somewhat like, open to families and to pets, compared to our last venue. Perhaps it's also the situation that we have, with the alert level that we have because of the pandemic.
But in this edition, yes, it's a more family oriented version of Mandëko Kito as we have invited Vivistop, the organization to place their Vivita workspace for the kids, for them to foster the creativity of the younger ones. And you know, our food space, our open space for where people could actually eat and enjoy a picnic feel to everybody. And as we move towards the Christmas season, it has that certain family oriented feel of an activity.
What is Mandëko Kito! 4's relation to the ongoing Ibagiw 2021 festival?
Actually for Ibagiw 2021, Mandëko Kito 4 is our contribution for the staging of the fourth Ibagiw. As it has always been, since last year, a vital activity in helping our creatives bounce back from the economic backlash of the pandemic. So, it's quite symbolic, as it shows resilience and you know, inspires our people and other crafters and even artists. Because right now we even have art installations, di ba? By artists. So I think that's one good thing. It is part of the Ibagiw festival, driven by private organizations with the assistance of some line agencies and private corporations, as well.
What's in the works for the next Mandëko Kito?
Well, we haven't really thought about the fifth one for next year because we would want to focus with what we have right now. But of course, we are considering or we are looking for a new space—an open space—for the staging of the fifth Mandëko, as we want to give every edition a different feel. And we want our creatives to be inspired by different spaces, whether it's with a rich historical or cultural or artistic background.
This edition runs for several weekends. What is a good reason to keep coming back?
Well, number one, all the items here are limited. So you buy if you don't come here, if you don't buy it right away, pag naubos na yan, I'm sorry, you need to wait for another edition or you need to wait for their production. The products we present here take time. So yun ang number one. We are only open every Friday, Saturday, Sunday and Monday—and so, each weekend, we have busking, we have a presentation of different performing artists, from Baguio, and from the cordillera region. And we have the Vivistop for the kids to enjoy while parents are shopping. We have ongoing exhibit, the homecoming of architect Dulthe Munar, who's a Filipino but internationally known for his works. There's really a lot to see here every day. Even if you come here every day, with the people and the stories you get to know, it makes coming back to Mandeko worth it.
Looking in retrospect of how it all started, what are some things the BACCI team has taken home from mounting Mandëko Kito?
Ang pinaka-take away namin dito is being able to live up to our vision and mission—fostering and helping creatives. And just by doing that, just by helping others, without any income or revenue to the organization compared to other projects we do, it's quite rewarding seeing people happy [and] inspired. And just believing that the future is creative—as Congressman Toff de Venecia said on our opening day. Which is true. Me personally, I believe that with what is happening in the world, it is not enough that we only be reactive, not even just proactive… we need to be creative. We don't just need solutions right now. Because what might be responsive does not prepare the community for what could happen tomorrow. Just like what happened with the Covid-19 pandemic. And creative solutions provide us with something that's responsive, proactive... and really adjusting to whatever challenges would come our way. Creative solutions are solutions that are also solutions that are more humane—rather than just be technical with things.
Below, take a walk through the first few days of Mandëko Kito! 4 with us in a series of photos taken by the Nice Print Photo team.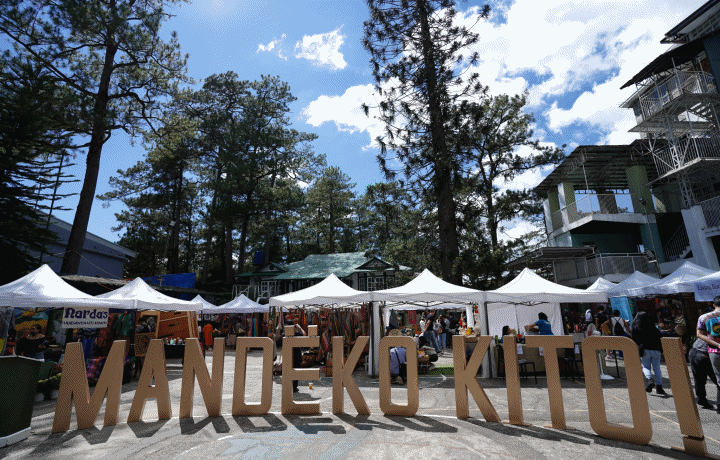 A Walk Through of Mandëko Kito! 4
A Walk Through of Mandëko Kito! 4