What Moves You, Makes You—Montblanc Redefines The Meaning Of Success With New Global Brand Campaign
The luxury Maison, Montblanc, reintroduces itself to the world with the help of three exceptional individuals who are redefining what success means today
Montblanc's new global brand campaign—What Moves You, Makes You—brings to life the Maison's mission to inspire people to express their full potential on their own terms, and celebrates those who have found their own original path to rewriting the codes of success for the 21st century. Launched in late August 2020, the campaign highlights authentic stories supporting the idea that following your passion defines you as a person.
The campaign captures the inspiring journeys of award-winning screenwriter and filmmaker Spike Lee with a legacy that has impacted culture in undeniable ways, actor Taron Egerton with an incredible journey ahead of him, and actor and school founder Chen Kun who constantly finds new ways to give back to his community while pursuing his love for creativity.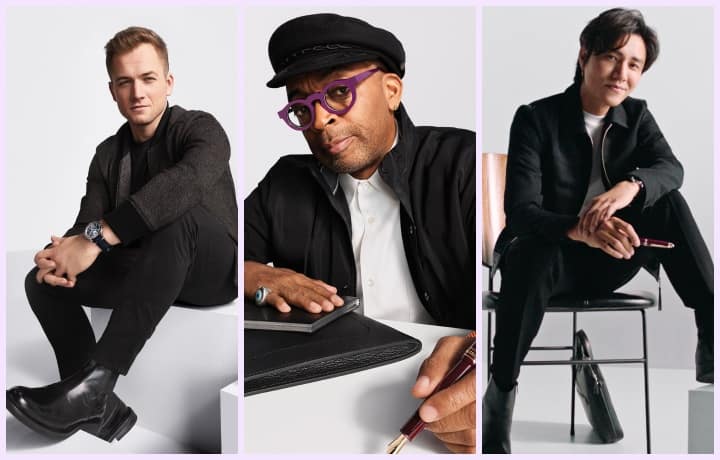 What Moves You, Makes You
"With this new campaign, we are engaging with a new global generation of leaders and professionals, inspiring them to achieve their full potential as they journey through a life led by passion. It expresses a new aspiration to live a life where the professional and personal don't compete with each other, but enrich one another. While at different stages in their careers, the three creative catalysts we are spotlighting are living proof that following what moves you, ultimately leads you to a place of fulfilment and success," says Vincent Montalescot, Montblanc EVP Marketing.
The new platform and campaign underscores Montblanc's core belief that everyone can leave a mark; not just by leaving a stamp on their way to success but enjoying the journey along the way and pursuing endeavours that inspire and excite at every turn. As part of this campaign, Montblanc is introducing 'Mark Makers,' the passionate doers who pursue what they love and follow intuition over directions. Driven by a higher purpose and a love of what they do, they embody the values of those who are changing the face of what success really means, with their willingness to make things happen paired with the inspirational mind-set that makes them stand out.
With What Moves You, Makes You, Montblanc is establishing itself as the 'Maison of Luxury Business Lifestyle'. "As a Maison founded by pioneers who set out to create innovative products for those seeking to make their mark in the world, this campaign is in fact an evolved expression of our DNA. The way people work has changed, and priorities and values have shifted, therefore we felt it was time to redefine the codes of success to reflect the changes are customers are experiencing," adds Nicolas Baretzki, Montblanc CEO. "Being a 'mark maker' is a different way of thinking. It is no longer about status or reaching the top but it's about the meaningful, purposeful and enriching journey we take to get there, and the people we impact on our way."
The integrated campaign brings to life the authentic, real stories and unique perspectives of three Mark Makers through a series of films, print, digital, out of home and social content that personify the idea of What Moves You, Makes You. Each Mark Marker is celebrated in a 60-second film, which reflects their authentic journey.

Montblanc is available at Rustans Makati, Rustans Shangri-La, Rustan's Cebu, Greenbelt 5, City of Dreams and Resorts World.