Here's Why Community Matters During a Pandemic—According to Monchet Olives
"I never once felt uncared for," the tastemaker and bon vivant says of the Rockwell community. He shares his experience with Metro.Style in this exclusive interview
During a pandemic, one of the most important things to have is community: a support system of various individuals, from acquaintances to close friends and family, who you share something in common with.
Whether that's the place you're living in, an interest you both share, or anything else, being part of a community matters, because it allows us to share in the trials and tribulations of living in a pandemic with other people. It provides some sense of normalcy. It reminds us that we are not alone—especially during challenging times of self-isolation and quarantine.
For fanman and tastemaker Monchet Olives, a lifelong resident of the Rockwell community, his dwelling place is exactly that. Allow us—as well as him—to take you through Rockwell, through his eyes. "Adapting is all about mindset," he says of living in the new normal. "Live in the now and just keep going… To take from Winston Churchill, if you are going through hell, keep going."
A typical day in Monchet's life looks a bit like this: He gets up at 4 a.m., does his prayers, and then catches up on world news. "I meditate and shower for my morning training on Saddle Row online, daily, from Sunday to Saturday," he adds. "I prepare our meals for the day, and after my workout I get dressed, fully dressed for Zoom or team calls. In this edition, I stayed really around the building more—Delta can be deadly for me, given my comorbidities despite being vaxxed early on."
The lockdown has been difficult, but he managed to ease the challenges by just saying it's okay to not be okay. "After 500 or so days of start/stop, I just cried and slept for a whole day. I guess I needed it," he says.
"The Saddle Row Zoom classes are a God-send, and I think I have renewed my faith. Living in Rockwell is a bubble in and of itself," Monchet adds. "You have everything you need, and it can be delivered. Plus it's safe. I always tell people after being here for 20 or so years, the Power Plant Mall tenants may have changed but the hallmark of true care and service is ingrained. I had the best support system, Margie!"
Because everything is so easily accessible too, he's able to go on about his day, frequenting his favorite Rockwell establishments. "Fitness has been my sanity check for me. I was an OG Saddle Rower from the old days as rowing is really my sport, and I was one of the first to sign on the Zoom classes and don't miss a class. Margie does the groceries, that's her therapy. Mercury delivers so no hassle. When Emphasis is open I have Meil or Jaypee clean me up, but for the longest time I was like a hermit," Monchet laughs.
As for food and dining, he's got his regulars: "I only go to the restos I know the owners, because you see them there, and they are [particular] about sanitation – I have my regular table at A Mano, my al fresco at Mamou Too!, and my sofa at Made Nice. I take out from Grace Park. And my corner banquet at WildFlour. The rest, I am iffy. Also, I really like comfy chairs because I people-watch. I go alone, and always end up seeing someone."
"I cook," Monchet says, "so the kitchen isn't foreign to me, so I cook daily. Santis is just downstairs. If we crave, it's usually something I can't cook, like maybe WAWAs chicken from Grace Park, Pot pies from WildFlour, or I send a thermos for Bloody Mamous at Mamou Too! Oh, and 8 Cuts Burgers."
"And there is Signet, where I dress myself at," he adds, as well as picking up various goods from Artefino when he can!
The Rockwell community has responded to the changes brought on by the pandemic well, and Monchet recognizes this. "I think we provided safety and transparency. I never once felt uncared for," he says. "Living here this long, been on the board of the West Block, and now Margie is on Joya, you know everyone. I know all the guards and the household management staff. Rockwell cares really, and yes, quick to act to protect the community."
In order to beat quarantine loneliness, Monchet schedules regular Zoom calls with friends and loved ones. But, he adds, he actually likes the pause.
"We Zoom every so often, a quarantine or so, but actually I like this quiet time," he says. "People keeping to their nuclear families and bonding that way. If there is anything the lockdown has brought to me, it's getting closer to Margie, like newly married couples would. But with age, we are wiser. Imagine we didn't fight in over a year over anything. And really have chilled down so much."
"Rockwell helped that. We really don't need to leave," he ends.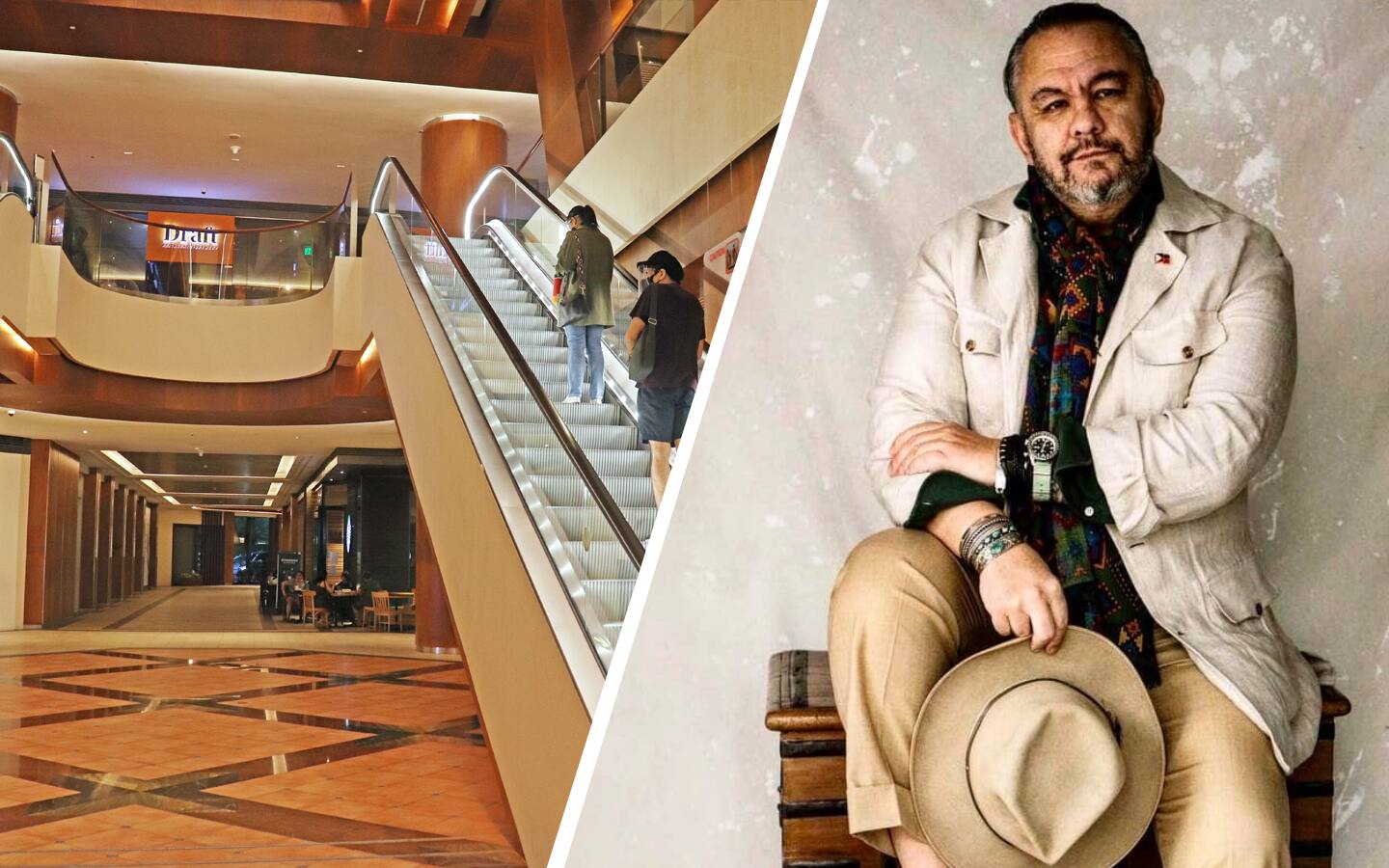 Monchet Olives around Rockwell
Monchet Olives around Rockwell
Saddle Row is at Rockwell: R3 Level, Power Plant Mall; Emphasis is at G/F Joya Towers, Rockwell Center Makati, a mano is at R1 Level, Power Plant Mall, Rockwell Center, Santis and Made Nice are at G/F, Joya Lofts and Towers, Plaza Drive, Rockwell Center, Mamou too! is R1, Power Plant Mall, Grace Park is at One Rockwell, Rockwell Drive, Wildflour Café + Bakery is at Ground Floor, 8 Rockwell Center, 8 Cuts Burger is at P1 Level, Power Plant Mall, Signet is at R1 Level, Power Plant Mall, and Artefino products had a digital pop-up on The Rockwellist. Rockwell also has its own shopping service, called Rockwell on Demand, and it's available via the Rockwellist mobile app.
Photos courtesy of Rockwell and Monchet Olives