Here Are The 7 'New Normal' Closet Must-Haves
As we gear for a renewed way of living, so does our closet. Forget the little black dress, white buttondown, the new must-haves are Corona-proof but still a lot of fashion
Fashion has always been a sign of the times—a reflection of pretty much everything happening around us, be it in politics, economics, or culture. Its nature is everchanging and relies on capturing a zeitgeist, which in these days is all about adapting to the "new normal."
The coronavirus outbreak has undoubtedly changed daily life in a multitude of ways. In the two months that we've been made to stay indoors to help flatten the curve, even the way we interact with our closets have transformed. With no physical engagements to attend and most work taking place from home, the days of piling on fashion-forward clothing and accessories have largely been replaced by throwing on essential pieces that put utility and comfort above all.
As we work on refocusing our wardrobes, we've put together a list of things we're stocking up on as our new normal closet must-haves. If you don't know where to begin, the list below should be a good start.

The Face Mask
Unlike most fashion trends, wearing a face mask was born out of necessity and care for those around us. Crafted from linen and cotton fabric, Seek the Uniq's Intricado Embroidered Face Mask is at the top of our list for its tropical-inspired aesthetic and stunning embroidery. Featuring designs such as palm trees, flowers, and lemons, it's hard not to look good in these stunners.
Where to Shop:
Pre-order your embroidered face mask on their website.
The Face Shield
For those who are serious about protective gear, a face shield is definitely a great accessory to have around. To make it less intimidating to look at, the guys behind Bucket Hat Shield have added, well, a bucket hat, for a more playful look.
Where to Shop:
Order your fun face shields via their
Instagram account
at.
The Daily Wear PPE (Personal Protective Equipment)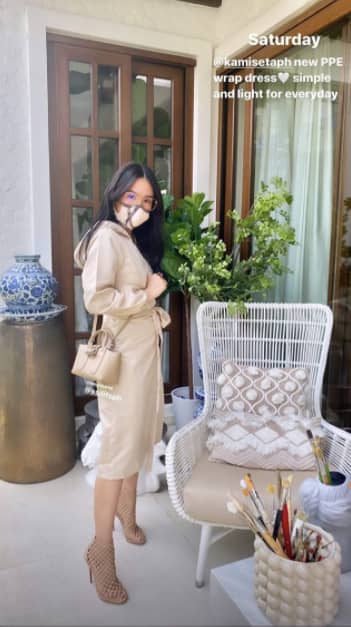 Photo from @iamhearte's Instagram story
For some of us, staying at home is no longer an option what with businesses and offices slowly re-opening. While some high-risk professions require medical-grade suits, those just looking for an extra layer of protection may opt for Kamiseta's Wrap Around PPE Dress. This updated take on the timeless silhouette includes a hood and the use of water-resistant fabric.
Where to Shop:
Order your Wrap Around PPE Dress on their website.
The Reliable Purse
While bags may not be top of mind when it comes to protective gear, we all love a good accessory even during a pandemic. Made in just the perfect size to hold your essentials when running errands, Halohalo's Mini Trabaho Tote makes it on our list because of its use of recycled plastic banig material. Not only is it super unique, the fact that it's plastic makes it that much easier to clean and disinfect after a day out of the house.
Where to Shop:
Order your mini tote on their website.
The Easy-To-Clean Shoe
People often forget that the coronavirus can survive on various surfaces for a number of days and often, the most overlooked task is to disinfect our footwear. To make cleanup a breeze, our choice for this must-have is a pair of jelly shoes. Not only do these shoes have a nostalgic '90s vibe, we also love the easy and no-fuss cleanup required. Because we love a good collaboration, the Melissa x Helen Kirkum pair is right up our alley.
Where to Shop:
Purchase your jelly footwear at select Melissa stores or their website.
The Versatile Loungewear Set
Spending more time at home can tempt us into staying in bed or on the couch the whole day. To encourage you to move or even get a whole workout in, we recommend a loungewear set that's smooth and light enough to be worn all day, but also comfortable to be used for your home workout like this soft yet supportive Stretch Rib Set from Skims.
Where to Shop:
Order your loungewear on their website.
The Zoom-Ready Buttondown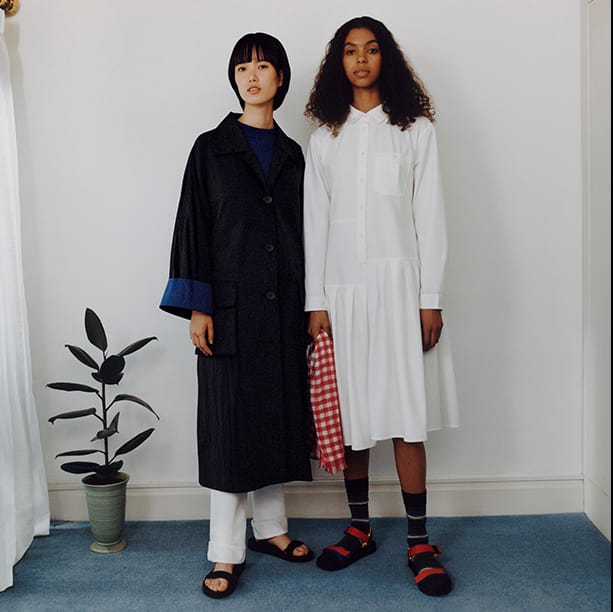 Photo courtesy of Uniqlo Philippines
As much as we'd like to stay in our pambahay all day, sometimes we need to get dolled up for virtual meetings. While we may not be dressing up on most days like we used to, keeping a couple of button down pieces, like this UNIQLO and JW Anderson Pleated Long Sleeve Shirt Dress, will help you look smart and sharp during your next Zoom call.
Where to Shop:
Purchase your trusty button down at select UNIQLO stores.