Here's Everything BTS Wore At Their 'Yet To Come' Concert
BTS draws thousands to Busan for reunion concert. Take a look at everything Jin, Suga, J-Hope, RM, Jimin, V, and Jungkook wore during the 90-minute show.
In case you missed it, K-pop sensation BTS held a free concert in Busan last Saturday and this might just be the last time we will see all of them together until 2025.
55,000 fans witnessed BTS' massive Yet To Come concert in a festival-style show that lasted for 90 minutes. Jin, Suga, J-Hope, RM, Jimin, V, and Jungkook performed 19 of their greatest hits including MIC Drop, Dynamite, Butter, and Yet To Come. Dressed in their stylish official merchandise and some of their usual designer-on-designer outfits, the boys performed their hearts to give their loyal fans something to remember for the next three years.
At the height of everything, BTS announced that Jin will be expected to join the military service by the end of the year and will be followed by his fellow group members. While we wait for their comeback on 2025, relive their Yet To Come concert in the gallery down below and find out which brands they wore for their on-stage outfits.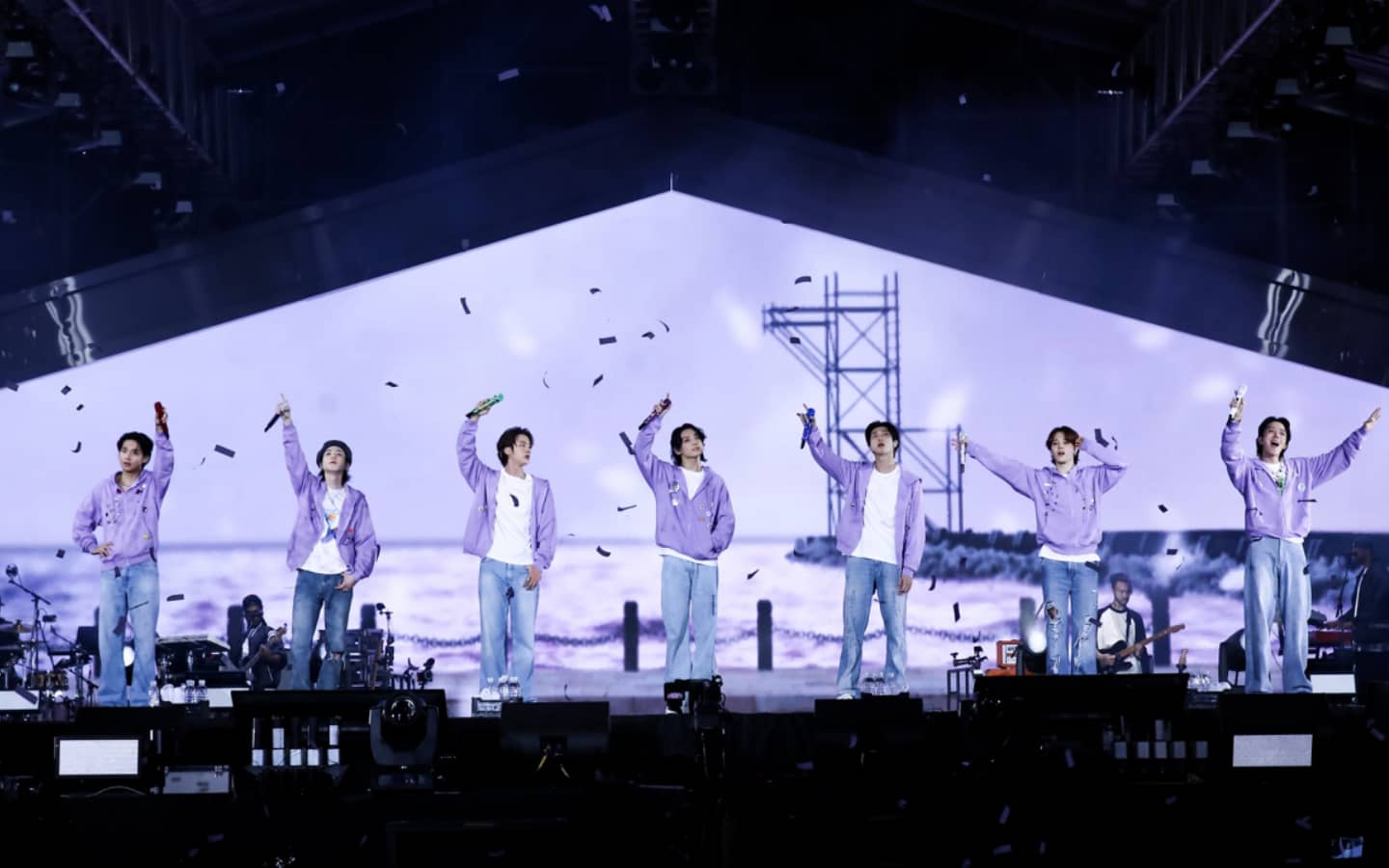 BTS 'Yet To Come' Concert
SWIPE LEFT OR RIGHT
TO NAVIGATE BETWEEN PAGES
J-Hope
Photo Credit: Photo from @uarmyhope on Instagram
Photo Credit: Photo from @uarmyhope on Instagram
Photo Credit: Photo from @uarmyhope on Instagram
Jimin
Photo Credit: Photo from @j.m on Instagram
Photo Credit: Photo from @j.m on Instagram
Photo Credit: Photo from @j.m on Instagram
Jin
Photo Credit: Photo from @jin on Instagram
Photo Credit: Photo from @jin on Instagram
Photo Credit: Photo from @jin on Instagram
Jungkook
Photo Credit: Photo from @fillmytimejk12 on Twitter
Photo Credit: Photo from @fillmytimejk12 on Twitter
Photo Credit: Photo from @uu_box_ on Twitter
RM
Photo Credit: Photo from @rkive on Instagram
Photo Credit: Photo from @rkive on Instagram
Photo Credit: Photo from @rkive on Instagram
Suga
Photo Credit: Photo from @agustd on Instagram
Photo Credit: Photo from @agustd on Instagram
Photo Credit: Photo from @agustd on Instagram
V
Photo Credit: Photo from @luv_you1230 on Twitter
Photo Credit: Photo from @ruler_v on Twitter
Photo Credit: Photo from @ruler_v on Twitter
Photo Credit: Photo from @bts.bighitofficial on Twitter