ABS-CBN Ball 2019: Kisses Delavin Wore A Creation By Go-To Barong Dress Designer Jot Losa
Having begun his career as a go-to designer for feminine and elegant barong dresses, Jot Losa proved to be a perfect fit for this year's ball
Today's Filipina is confident, able to take on the world, and self-assured. Just as she can stand firmly on her own two feet without reliance on anyone else but herself, fashion designer Jot Losa's designs for her are simple and elegant, needing little to no embellishments to stand out in a room.
Modernizing the Filipino's national attire, and most especially translating it into wearable, statement-making designs is Jot's forte and a night like the ABS-CBN Ball 2019—an event that required attendees to dress in their best "Modern Filipiniana" outfits—was truly a stage that was made for his star to shine the brightest.
After all, this was an art that this fashion virtuoso had mastered since he began his career almost a decade ago as a go-to maker of feminized barongs for women and other pretty Filipiniana pieces.
Dressing Kisses Delavin for the most glamorous event of the year, Jot delves into the details of this young star's outfit and shares what "Modern Filipiniana" dressing means to him.
What does the concept Modern Filipiniana mean to you?
"Modern Filipiniana for me is taking reference from the elements of traditional clothing like [its] silhouette, texture or material and interpreting it into a more relevant and fashion-forward look."
What do you love most about this look?
"I have always been into this look or style because I'm more into classic and feminine silhouettes. I've been known for doing barong dresses ever since I started my career, and to date, I still get orders of these elegant pieces."
What tips can you share when it comes to pulling off a Modern Filipiniana ensemble?
"Always go for a clean hair and makeup, and really nice set of jewelry."
Talk a bit about your designs for this year. What are the distinctly Modern Filipiniana elements in Kisses' gown? What materials did you use?
"It's a one-shoulder soleil plissé gown with a sleeve that is reminiscent of the butterfly sleeves. I used jusi in butter yellow, which is the same fabric used for some barongs."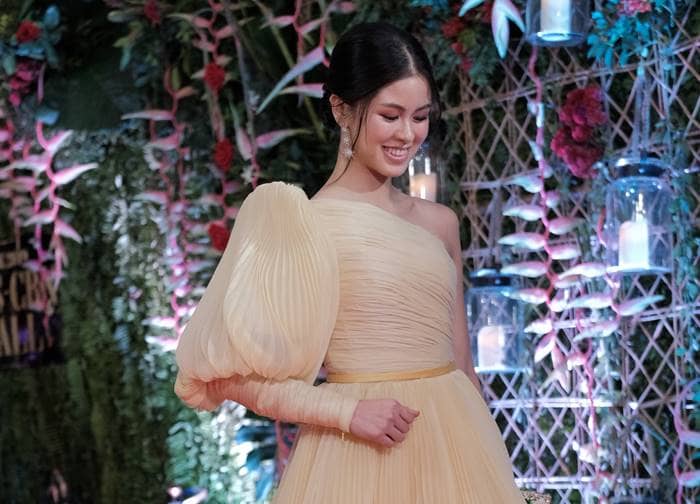 Fashion designer Jot Losa gives her take on the ABS-CBN Ball 2019's modern Filipiniana dress code
Fashion designer Jot Losa gives her take on the ABS-CBN Ball 2019's modern Filipiniana dress code
Photographs by Magic Liwanag and Pat Buenaobra