ABS-CBN Ball 2019: Mark Bumgarner Gave The Dress Code A Classic-Contemporary Spin
The Filipiniana need not look old to remain true to its essence. Like the women who wear it with pride, it can be fun and modern, too!
Integration. It's the first word celebrated fashion designer Mark Bumgarner associates with his Filipiniana creations as they're products of classic and contemporary cuts, traditional and modern techniques, as well as old and new perspectives of who the Filipina is.
But overall, he believes that the piece of clothing is much more than a pretty garment meant to be admired; rather, it's a celebration of culture and a living, moving story of a country's history.
And at the ABS-CBN Ball 2019, his painstakingly intricate approach to Filipiniana-making was placed at front and center when celebrities like Coleen Garcia (in an off-shoulder piece), Jodi Sta. Maria (in a terno-pantsuit combo), Sarah Lahbati (in a puffy-sleeved number), and Kira Balinger (in a bejeweled terno) proudly walked in front of cameras to pose in his creations.
Each with distinct personalities to match those of the women wearing them, the gowns were memorable looks on the red carpet that are sure to inspire similar looks for many stylish women today!
In this exclusive Metro.Style interview, Mark talks more about what it meant to design gowns for ABS-CBN Ball 2019's "Modern Filipiniana" dress code and how significant the national attire is for him as a Filipino designer.
What does the concept of "Modern Filipiniana" mean to you?
"To me, the idea of 'Modern Filipiniana' is the integration of the old and the new, the classic and the modern. It is taking pride in the arts and crafts of the classic Filipino and turning it [into something] contemporary, and in fashion, melding it to current trends. There is no specific way of a Modern Filipiniana look; I believe everyone has a take on it."
What do you love most about this look?
"What I love the most about this look is that it's distinctly Filipino. I love the butterfly sleeves because they involve a certain skill to perfect. Our local weaves are so unique that there is now a global demand for it. Overall, the Modern Filipiniana and how it is being interpreted by local designers and artisans is what I believe will give us the spotlight in the global fashion."
What tip can you share when it comes to pulling of this look?
"I think Modern Filipiniana shouldn't mean boring and old. It should be fun because it is a celebration of our culture."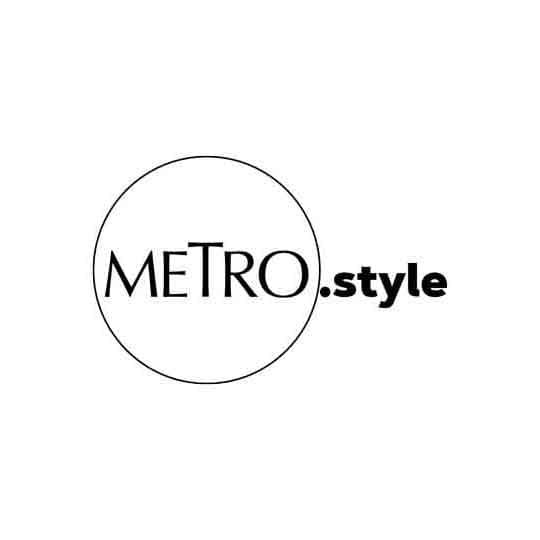 Mark Bumgarner's muses Kira Balinger, Sarah Lahbati, Coleen Garcia, and Jodi Sta. Maria | Photos by Magic Liwanag
Talk about each of your designs for this year. What are the distinctly Modern Filipiniana elements in their gowns? What materials did you use?
Jodi Sta Maria:
"I used dyed silk cocoon material to make a corset and its butterfly sleeves. I also incorporated callado embroidery which is the art of hand embroidery from Lumban, Quezon, and hand-beaded it for some glitter. I used wool material for the pants and the bow detail; I wanted it to be more contemporary, elegant and strong, much like Jodi's persona."
Sarah Lahbati:
"I opted for a simple dress for Sarah
—
exaggerated off-shoulder
mestiza
sleeves, draped bodice, and semi A-line skirt to give it a more crisp and streamlined look. This dress has a very clean and fuss-free structured silhouette."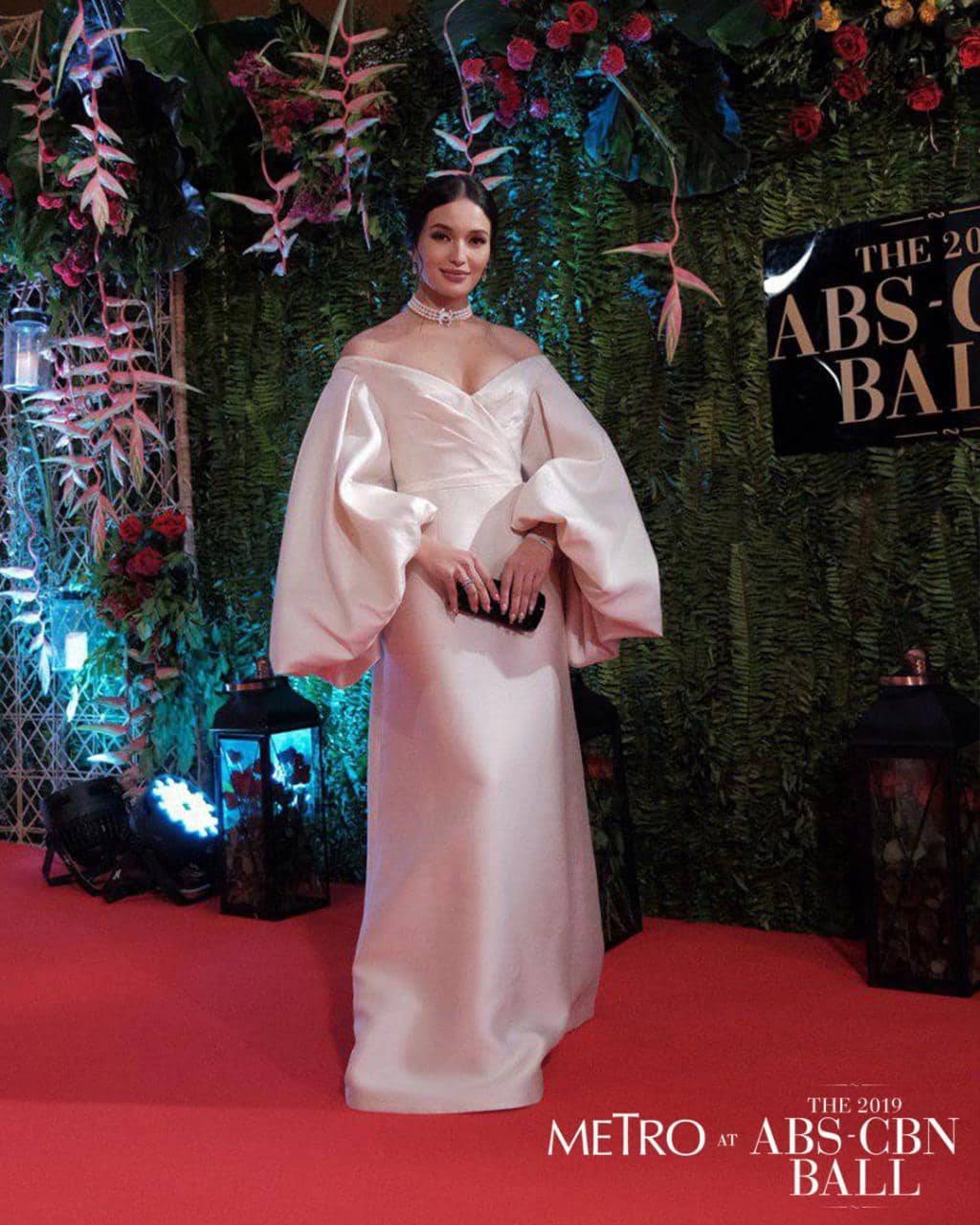 Coleen Garcia:
"Coleen wanted an intricate beadwork on her dress, so I decided to make a contemporary interpretation of the pintados. Her dress is made with thousands of Swarovski crystals in body-tattoo like patterns, much like the pintados. Her butterfly sleeves are also very modern, making them look like an armour, reminiscent of ancient warrior princesses.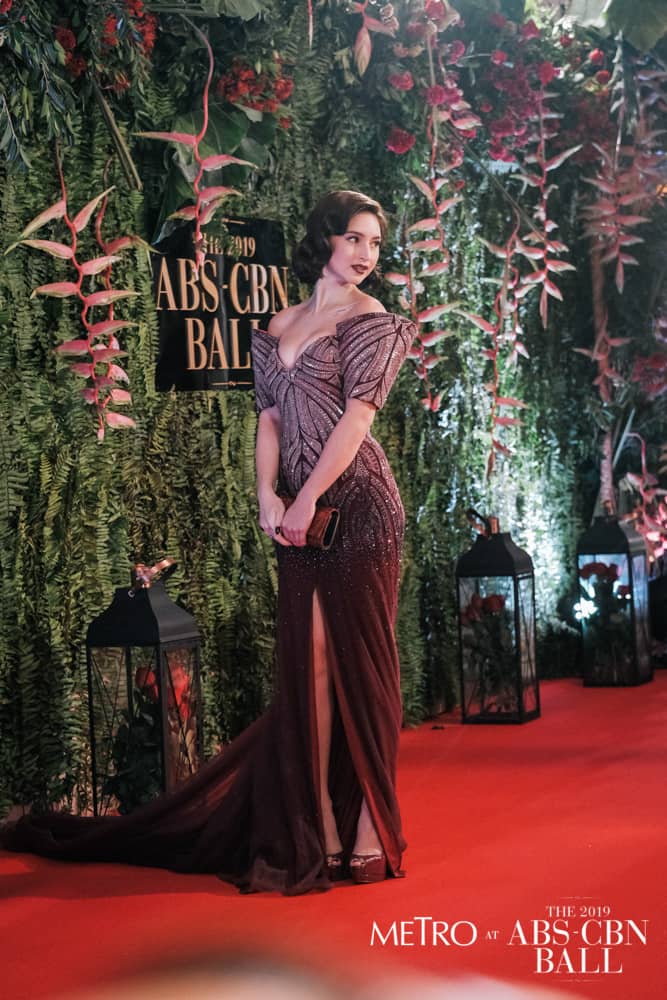 Photo by Magic Liwanag
Kira Balinger:
"Kira's look is very elegant and classic. It features butterfly sleeves and a high slit encrusted with Swarovski crystals and hand beadwork in floral and graphic patterns. I went for a white and nude palette, which complements Kira's complexion."
Photographs by Magic Liwanag and Pat Buenaobra