These Discarded Sea Glass Are Upcycled Into Beautiful Jewelry By Camiguin Women
See how this community is turning trash into treasure
Can you believe these beautiful jewelry and accessories are made from discarded sea glass in the beaches of Camiguin?

Created by volcanic eruptions and earthquakes, Camiguin is known for being the island born by fire. It may be the 2nd smallest province in the Philippines but it is home to so many water activities and treasures. One of these treasures is the sea glass, which are rocks found on the beaches of Camiguin.

Beached hosts Marc Nelson and Rachel Peters learn more about sea glass on their recent trip to Camiguin, and they found out that this reverse gem has started to become the heart of a restoration and livelihood project in the community.
READ: Check Out This Butanding Festival That Has Moved Rachel Peters To Tears
What is sea glass?
Sea glass is essentially a kind of rock that washes on the shore. Most of these are made from broken glasses, perfume bottles, or even shipwrecks that have been discarded in the ocean for a while, and have been naturally weathered by the ocean so it's smoothened and frosted. Genuine sea glass like these may take 20 to 40 years for the glass to acquire its unique texture and shape, that's why it's valuable in many parts of the world.

The price and value of the sea glass is based on its color, which is determined by its source. The most common sea glass are green, brown, and white, which predominantly come from glass bottles and broken drinking glasses and windows. Some of the colors that are deemed rare are pink, teal, and turquoise, which come from glass pieces and items dating back to the Great Depression in the 1930s.
Discovering sea glass in Camiguin
For so long, locals have seen the sea glass scattered in their beaches as trash, since they look no more than discarded broken pieces of glass. But according to Cocoy Bajuyo, owner of Balai sa Baibai hotel resort and technical head of Komunidad sa Baibai, it all started when a pair of New Yorkers noticed the abundance of sea glass on his beach and told him of the value that genuine sea glass fetches abroad.

That's why in 2017, Komunidad sa Baibai partnered with the Coalition for Better Education and the German Embassy in the Philippines to conduct a livelihood and environmental awareness project based on sea glass jewelry.

Since then, sea glass has become a source of livelihood for many women and children in the community. They have started to learn how to turn the sea glass into beautiful handmade jewelry and accessories, and sell these to tourists as the gem—literally—of Camiguin.
Treasures Camiguin
Treasures Camiguin has become the primary store for these handmade sea glass jewelry. It also doubles as the sea glass museum, an art gallery (the very first art gallery in the whole of Camiguin), and the workshop of the women doing the crafts.
READ: Discovering The Beauty Under The Waters Of Romblon
On display on the store are different types of jewelry that highlight the beauty of sea glass. There are more affordable pendants made of wire, but there are more expensive pieces like bracelets, earrings, and rings that are skillfully made with silver.

There are also different colors and shapes of sea glass on sale that people can buy for their DIY projects.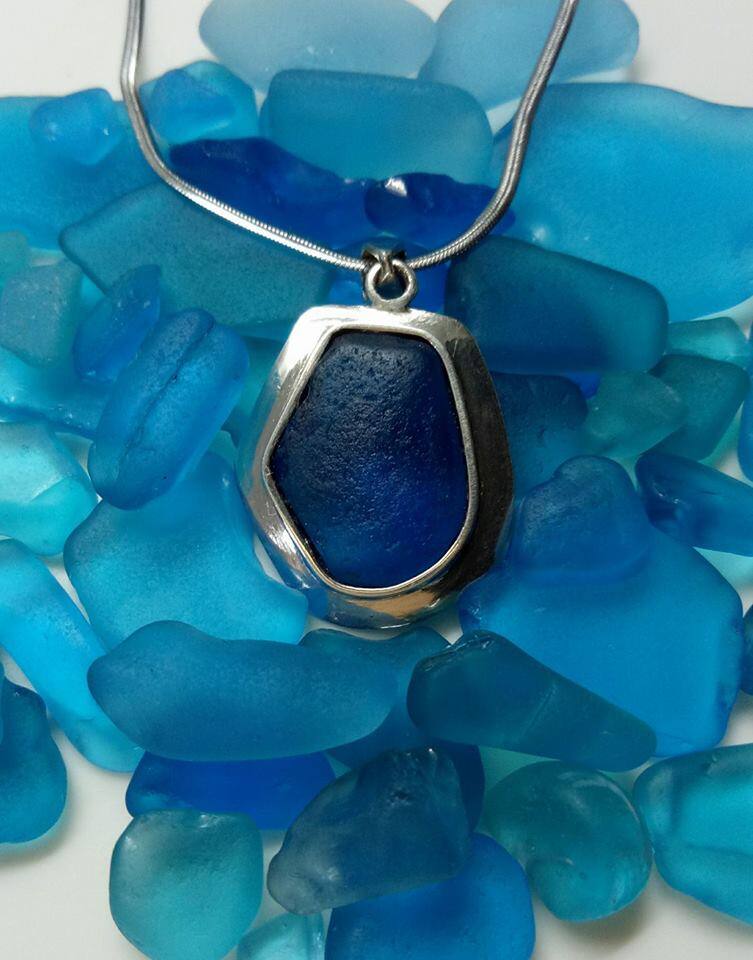 One of the more interesting pieces also available in Treasures Camiguin are woven bracelets made with smaller sea glass pieces and ghost nets. These ghost nets are discarded fishing nets where turtles and fishes usually get trapped. According to Cocoy, they have partnered with the divers' association in Camiguin to collect these nets, and the sea glass program will be in charge of upcycling the nets and weaving them into bracelets.
"I've seen the damage that ghost nets can do in the ocean. Not just to the sea life, but also to the corals. This is amazing; giving value to ghost nets really means that people will actively collect them when they see them on the sea floor and give it to [Treasures Camiguin to be upcycled]," says Marc when he saw the bracelets.

And of course, before the Beached duo left to explore more of Camiguin, they were also taught by the Sea Glass Camiguin women to make their own sea glass pendants.
Join Marc and Rachel as they discover what Camiguin has to offer on Beached, airing Thursdays, 7:30 p.m. on Metro Channel, channel 52 on Sky Cable and channel 174 on HD. You can catch replays throughout the week or watch it on demand via iWant.