Wow! Gigi De Lana Looks So Stellar In Michael Cinco
A fashion star is born in Gigi de Lana!
Gigi De Lana has officially reached new heights as she poses in breathtaking couture pieces from Michael Cinco. During her Domination tour in the Middle East, Gigi stopped by Michael's atelier to try on couture pieces from his archive collection. The pop-rock princess has surely earned her style star status and officially became a Michael Cinco woman with this one of a kind experience. In an episode of Metro Chats, Michael himself said that "A Michael Cinco woman is a dreamer who is glamorous and independent. She's never afraid to wear pieces that speak of her true self. And most importantly, she always stands out from the rest!"
Gigi not only wore one but two pieces from Michael Cinco's archives without counting the ones she actually wore for her concert! For the photoshoot, Gigi wore a black mini dress from his Fall/Winter 2022 collection and an artful long gown from Michael's The Impalpable Dream of Gustav Klimt collection.
Michael also spoke about how the photoshoot came about. "The team was basically made up of my closest friends in the fashion industry here in Dubai. From the photographer Rozen Antonio to designer Harvey Cenit, who also provided pieces for Gigi to try on for the photoshoot," says Michael. Gigi also wore couture pieces from rising UAE-based Filipino designer Harvey Cenit for the said photoshoot.
Take a closer look at all the couture ensembles she wore for the photoshoot in the gallery down below.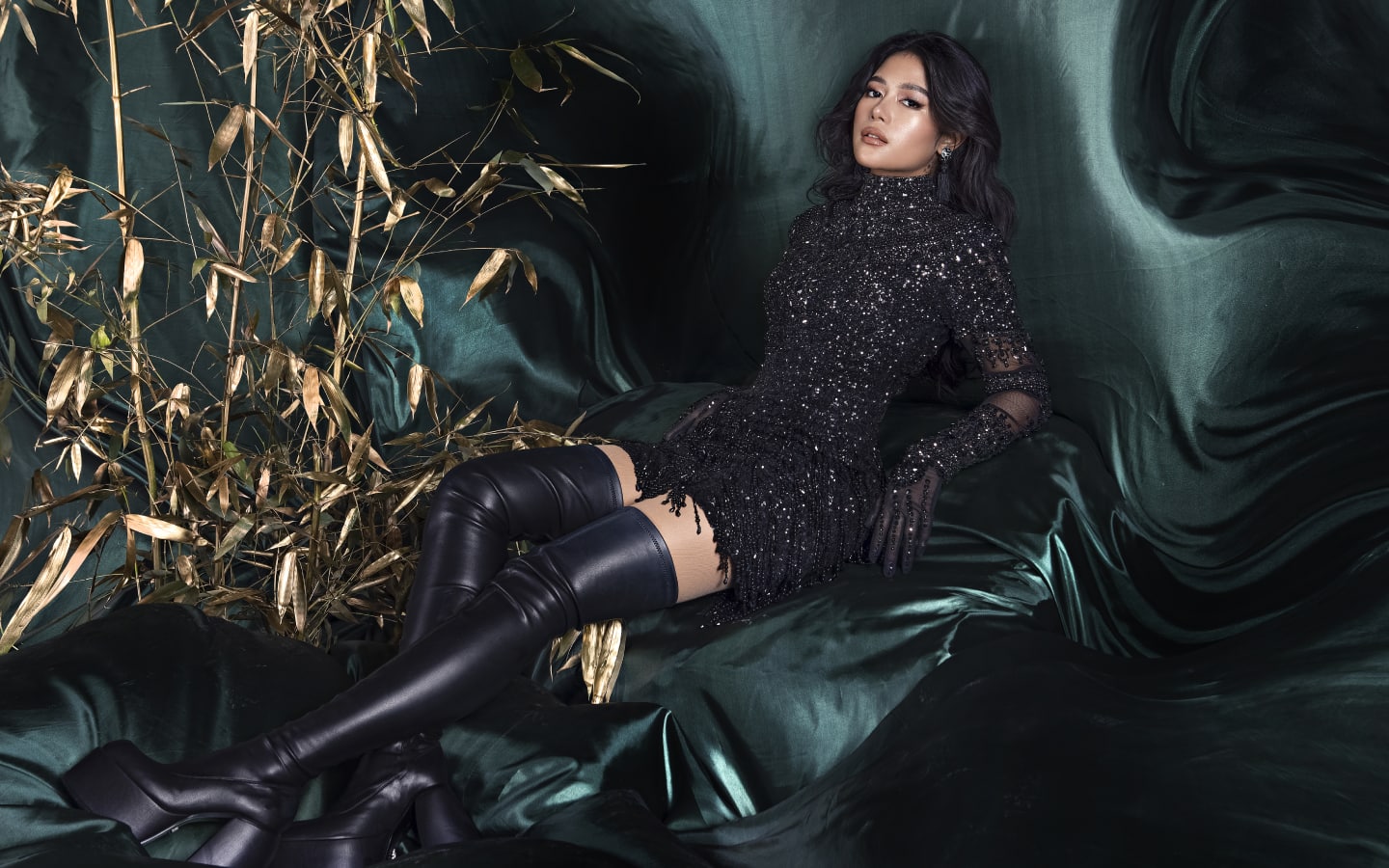 Gigi De Lana
Gigi De Lana
Designer: Michael Cinco @michaelcinco5
Designer: Harvey Cenit @harvey_cenit
Photographer: Rozen Antonio @rozenantonio
Videographer: Mang Emong Abad @mangemong_seigmond
HMUA: Jhajha Rivera @jhajhamakeupartist
Asst. HMUA: Darwin Perez @dahperez123
Styling: Khel Recuenco @kheleidoscopeworld
Asst. Stylist: Ave Lacsam @missauvena
Production: Ryan Banks @iamryanbanks
Set Design: Decore+ Studio (@decoreplus) and Fourte (@fourte.me)