EXCLUSIVE: Everything You Need To Know About Celebrity Designer Julianne Syjuco's First RTW Bridal Collection!
Celebrity designer Julianne Syjuco creates luxe, romantic pieces every bride-to-be would love to have!
Metro brides-to-be, rejoice!
Designer-to-the-stars Julianne Syjuco, whose roster of celebrity clients include Julia Barretto, Katarina Rodriguez, Elisse Joson, Karen Gallman, and Kim Chiu, finally dropped her first ready-to-wear bridal collection—a dream come true for busy, practical brides on the search for their perfect white dress.
"They sought, so I made!" quips the couturier, who is celebrating her brand's fifth anniversary this year. "Some brides may struggle to articulate their preferences and dislikes. Others have trouble imagining how the sketch will turn out, while some lack the luxury of time to plan their wedding. If faced with any of these dispositions, an RTW gown is the best option for her."
The hand-crafted, seven-piece line entitled "Birds of Paradise" perfectly embodies the romantic Julianne Syjuco aesthetic. Staying true to her brand's luxe trademark, her RTW bridal dresses feature generously sprinkled crystals, feathers, and pearls. Even the laces used were carefully handpicked and flown internationally! But here's the catch: to maintain exclusivity, each jaw-dropping design of her RTW bridal collection is limited to two pieces.
"The capsule collection is composed of seven versatile looks," Julianne explains. "We have a serpentine gown so romantic for when the sun sets on the beach, a princess ball gown to make any soul mate weep, and a piece so opulent for brides who desire extra flair. Every woman can celebrate her love story in an Atelier Julianne piece."
So without further ado, here is your first look of Birds of Paradise. We dare you not to fall in love with every single timeless piece!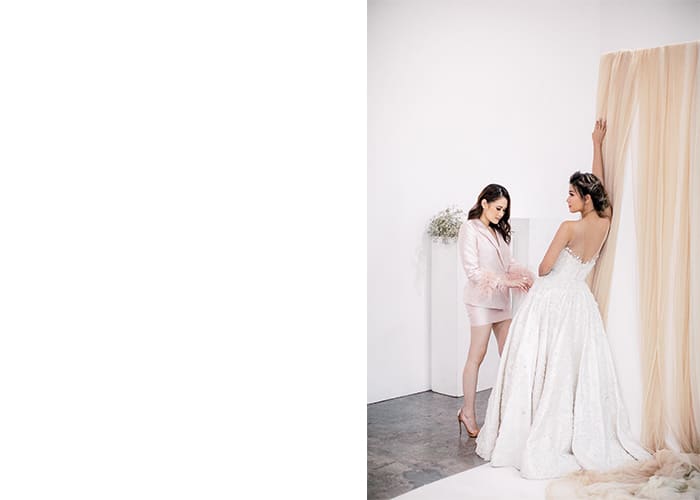 Julianne Syjuco's First RTW Bridal Collection
Julianne Syjuco's First RTW Bridal Collection
In an exclusive interview with Metro.Style, Julianne shares the scoop on everything you need to know about her first ever RTW bridal line! For your dose of bridal fashion fix, read ahead.
Describe your signature style.
"Ever graceful, always exquisite, each Julianne piece is reminiscent of classic romance. Every lace detail and eloquent beading is delicately crafted by hand; never failing to elicit the deepest sighs from the bride and her beloved."
Where did you study fashion?
"I was trained in Parsons, New York for Fashion Design. It was an honor to be mentored by those who work behind the seams for Marchesa, Ralph Lauren, Carolina Herrera and the like."

How long have you been designing bridal gowns?
"Here's a trivia that genuinely shocks people: My love for bridal wear surfaced at the tender age of 18. It was during this time when I created my very first wedding gown, without any kind of formal training—all because of a Gossip Girl-inspired dress that I was wearing (which I commissioned a local sewer to stitch together for me). A bride at the party took interest in my project, and hastily booked me for her wedding gown. My design was featured in Metro Weddings Magazine with a gracious response from brides. This was all the encouragement that I needed to pursue training in an esteemed fashion school."

What was your inspiration behind the Birds of Paradise Luxe RTW Collection? Can we take a look at your mood board?
"Birds of Paradise is an ode to two of my inspirations: 1) my mom's vintage portrait donning a feather plumed neckline, and 2) a floral lace with adorable swallows. Yes, I discreetly sewed swallows to one of my ballgowns – it's a fresh spin to an otherwise classic design. I was charmed by elements like feathers, and flora and fauna."
"NOTE: My mom's vintage portrait wearing the feathered neckline is on the upper corner. "

How long did you work on this collection?

"This collection is beyond three years due. Production would always take a backseat to my growing clientele's bridal gowns, but the stars have finally aligned for me to release it this year."

Was there a particular dress that stood out for you the most?
"The gracious response to our grand finale gown has been overwhelming. In our atelier, not a single day goes by that an audience doesn't appreciate the Robin's beauty. It even elicited a standing ovation from some during the Entwine fashion show."
Which dress was the most challenging for you to create?

"It took a village of 12 beaders from Team Julianne, working round the clock, to adorn the Robin. Only the finest artisans touched this piece. More than 20,000 pearls and crystals were attached piece by piece. All work was a labor of love by hand."

Do your dresses come in plus size options?

"Absolutely! Curves in all shapes and departments are welcome. I don't believe in urging my brides to lose weight. We would be happy to customize their preferred design to their measurements. Cinching the waist for the gods has always been our area of expertise."
Photographer: Randolf Evan
Set stylist: Gathered Creative
Model: Janeena Chan
Creative director: Adrianne Concepcion
Makeup: Pong Niu
Hair: Jay Aquino