#MetroStyleWatch: Every Sizzling Outfit Kelsey Merritt Wore To The Revolve Summer Party In Mexico!
Summer has just begun for the Victoria's Secret model!
The rainy season may have arrived here in the Philippines, but summer has just begun in the other side of the globe.
In fact, our very own Kelsey Merritt was recently spotted enjoying the heat of summer in Mexico! Together with Filipino fashion photographer BJ Pascual (responsible for taking all of the model's sizzling photos over the weekend), she graced an exclusive party hosted by online luxury shopping platform Revolve.
Needless to say, we were glued to our phones all weekend, awaiting style inspiration from our Metro Magazine and Metro.Style cover girl. And as expected, her coveted looks did not disappoint! Not only was each piece worthy of obsessing over, but every outfit was also wearable in the hot, humid climate—making this #MetroStyleWatch series the perfect style inspiration for our next beach getaway.
For your dose of travel OOTD inspo, keep scrolling!
READ: Kelsey Merritt's Bahamas "Sports Illustrated" Shoot Is The Hottest Thing You'll See All Week
This chic, sultry mustard slip dress is made of satin dreams. Kelsey wears this sexy ensemble with criss cross stilettos for a powerful, feminine touch.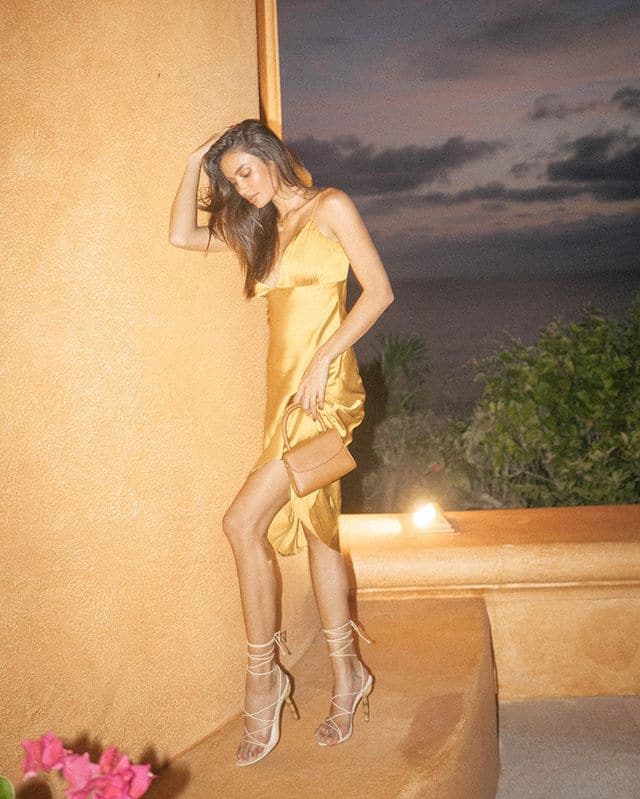 Photo: @kelseymerritt
Here's how to wear sleeves in the beach without looking too covered up! The Victoria's Secret model wears a Camila Coelho bralette that features puff sleeves, showing off just the right amount of skin while still looking brunch-appropriate. She pairs her look with high-waisted shorts (you can never go wrong with coordinates!), and dainty sandals that feature sphere-shaped heels.
Photo: @kelseymerritt
Great fashionistas have mastered the art of outfit repeating. In this picture-perfect look, Kelsey trades her white lace shorts and heels for no-fail Majorelle denim jeans and sneakers. For the final touch, she dons a classy sun hat as she wears her beach waves down.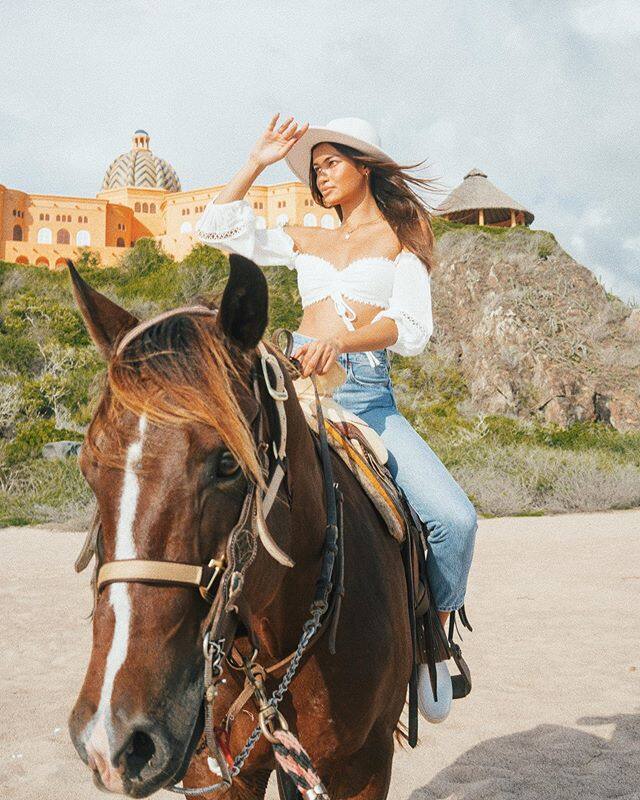 Photo: @kelseymerritt
This is proof that you can never go wrong with a swimsuit that hugs your curves perfectly. (If you're on the search for the best swimsuit for your body type, make sure to read our expert style guide).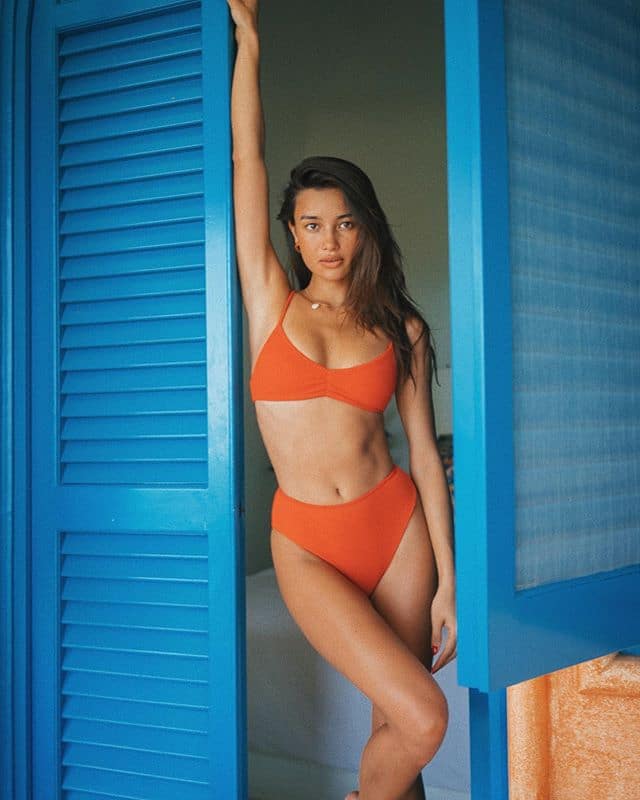 Photo: @kelseymerritt
Yes, you can wear accessories with your swimsuit! Kelsey dons hoop earrings and a minimalist pearl necklace, both in neutral colors to shine the spotlight on her bold, vibrant blue bikini.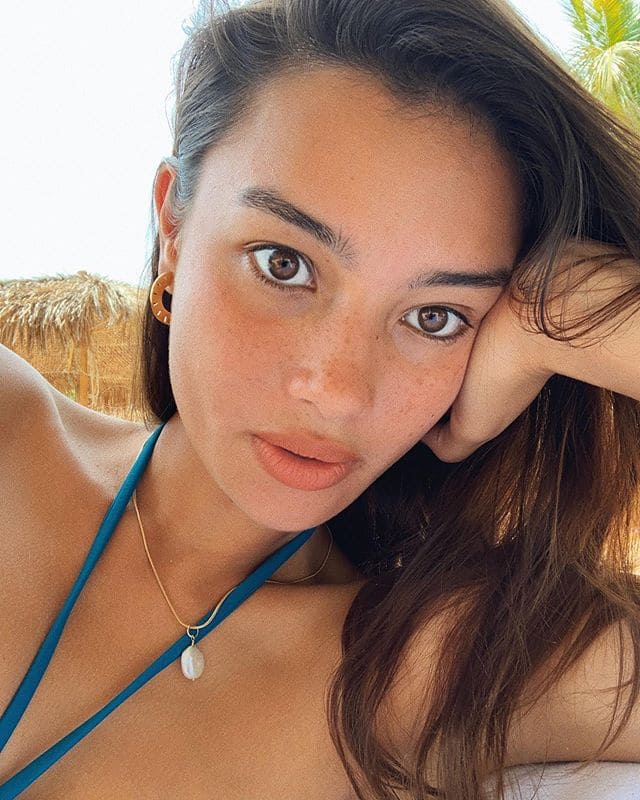 Photo: @kelseymerritt
Finally, Kelsey sports a fun, flirty L'Academie wrap dress in a delicious tangerine shade. For an added oomph, she puts on statement earrings and retro-inspired sunglasses.

READ: Statement Earrings We're Obsessed With (That Aren't Tassels)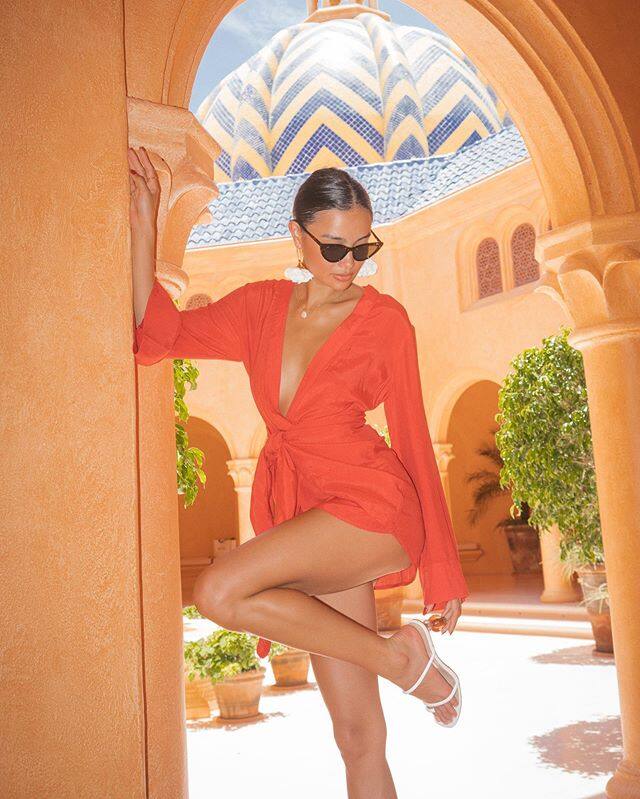 All photos via @kelseymerritt