Last Look: Catriona Gray's Stunning Outfits At The Miss Universe 2019 Show And Their Meaning
She had a great run this year as one of the Philippines' most loved queen. On her final night as Miss Universe, Catriona Gray left last impressions the way she knows best, looking iconic.
Today's Miss Universe competition hailed Miss South Africa Zozibini Tunzi as the new queen. But the moment was also shared by then-reigning queen, our very own Miss Philippines Catriona Gray in looks still deserving of her titular role.
It has been a sartorial journey for Catriona the past year, with her bannering local talent in most of her looks. Her designer of choice during last year's competition Mak Tumang (yes, the genius behind her fiery red 'lava' dress) carried on to design more pieces for her.
This night wasn't any exception. Mak Tumang shares the story behind each of Catriona's looks that night.
Her Miss Universe Journey Look
Steve Harvey interviews Catriona on her reign the past year. In a hand-beaded brown gown with a long train, she advises the contestants to "know what they're here representing." That it's not their names across their chest but rather the pride of a country. And so she does the same with this look by Mak Tumang called LuzViMinda (a conjugated name for the three main regions of the Philippines: Luzon, Visayas, and Mindanao).
Her Final Walk as Miss Universe 2018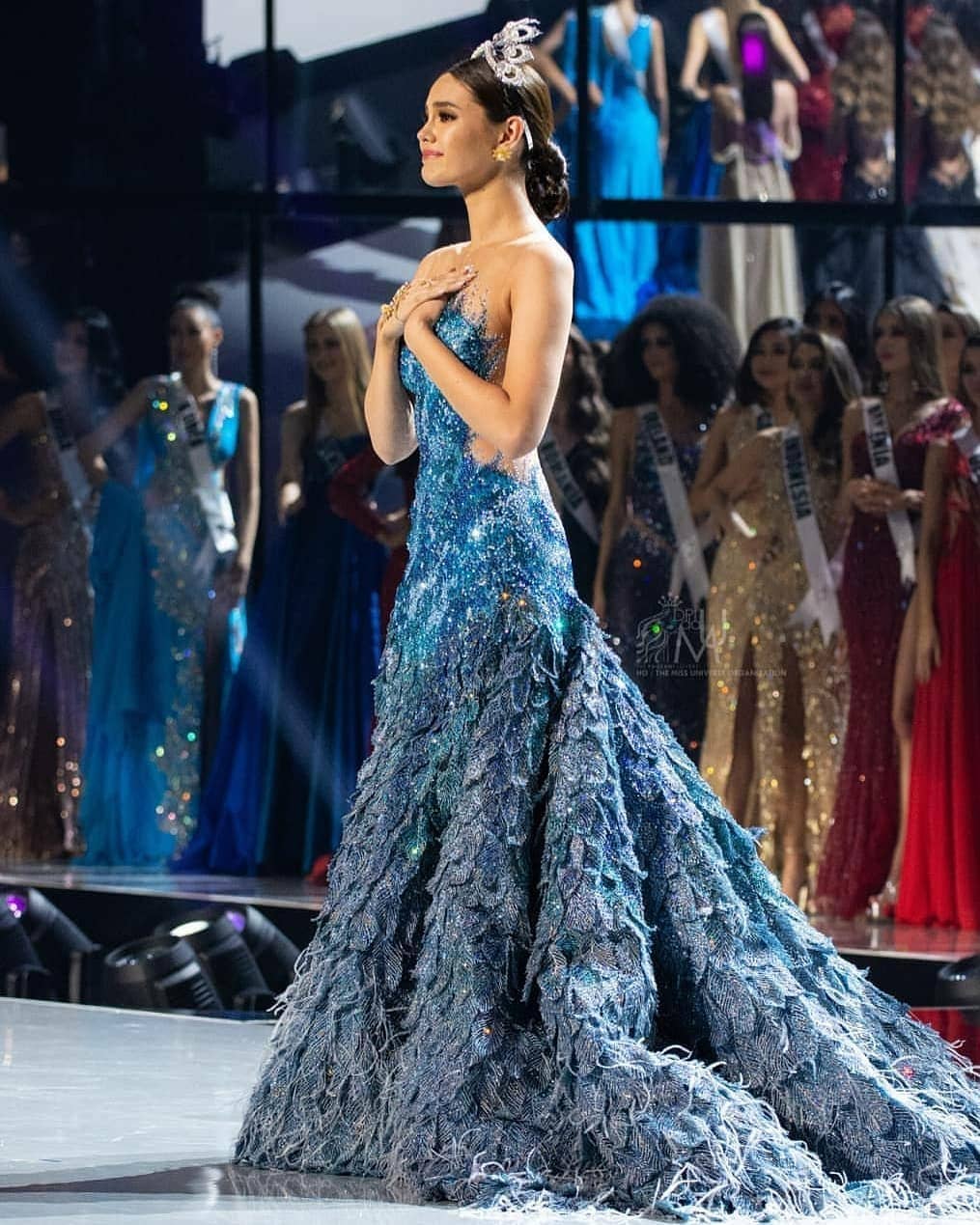 SWIPE LEFT OR RIGHT
TO NAVIGATE BETWEEN PAGES
The more poetic look, though, is her very last. Also by Mak Tumang, the blue feather-detailed ball gown mirrors the flight of the Philippine Eagle. Named "Reflection," the creation is inspired by the might eagle flying through the turquoise seas of the Philippines. "We take a moment to journey within ourselves," says Mak in his Instagram post. "We mirror the beauty within us," he adds.
Styled with her crown and a gold hand piece, her finale look truly made her last moments as queen, a moment to remember.
All photos courtesy of Mak Tumang