More '90s Nostalgia: This Levi's Pokémon Collection Is A Must-Have!
To celebrate Pokémon's 25th anniversary this year, Levi's has created a colorful, '90s-inspired collection
As far as late '90s icons go, it's hard to imagine anything bigger than Pokémon, the entertainment franchise that continues to be beloved by both kids and adults all over the world. Who at the turn of the millennium didn't want to join the adventures with Ash, Misty, and Pikachu as they journeyed through the colorful Pokémon world? To celebrate this iconic world, and Pokémon's 25th anniversary this year, Levi's® has created a colorful, '90s-inspired Levi's® x Pokémon collection.
"It's so fun to hear people talk about their love of Pokémon. Everyone has their favorite. So the fact that we had this ability to play and create with so many iconic Pokémon and characters, was really a special experience. It's such a thoughtful collection that respects and celebrates the world of Pokémon, and it was so cool mixing our icons and history with theirs – it's nostalgic and optimistic, with a little bit of escapism," says Karyn Hillman, Chief Product Officer at Levi Strauss & Co.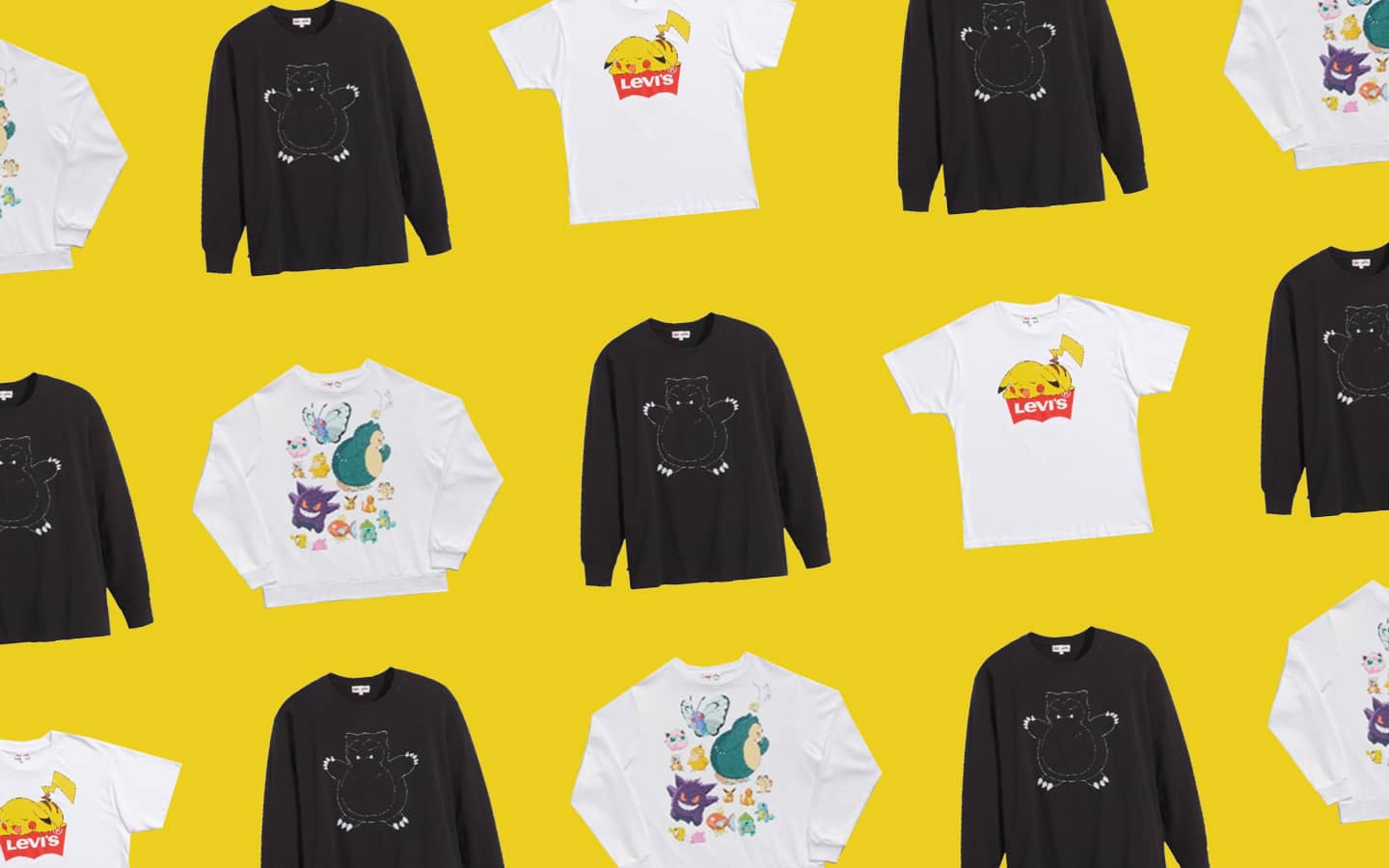 Levi's x Pokémon
Levi's x Pokémon
Inspired by the first season of the original Pokémon animated series, the collection includes a range of Levi's® denim, tops, bottoms, fleece, tees, and accessories that feature graphics and prints of both the popular characters and the woodland settings of the Kanto region. Notable pieces include the '90s style Vintage Fit Trucker Jacket and 551®Z Authentic Straight jean in stonewash indigo, both featuring oversized embroidered Pikachu and lightning bolt patches for the Electric-type Pokemon. And for another fun matching hook up, there's the all over print Vintage Fit Trucker Jacket and 551®Z Authentic Straight jean, featuring an eye catching forest design filled with Pokémon.

"In its 25th anniversary year, the Pokémon brand is celebrating its enduring legacy in pop culture with fans around the world. Our friends at Levi's® have developed a collection featuring icons of the franchise that blends the spirit of the era when Pokémon first launched with the style sensibilities of today in a way only Levi's could. This has been a tremendously fun collaboration with Levi's® to look back at Pokémon's origins and offer fans who grew up with the brand and today's trendsetters a way to infuse cute and clever Pokémon nostalgia into their style," says Amy Sachtleben, Director of Licensing at The Pokémon Company International.

Also included is a range of graphic tees that features throwback character art, such as Ash, Misty and Pokémon from that classic first season. And, for fans of Misty, there's even the Levi's® Misty Short and Misty Tank, an homage to the iconic outfit she wears in the series.

Accessories and sundries also get the Pokémon treatment, like a red and white trucker hat similar to the hat worn by Ash Ketchum in the series. Or the Pikachu knit beanie with yellow three-dimensional Pikachu ears. There's also an all-over floral Pokémon print gym bag, a Poké Ball crossbody bag and clip-on pouches with Pokémon characters embroidered on the front. And, on the sundries, the collection features Pokémon branding on Levi's® back patches, Red Tabs that mimic red and white Poké Balls, and buttons stamped with Pikachu and Poké Balls.

The styles from the Levi's® x Pokémon collection are available here in the Philippines at Levi.com.ph, in Levi's® stores, and in select department store counters.