Mak Tumang Shares The Details Of The Show-Stopping Gown He Made For 'Idol Philippines' Winner Zephanie!
Mak Tumang adds yet another winner to his growing roster of celebrity muses!
Kapampangan designer Mak Tumang, the person behind Miss Universe Catriona Gray's jaw-dropping gowns, welcomes yet another winner to his growing clientele.
Just last weekend, the talented Zephanie Dimaranan wore a show-stopping Mak Tumang gown as she was crowned the first winner of ABS-CBN reality singing contest Idol Philippines.
Fans were quick to point out that this was the second time a Mak Tumang muse won a competition. "You are a designer for winners," commented an Instagram user on Mak Tumang's post. "You made her [a] lucky gown!" wrote another.
In an exclusive interview with Metro.Style, the couturier gives us the lowdown on everything you need to know about Zephanie's 'winning' dress!
What is your inspiration behind Zephanie's evening gown?
"Pleated materials are my current obsession. Recently, I've been seeing lots of pleats on the runway (ie. the Balmain Haute Couture show)."
Tell us more about the design of this dress. What is the technique called, and what materials did you use?
"I used the sunburst pleating technique for the texture of Zephanie's skirt. [To maintain the shape and silhouette], I made her wear a pannier—a skirt support popular during the Baroque-Rococo period. The materials I used for this dress were pleated organdy and French tulle."
How long did you and your team work on Zephanie's gown?
"It took us six days to work on the gown. We started pleating on Monday, and assembled the gown on Wednesday. Zephanie visited our Pampanga atelier on Thursday to fit the gown, and we were able to finish it by Saturday."
How do you feel that two of your muses (Catriona and Zephanie) both won their respective contests (Miss Universe and Idol PH)?
"Dressing winners makes me feel like a winner as well. The dress creates a ripple effect [to my muses]. To me, it felt like the dresses they wear somehow inspired them and boosted their confidence. As the old adage goes, 'When you are confident, you can win anything.'"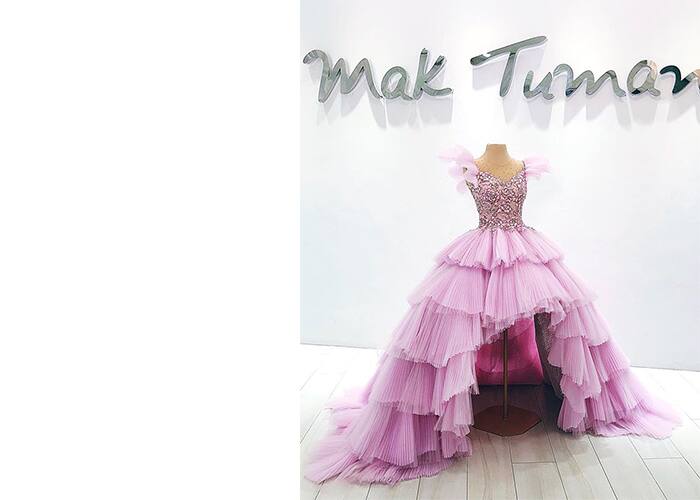 Photos via @maktumang on Instagram