Fashion Darling Mikka Padua Shows Us The Intersection of Strength, Joy, And Style
The wife, mother, and founder of Seek the Uniq opts for bold fashion through life's ups and downs.
This March is Women's Month. To celebrate this, Metro.Style shares stories of fascinating women in the field of fashion who are trailblazers and game-changers in their own right. While it might still be a tricky time in fashion today, we celebrate the achievements of these women of style despite it all. Happy International Women's Month!
For fashion mavens who adore garments, accessories, and other products designed with thoughtful, surprising details, Seek the Uniq is the go-to platform for satisfying shopping and lifestyle inspiration. However, delving deeper into Seek the Uniq, one realizes that what makes the brand's heartbeat such a compelling one isn't just its effortlessly glam aesthetic. Instead, it is the force behind the brand, founder and self-styled Commander-in-Chic, Mikka Padua, whose love is so palpable in her curation of the Seek the Uniq universe, that the rest of us can't help but be drawn in.
One of Seek the Uniq's mantras is "delivering joy." And if you're among the lucky ones who have received a package from them, you know that that is exactly what awaits inside. Beyond the material satisfaction of owning a gorgeous piece, being part of Mikka's world gives people a distinct sense that there is so much about life, both big and small, worth celebrating.
And indeed, Mikka, who has been battling cancer—sharing her story with the public—for the last few years, relentlessly exemplifies joy in everything she does. For instance, showing off her shaved head as she dons a dress with a dramatic silhouette, she half-jokes, "What I lack in hair, I try to make up with an excess of sleeves." The way she gracefully and unflinchingly faces her circumstances, and yet manages to use it as a way to share joy, only exemplifies Mikka's immeasurable strength.
What's most inspiring about Mikka isn't just that she has a built a successful brand out of her authentic joy, strength, and style—but that she uses these core characteristics to add much-needed positivity to the world. Whether it's through her work or not, Mikka simply wants to make space for more goodness. This is most apparent in how she feels towards her daughters. "All I ever want in this lifetime is to raise a strong, independent woman...who will fearlessly go for her dreams, and above all, [have] a kind heart. So far we're on track."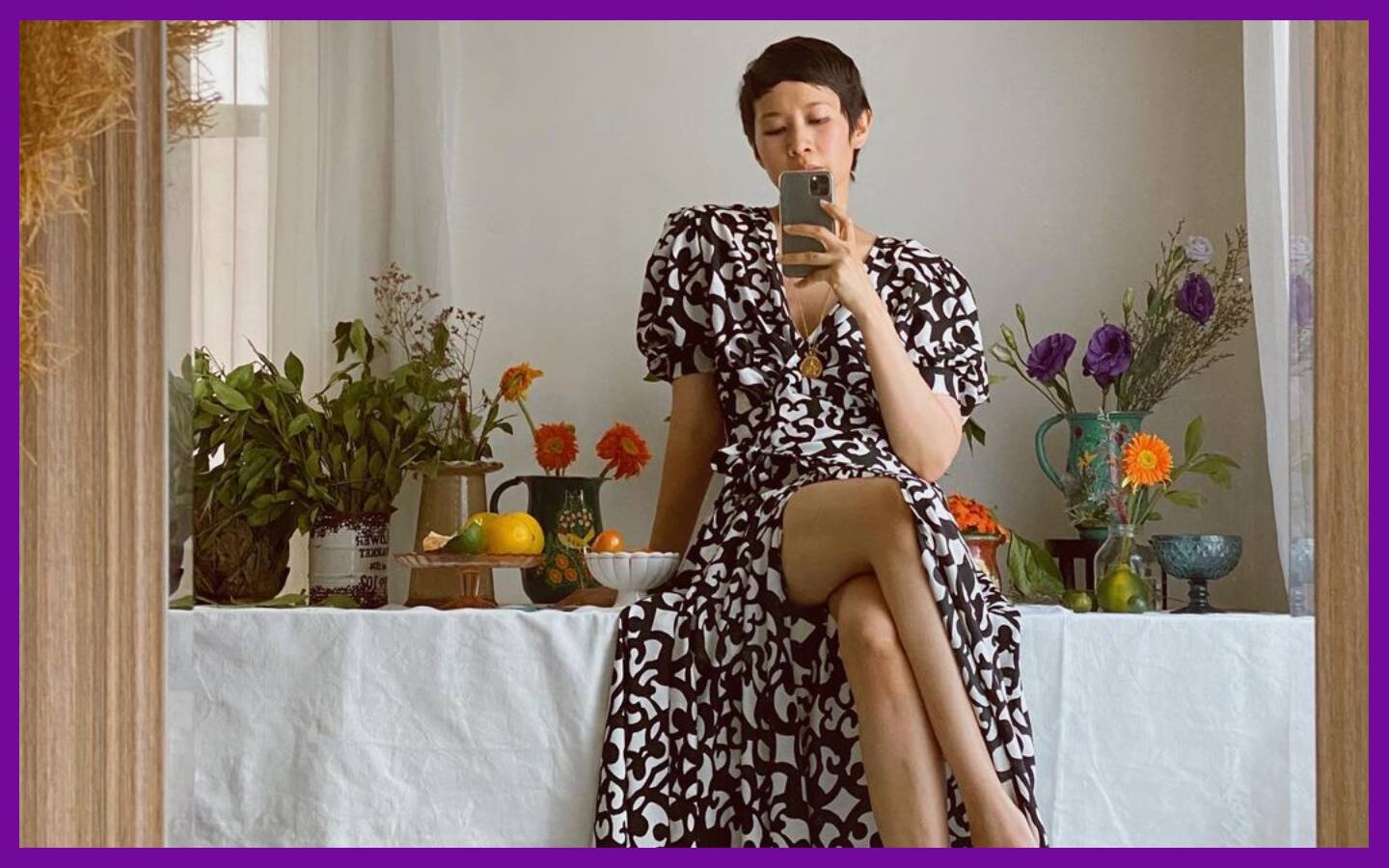 Mikka Padua
Mikka Padua