#MyPrideInFashion: How Drag Brings Out All The Colors Of Brigiding "Gigi" Aricheta
The drag queen discusses how challenging the gender boundaries of fashion helps to express "the many layers of life."
A fixture in the Manila drag circuit, Brigiding "Gigi" Aricheta, is a global star in the making. Scroll through Brigiding's Instagram account, and you'll quickly understand just why the drag queen's artistry—from fashion, to makeup, to lip-syncing—has been steadily amassing a local and international following. Not only are the aesthetics impeccable, but they are delivered with such a bold joy, that it becomes difficult to turn away. And it's precisely that unapologetic celebration of self that makes Brigiding so captivating.
Using both she and he as pronouns, Brigiding is not limited by borders—gender, geopolitical, or otherwise. We see this in how she'll perform in ultra-feminine glam in Manila one day, then on another day, explore London wearing a boyish flannel-and-denim look. Even in drag, however, she'll subvert expectations by incorporating masculine overtones. Her Freddie Mercury look, complete with a fake mustache, is one example.
But though the fashion pendulum swings widely for Brigiding, the variation of looks capture and convey her full self. Out of drag, Brigiding acknowledges that she projects a quieter, more shy, part of herself. "On the contrary, when I'm in drag," she says, "I feel fearless, bold, and defiant."
The shift between these different facets of Brigiding's personality is triggered by fashion. "As a boy I'm very simple," Brigiding says, explaining how this part of herself has a penchant for comfortable T-shirts and shorts. "However, when I'm in drag I serve pizzazz and all that jazz," she says, referring to her arsenal of stilettos, wigs, fishnets, jewels, corsets, dresses, and more. By exploring the full spectrum of herself through fashion, she not only boosts her own confidence, but also hopes to empower her audience to use fashion to "express the many layers of life" on their own terms.
While this kind of unapologetic expression of self is indeed a personal joy, Brigiding emphasizes its political importance. "Change only happens from the ground up," she says, referring to the marginalization of the LGBTQ+ community in the Philippines and around the world. "[People] have to make their voices heard and then the leaders will act."But though individuality is something to be celebrated, change can't come about without a collective effort. "Solidarity will always triumph over divisiveness," Brigiding says. Adding, "We need compassion, not ignorance. Pride is all about coming together and being out there, loud and proud. [It is about] standing, marching, singing, dancing, but most of all, loving!"
Click through the gallery below to see Gigi's Pride through fashion!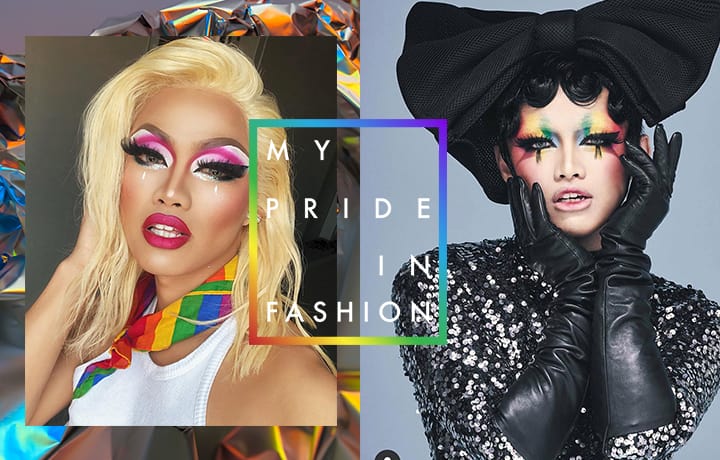 Gigi Aricheta's Pride In Fashion
SWIPE LEFT OR RIGHT
TO NAVIGATE BETWEEN PAGES