#MyPrideInFashion: How Director Sam Lee's Sleek, Androgynous Looks Reveal Her Pride
The fashionable filmmaker stands out in tailored suits, leather jackets, and other sexy-cool looks.
Metro.Style's 'My Pride in Fashion' is a special series of profiles for Pride Month. We interview people from the Philippines' LGBTQ+ community and see how they wear their pride on their sleeves, and how fashion is indeed a medium of their self-expression.
Queer, successful, and proud, Samantha Lee has been turning heads on and off the movie set since making her first full length feature in 2016. The director, known for the award-winning Baka Bukas and critically-acclaimed Billie & Emma, has garnered local and international praise for her heartfelt indie rom-coms that prominently feature women in queer relationships. In addition to challenging norms through her work, Sam also expands the definition of a fashionable Filipino woman through her style choices.
Though the tastemaker's style fluctuates depending on her mood and itinerary, one thread that is consistent, whether she's working or enjoying free time, is an air of effortless cool. Whether she's in a slouchy shirt or a structured jacket, she looks sleek and put-together. And this is no accident. "In general, I want people to be able to sense that I have my s*** together," the direct half-jokes. Adding, "This is super important in my line of work because I'm a young female director and I'm usually in charge of a lot of people on a set, or traveling around the world doing Q&A's for my films. I want to be able to channel a certain presence and sense of control and confidence and wearing the right clothes definitely helps with that."
Inspired by style icons such as Harry Styles and Jenna Lyons, Sam prefers androgynous looks with a feminine touch. As such, she can be seen in tailored suits, vests, pageboy hats, and leather jackets—but she isn't afraid to mix it up with softer fabrics and show some skin while she's at it.
Ultimately, Sam's style is an expression of her pride in her identity, including her sexuality. "I think it's important to remember that PRIDE is a protest. Change is never easy, and most of the time it can be scary but your voice matters. Never stop telling stories." Whether it's through film or fashion, we hope Sam never stops telling hers.
Click through the slideshow below on how Sam Lee shows her pride through fashion!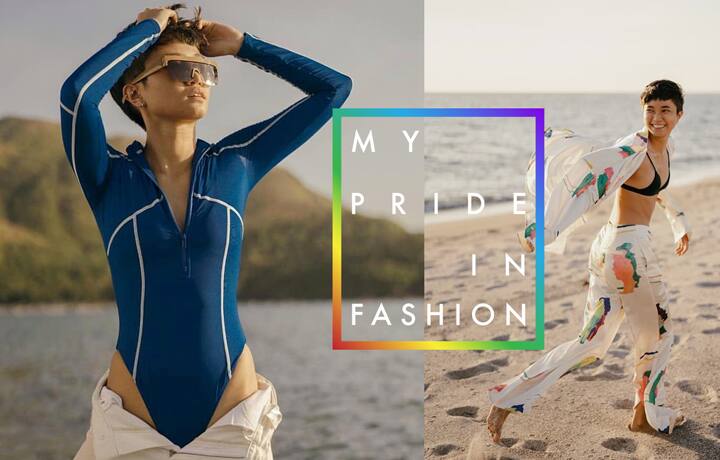 Sam Lee's Pride In Fashion
Sam Lee's Pride In Fashion
All photos from @givemesam
Banner photos shot by BJ Pascual