#MyPrideInFashion: PR Maven Janlee Dungca On How Style Empowers You
Femme and proud, here's how she remains as the woman of the now.
In a PR event filled with a slurry of media and fashion people, brand ambassadors, artists, and creatives, Janlee Dungca stands out with her inimitable stance and aura as she welcomes and air-kisses both new and familiar faces. Janlee is the woman of the now and no one does an event like her! As the PR Director of gender-progressive and LGBT-led Castro Communications, Janlee holds an array of triumphs under her belt, both for herself and her community. She proudly banners her firm's gender-inclusive policies in which they have hired employees and worked with individuals and groups who are members of the LGBTQIA community. "This is our way of tipping the scales in favor of the community we belong to when it comes to work opportunities," says Janlee.
Apart from her 9-to-5, she is also a volunteer of LoveYourself, a non-profit organization that champions the HIV-AIDS advocacy. She has ushered conversations about gender sensitivity and LGBTQIA rights through talks and seminars all over the country.
Janlee finds it exceptionally important to live her truth as a transgender woman. She chooses to express herself through her own sense of style every single day and for her that's already a constant proclamation of Pride. With the many hats she wears, Janlee keeps herself well-rounded with fashion and pop culture references.
She is immensely inspired by Filipina-American model and TED speaker Geena Rocero and Thai actress Poyd Treechada when it comes to life and fashion. "When it comes to local designers, my go-to has got to be my good friend Martin Bautista. Being a member of the LGBTQIA+ community himself and being friends with a lot of transgender women, he is an expert in working with our body proportions. He knows how to make us look our best as much as he wants us to feel our prettiest," says Janlee.
In pop culture, Janlee looks up to Janet Mock, an American activist, writer, director, and producer whose recent television show entitled Pose has truly redefined television history. In 2018, Mock directed an episode from Pose titled Love is the Message, thus making her the first transgender woman of color to both write and direct a television episode. "In the early stages of my transition, reading her articles has really given me guidance and wisdom. Her work as a gender rights activist has also paved the way for me to be involved in the same advocacy," Janlee also adds. "Her stint with FX's POSE is groundbreaking to say the least—add to that the impeccable styling in this eye-opening TV series which I'm totally obsessed over."
In a society that is still challenged with normative views of gender and expression, Janlee wants to emphasize that dressing up is a form of freedom we should tirelessly make use of. Janlee believes that "style is not just skin-deep, it is an armor of freedom and Pride that fosters growth and self-worth." Let your Pride show and bring your message across!
See all of our favorite looks from Janlee Dungca in the gallery down below: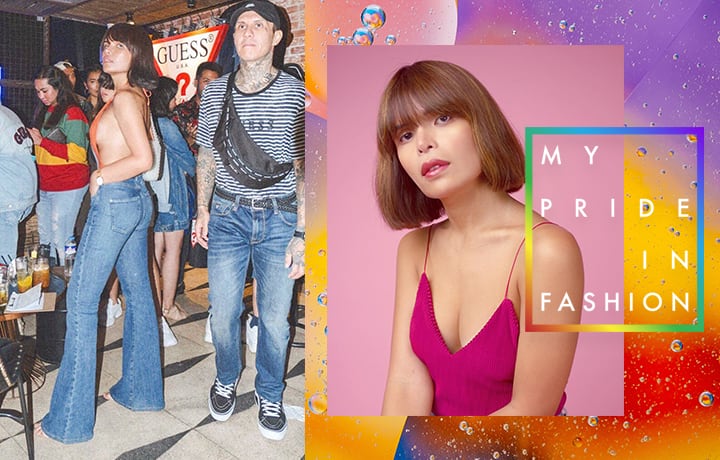 Janlee Dungca's Pride In Fashion
Janlee Dungca's Pride In Fashion