Pia Wurtzbach Looks Avant Garde In Indigenous Creations Shot At Okada Manila
Wow! The high fashion shoot is featured in 'Vogue' Italia
Pia Wurtzbach looked every bit a supermodel in her latest shoot for Vogue Italia. With Okada Manila as the backdrop, the all-Filipino team and creations made for a historic moment putting Philippine craftsmanship to the forefront.
Dubbed "Indigenous Futurism", the artistic collaboration lensed by MJ Suayan, featuring clothes by Victor Baguilat, Jr., and given life by Philippine arts and culture ambassador Pia Wurtzbach was one for the books. The shoot had the intention of supporting the arts and fashion design industry through raising awareness during the pandemic, locally and now even globally. Okada Manila, a patron of Philippine fashion and the arts, was the venue partner and co-producer for the shoot.
"The arts and design industries are affected by the pandemic since it's easy to see them as non-essential. This collaborative work shows different designers and groups coming together to jumpstart these industries. Kandama Collective and the designers bring the spotlight to the fabrics and creatives, Okada Manila shared resources as a patron of the Philippine arts, and arts and culture advocate Pia Wurtzbach played her part by donning the clothes. It's good to have such a creative project at a time like this, so people are more inspired during this challenging time. It gives everyone something to look forward to," says MJ Suayan.
The clothes, though highly conceptual, push for Philippine fabrics to be integrated into everyday-wear.
Raising awareness about handwoven Ifugao fabrics is the heart of my advocacy through the Kandama Collective," shares Victor, who is the first Filipino to have showcased his work in a fashion show staged in the Eiffel Tower. "In addition to raising awareness, supporting the textile industry gives livelihood to the artists and artisans of the region, which, in turn, enriches their lives and their homes. It was fun working on this project because you see people from different industries helping each other out during this difficult time."
Pia embodied the shoot's concept and is the perfect ambassadress for this collaboration. "I hope that more Filipinos can also support our local artists and designers by buying their creations," she shares.
Okada Manila, one of Asia's top integrated resorts, continues to support various local industries, most especially fashion and the arts. They housed this year's Manila Fashion Festival, a runway show featuring hallmarks and emerging Filipino designers. The resort also supported the HABI Philippines Textile Council, an organization devoted to the preservation, promotion, and enhancement of "Philippine textiles through education, communication, and research using public and private sources."
See the official photos in the gallery below and the full feature here.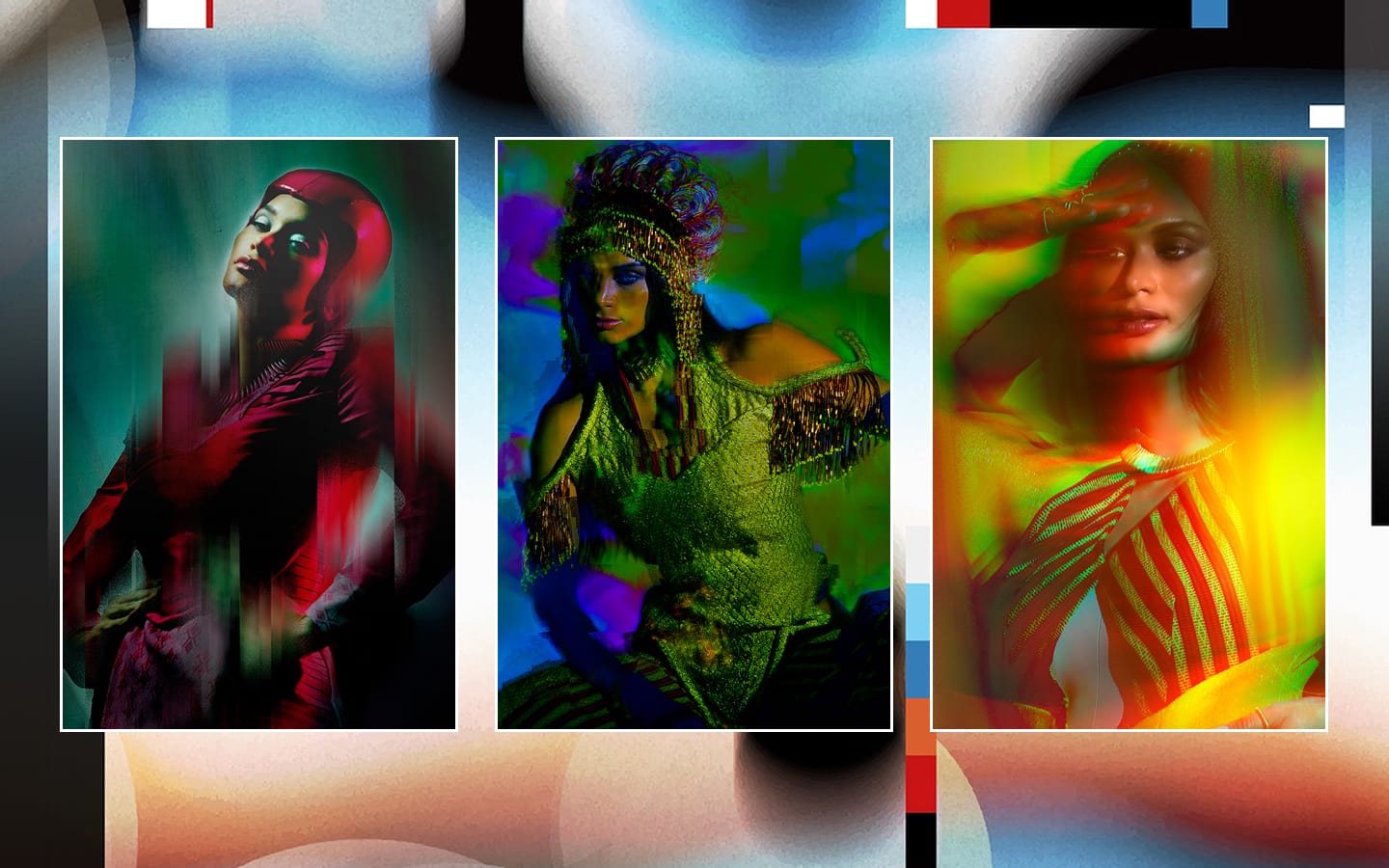 Indigenous Futurism
SWIPE LEFT OR RIGHT
TO NAVIGATE BETWEEN PAGES
Photo Credit: Vogue Italia photos by MJ Suayan 
Photo Credit: Vogue Italia photos by MJ Suayan 
Photo Credit: Vogue Italia photos by MJ Suayan 
Photo Credit: Vogue Italia photos by MJ Suayan 
Photo Credit: Vogue Italia photos by MJ Suayan 
Photo Credit: Vogue Italia photos by MJ Suayan 
Vogue Italia photos by MJ Suayan
Behind the scenes photos by Rax Mercado
Behind the scenes video by BLKMRKT
Metro Art Card by Raff Colmenar
Kandama @kandamacollective MJ Suayan @mjsuayan
Pia Wurtzbach @piawurtzbach
Okada Manila @okadamanila
Producer and Venue Partner Okada Manila @okadamanila
Special thanks to Donna Patricia Manio @tightropezoetrope
Stylist Victor Baguilat Jr. @victorbaguilatjr
Makeup Mickey See @mickeysee
Hair Renz Pangilinan @renzpangilinan
Weavers Lih'han Di Immipugo of Kiangan, Ifugao @lihhan_di_immipugo
Fashion Designers Victor Baguilat Jr. @victorbaguilatjr Thian Rodriguez @thianrodriguezmnl
Accessories Ron Aguro @ronaguro Christine Tiu @amami.ph Marigrace Reano @mjorian Victor Baguilat Jr. @victorbaguilatjr
Shoes Joel Wijangco @joelwijangco Tal De Guzman @taldeguzman @risquedesigns Victor Baguilat Jr. @victorbaguilatjr Roweliza Landicho @roweliza Mara Piñon @marapinonph
Cinematographers, Editors & Photographers BLCK MRKT @blckmrktstudios2021 Jaydee Gungon @blckmrktsf Jeremy Lim @jeremyxlim Krisanto Blanco @krisanto.blanco Michael Peñalosa @penalosa_mike Rax Mercado @rax.mercado @raxmercado.art
Event Organizer Tophat Entertainment and Events @tophatph Music Joseph Rigodon @josephrigodon Eich Abando / BLCKMRKT @eichabando
Styling Assistant Patrick Henri Caunan @ilovemotherhen
Security Team LIT Management Consulting
Executive Assistant Shih-Hao Hsu @shihhaohsu06
Testing Provider Housecall MD @housecallmdph