EXCLUSIVE: See All Of Rabiya Mateo's Winning Pre-Pageant Looks So Far!
We talk to her stylists Rain and Em on every look right before the pageant on May 17!
Representing the Philippines in the Miss Universe pageant is truly one of the greatest platforms one can have. Rabiya Mateo, the Philippines' bet at the 69th Miss Universe pageant, has what it takes to bag that crown again. The 24-year-old Ilongga embarked on a journey towards the crown with a heart full of hope and a wardrobe filled with stories worth telling.
In the pageant world, where the people go for the glamour and stay for the purpose, we think it's important to take note of how powerful an ensemble can be. A look that does not only represent the beauty queen but her country and advocacies as well, is a already a winning look in itself. Rabiya and her fashion stylists Rain Dagala and Em Millan know fully well that they can prepare a hundred or more bespoke ensembles for the pre-pageant and the pageant proper but without any message behind these looks, these clothes are merely just prettified yards of fabric. In an exclusive interview with the styling duo, we discussed their style direction, inspirations, and the message behind all of Rabiya's internet-breaking pre-pageant looks. Truly, there's a story behind them.
Right off the bat, Rain and Em, partners in their styling team, both emphasized that as stylists and storytellers, they want Rabiya's pre-pageant looks to push the envelope for Filipino talent. "It's important for us to not only tap designers within our network but we also wanted to work with up-and-coming designers from the different parts of the Philippines for Rabiya's ensembles," says Em. Rain also pointed out that they wanted each designer to express his/her/their creative freedom through the colors, fabrics, and silhouettes they want to use in their designs. "When Em and I cascaded our ideas with the designers we tapped and/or reached out to us, we actually didn't hand out any pegs or a concrete styling direction because we want each designer to work [with] their strengths. It wasn't right for us to ask a tailor to make a gown or a dressmaker to make a suit. We handed them total creative freedom but we saw to it that both parties will be recognized through the bespoke ensembles," says Rain.
Cultural references such as the butterfly sleeves, the terno ensembles, and Filipino-made textiles are made apparent for the sole purpose to uplift and promote Filipino design. But more importantly, they don't want to put Rabiya in a box where the looks just speak for something that is already given. Rain wants to emphasize that "In a way, we want to dress Rabiya in never before seen designs and we of course don't want to put her in a box where she doesn't identify with herself anymore. We want to ask the people to keep an open mind on what she wore and what she's bout to wear. We hope that people will also start looking at the narrative of the each design and the stories of the designers we worked with as well."
In terms of working with Rabiya and getting her stamp of approval for each look, Rain and Em enthusiastically shared the process and experience of working closely with her. "Rabiya started with a fresh clean slate right after she won the Miss Universe Philippines title. Back then, she hasn't really pinned down her personal style yet but eventually through discovering what she is comfortable in, we came to find out that she leans more into feminine tailored looks," Em also adds that, "it was so easy to work with her because she's very vocal in what she likes, what she doesn't like, or what feels confident, sexy, or powerful in."
At the end of the day, it's important for Rain and Em to cherish the rapport they made with Rabiya and to, of course, see her in ensembles that she looks and feels good in. It's in every styling rulebook to always dress a client in fashion pieces that will best represent him or her and what better way to apply this than to work closely with the beauty queen herself!
Although picking their personal favorites from the many ensembles they styled for Rabiya would be like asking a parent to choose which child they favor the most, Rain and Em still has a couple of looks in mind. "I always love to see her in body-hugging silhouettes and wide leg trousers," says Rain. On the other hand, Em likes to see Rabiya in pencil skirt ensembles just because those looks remind her of how she personally likes to dress up! Em also adds that, "I think I speak for the both of us (Rain) because I like to think that because we love to experiment with clothes all the time, our favorite looks on Rabiya are still the looks that we haven't made yet."
To address the elephant in the room, both Rain and Em would not like to disclose the number of looks Rabiya has brought with her in the competition. "We would like the people to not only pay close attention to what she's wearing but we also want them to see and hear what Rabiya has to say about her advocacies. We don't want her to just be the girl who brought nice clothes because we know that Rabiya is more than that and she has more to offer to the organization. After all, the Miss Universe is not a fashion show but an organization that has a far more greater purpose than making a fashion statement. With that in mind, as stylists we want the clothes to complement not overshadow Rabiya's purpose in the competition," says Rain.
If you at least need an idea on what to expect, rest assured that both Rain and Em have got her covered all throughout the competition! You're definitely bound to see more of Rabiya's looks as we near the pageant on May 17. In the mean time, take a look at the gallery down below and see her pre-pageant looks so far. Get to know each designer by looking through the pieces they made for Rabiya in great detail. Stay tuned for more of her upcoming looks at Rain and Em's styling page here.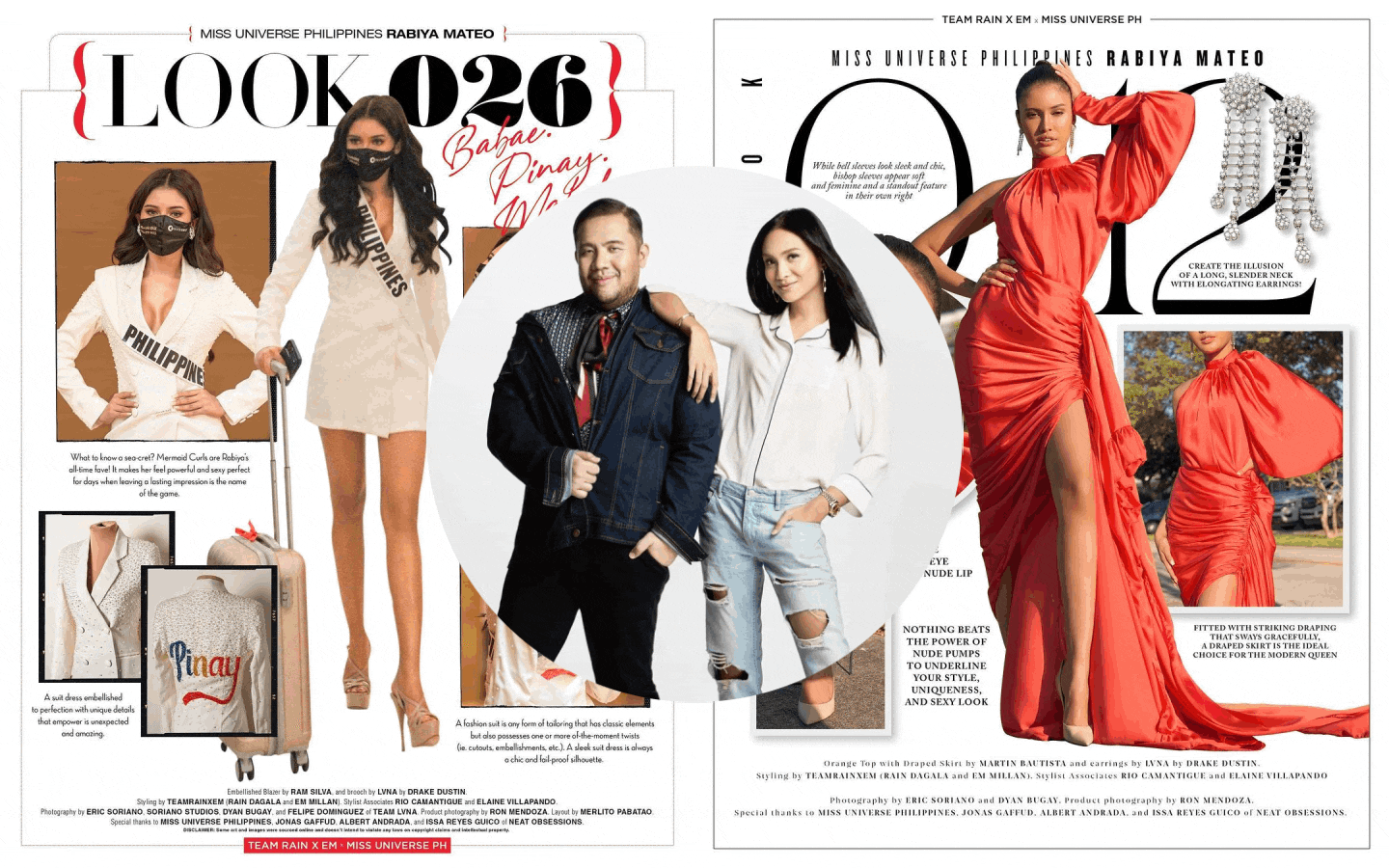 Rabiya Mateo 2021
Rabiya Mateo 2021
Photos from Eric Soriano, Soriano Studios, Dyan Bugay, and the Miss Universe Organization