Rajo Laurel Turns His Studio Into A PPE Suit-Making Shop
Heeding the call of lack of PPE suits for our frontliners, top fashion designer Rajo Laurel dedicates his full operations into making protective suits for our hospitals
Rajo Laurel might be making one of his more importation designs ever: the Personal Protective Equipment (PPE) suits for our frontliners. And it is needed now more than ever.
In an exclusive interview with Metro.Style, the fashion designer talks about turning his factory into a studio dedicated to just creating PPE suits that are as medically graded as possible. What is usually a team of 400, 20 to 25 of his in-house staff living right behind the factory are his skeleton team working to produce these pieces as soon as possible.
"I could not sit idly and not do anything for our front liners," the designer says. "Primarily because they are so important nowadays in finding a way to help the situation." At a time where our hospital staff has even resulted to wearing raincoats and garbage bags, PPE suits offer a layer of protection to the wearer especially when doing medical services.
Not wasting any minute, Rajo has already made his first prototypes of his self-designed version of a PPE suit. Made of full polyester 100% micro fiber twill, his actually very chic take on the suit is waterproof and even comes in a variety of colors. For the best results, he is still hoping to find donations or suppliers for a material called Tyvek, a high-density polyethylene fiber material, manufactured by DuPont.
Below are his first sketches and prototype of his PPE suit design.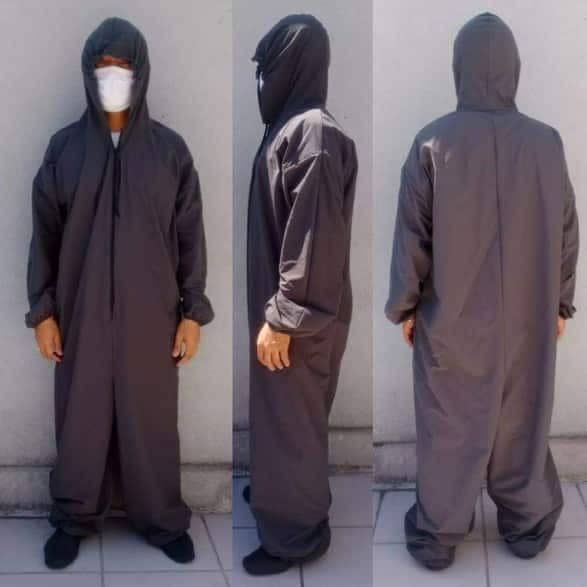 Though he finds the situation altogether heartbreaking, he emphasizes the importance of being steadfast and strong to help our frontliners. As he streamlines his production and logistics, friends and clients from the industry and otherwise have pledged to help his initiative.
"It's such a heartwarming experience," he continues. "My belief in humanity is restored with this particular action. I'm very proud to be part of a community that has a lot of compassion and heart to really help these wonderful individuals that are so necessary for us to overcome this pandemic."
We have never seen such efforts from all corners of the fashion industry coming together to provide alternative solutions for our country. "We have to focus on finding solutions to the problem," he ends not knowing that he already is part of the solution we all seek.
For help and donations, please reach out to Venisse Laurel-Hermano at +639175252649
Editor's Note (March 27, 2020): [Correction] Tyvek, the material sought after in making PPE suits isn't medical grade, and the PPE suits by designers, no matter how close the design is to the medical grade PPE suits, won't be exactly the same. But rest assured that they are doing their best to make the best protection these suits can offer.