The Good And The Bad Side Of Fashion Influencing In The Time Of Corona
How the quarantine missteps of American influencer Arielle Charnas shook the world, while it contradicts the local fashion industry's response to Covid-19
This past week, American fashion influencer Arielle Charnas, who is behind the decade-old blog Something Navy, came under fire for carelessly breaching Covid-19 quarantine protocol. Having been tested positive for the coronavirus in New York City in mid-March, she then fled from the current epicenter of the virus, to the Hamptons with her husband, young daughters, and nanny—all while recording her movements for her million followers to see. This prompted people to ask how she had special access to testing while many in worse condition are left unattended to, and why she would dare risk spreading the virus to a lesser equipped area while the rest of the city shelters in place.
She has since released video and written apologies on both her social media and blog. However, both fall flat. The teary video and the written statement are less of an acknowledgement of how harmful to the community her actions were, and more of a plea for her many critics to understand that she and her family are "not bad people." In them, she clarifies how her 14-day quarantine period had passed when she decided to leave NYC, and that she made no stops between her departure and reaching her destination. Despite her attempt at damage control, her story has been picked up by local, national, and international news sites as a clear example of what not to do during this pandemic. Vanity Fair's excoriating piece entitled "Is This the End of Influencing as We Knew It?" examines how this crisis is revealing the lack of self-awareness in influencer culture—with Arielle as the face of dangerous disregard.
Other influencers and celebrities have come under similar scrutiny in the wake of Covid-19: the same Vanity Fair article mentions a quickly-deleted post on Gwyneth Paltrow's Goop page, advertising luxury shoes; a New York Times article rolls its eyes as the disconnectedness of Ellen DeGeneres and Madonna as they endure the quarantine from their well-staffed mansions; fashion watchdog Diet Prada has collated such cringe-worthy exhibitions in an Instagram gallery with 100,000 likes and counting.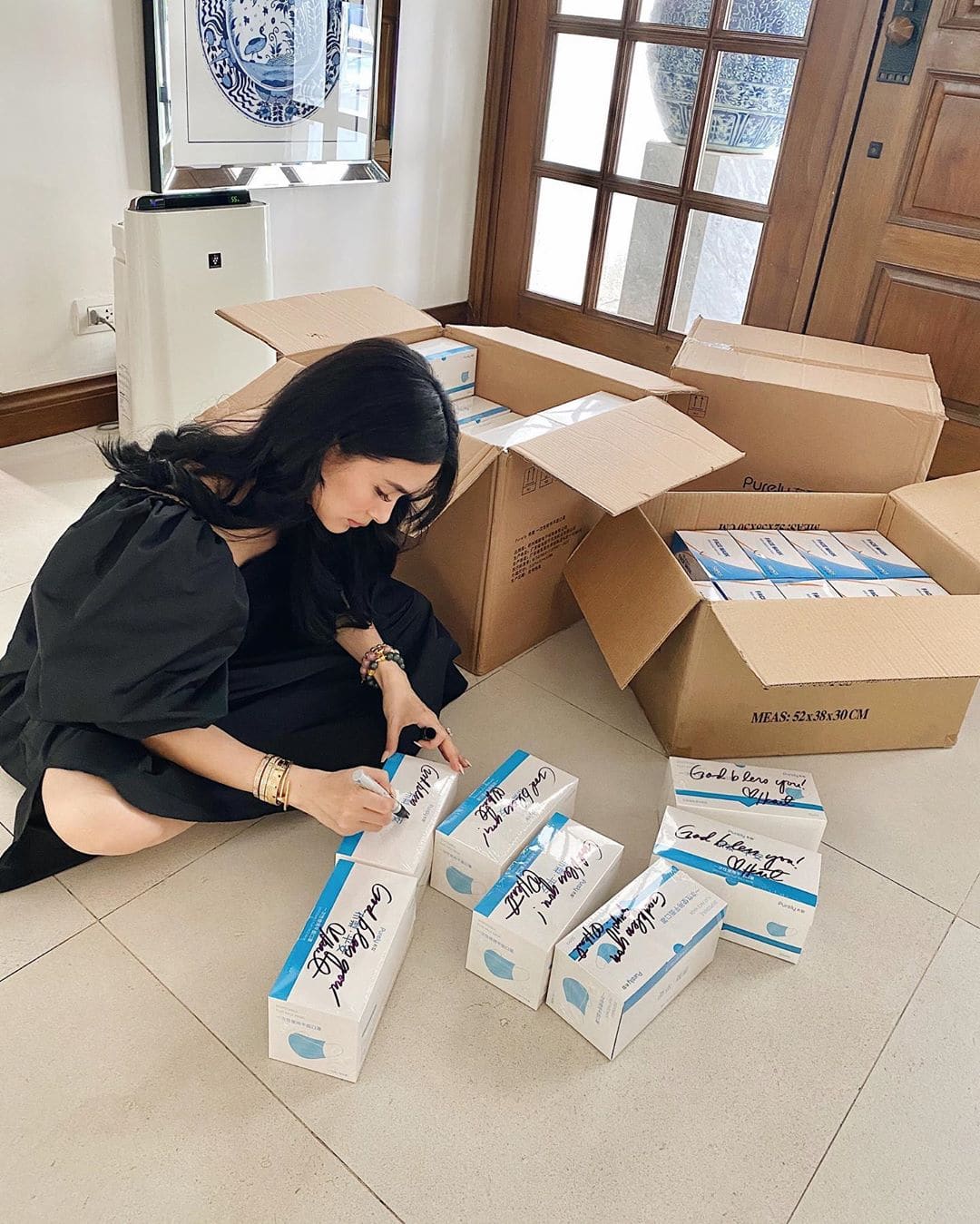 Heart Evangelista offers relier on her social media accounts by dressing up for quarantine while at the same time raising donations for her chosen organizations. | Photo from @iamhearte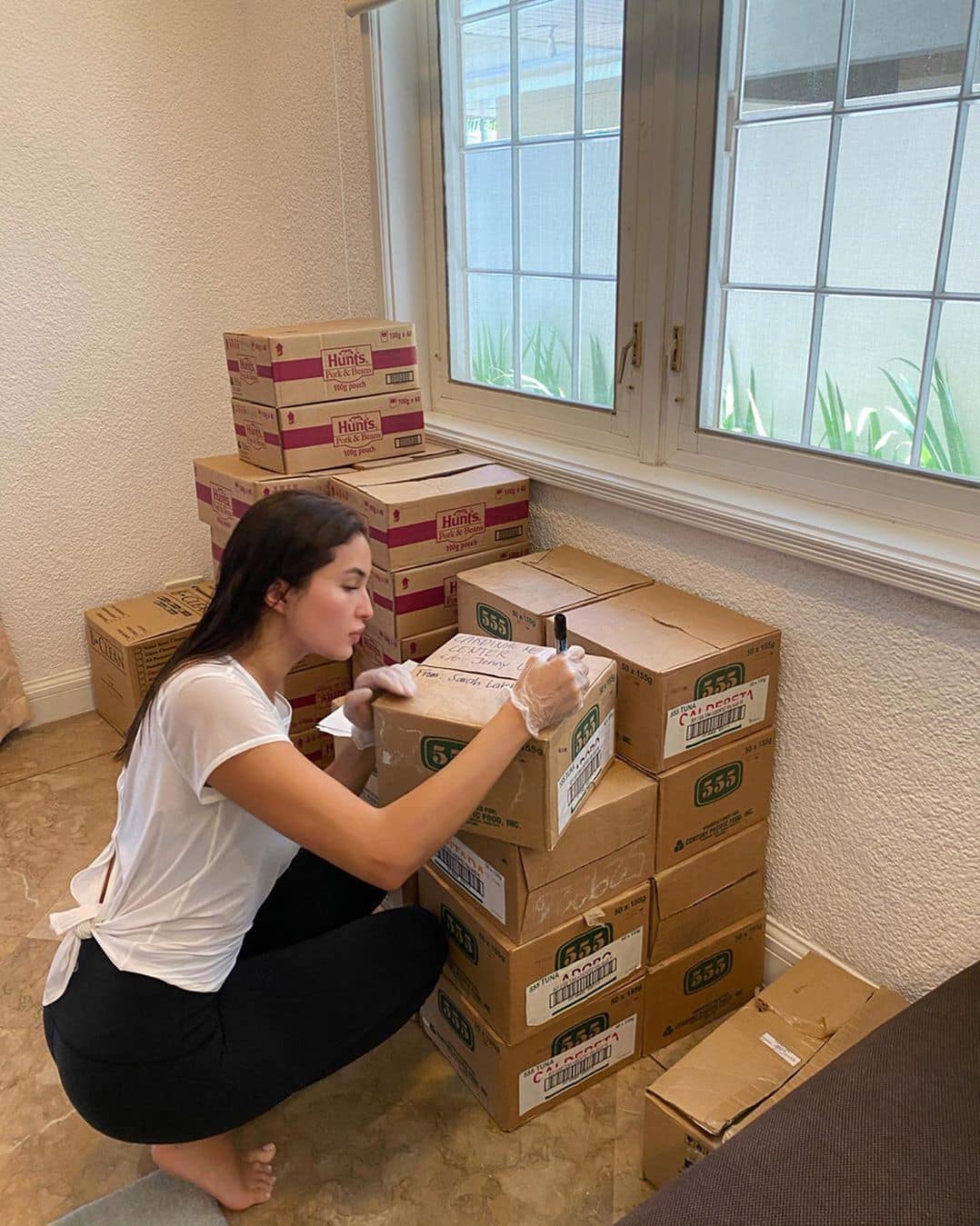 Sarah Lahbati spearheads her own relief efforts, using clout to gather donations from people and groups—all for donation to hospitals, communities, and frontilners | Photo from @sarahlahbati
But even as many missteps are happening, not everyone is unhelpful. The fashion industry in particular is been vital in producing personal protective equipment (PPE),
led by fashion designer Mich Dulce
. Charina Sarte, in contribution to Mich's Manila Protective Gear Sewing Club, is using her small production team to make PPE suits and gowns for frontliners. Same goes for
Metrowear
designers Patty Ang,
Michael Leyva
, and
Rajo Laurel
pushing with their own efforts, too. Wedding dress boutique Hey Heleyna is working with the design team at House of Santi to address the shortage of PPE in local hospitals, as well as accepting donations for food and grocery items to be distributed to areas in need around Quezon City. Local celebrities like Heart Evangelista and Sarah Lahbati, too, who use their influence to gather goods and donations in the millions, continue to inform, inspire and offer relief through their online platforms. Colin Hanks, designer of Hanks Kerchiefs, whose parents Tom Hanks and Rita Wilson were among the first celebrities to be tested positive for Covid-19, has posted tutorials on how anyone can create a face mask using a handkerchief. Even Anna Wintour, who along with Tom Ford, posted a plea for donations to keep afloat the fashion industry ("pattern-makers, cutters, tailors, embroiderers, and so many more"), acknowledged that "the most critical need is happening on the front lines," where doctors like her son are fighting to save lives as they risk their own safety.
who
While indeed there are individuals misusing their influence during this global crisis, it seems that the world's shared fear and grief is igniting a shared compassion across lives and industries, including fashion.
Art by Raff Colmenar