Dior Alert! Bae Suzy and Nam Joo-hyuk Are Tandem Goals In Their Best Dior Looks Yet
A duo in Dior is always a sight to see!
You'd be quite surprised how in-sync Bae Suzy and Nam Joo-hyuk is onscreen and offscreen. The two leading stars of Netflix's newest hit series Start-Up are also two of the most influential Dior brand ambassadors for South Korea. The French luxury fashion house ushered this match made in heaven as they both take on the streets of Korea and Paris in their killer Dior looks.
Bae Suzy was first tapped by the brand to grace the Lady Dior Art Exhibit in Seoul where she wore a a full-on Dior ensemble with her silver Mini Lady Dior art bag. Her debut with the brand was then followed by a visit at ABCDior's pop-up in Marina Bay, Singapore. Not long after, Bae Suzy was already invited to attend the Dior Spring/Summer 2019 runway show at Paris Fashion Week! Like a true K-star, Suzy was the ultimate standout of the show as she sported a dress and a mint green Lady Dior bag specifically chosen for her by Maria Grazia Chiuri.
Apart from a number of Dior events, exclusive parties, and gifts coming from left to right, Suzy made sure that she banners the brand even during her downtime. In fact, her Instagram feed is full of photos of her and her personal Dior favorites including the Book Tote, Saddle Bag, and the St. Honore Bag. More recently we saw Suzy in an angelic white Dior dress at the 56th Baeksang Awards where she easily bagged an award as our best dressed! Did we mention that her cover with Vogue Korea looked so dreamy as well?
While Bae Suzy was busy churning out womenswear looks for Dior, Nam Joo-hyuk made sure that his Dior ensembles fell nothing short of menswear and streetwear luxe. Joo-hyuk's first appearance as a brand ambassador was at the Dior Men Pre-Fall 2019 runway show in Tokyo. He attended the star-studded show in a silk blue coat paired with a rich blue buttondown, a pair of black trousers, and white Dior sneakers. Back in Seoul, he attended a Dior pop-up launch in a cool neutral outfit. On top of his ambassador duties for the brand, Joo-hyuk also showed his modeling abilities through three magazine covers with Esquire Korea, Esquire Hong Kong, and Dazed Korea.
His most internet-breaking moment with Dior has got to be his cover with Dazed Korea! Joo-hyuk was the first to wear the exclusive and limited edition Air Dior. The now P200,000 pair of sneakers was one of the most coveted sneakers this year and to have someone as mighty as Joo-hyuk to wear it leaves us out of words.
Do check out the gallery down below to see their Dior moments in photos. From their street style, runway show appearances, best dressed red carpets moments, to their magazine covers, we made sure to give you a good dose of Bae Suzy and Joo-hyuk right before Start-Up ends!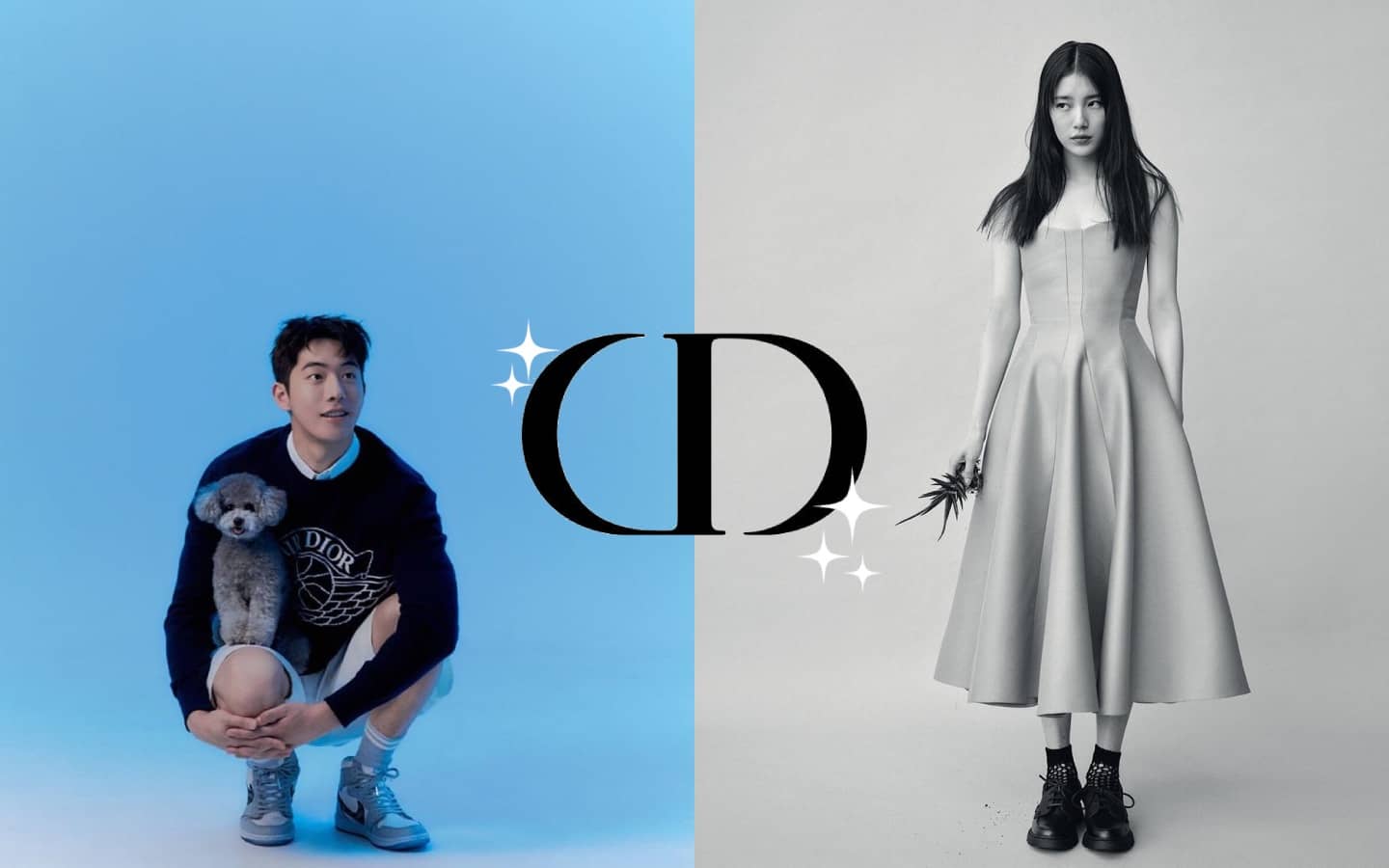 Bae Suzy and Nam Joo-hyuk for Dior
Bae Suzy and Nam Joo-hyuk for Dior
Dior in Manila is at Solaire Resorts & Casinos