The BTS Full Style Evolution: Every Era Of Their Fashion Glow-Up
From their K-hiphop debut to their recent high fashion looks, you would want to dive into this complete style evolution to get to know the Bangtan boys even more!
Summing up the complex style evolution of BTS in one article might seem like an impossible feat but we dare to challenge the tides today. If you're wondering how exactly we're going to elaborate 8 years of K-Pop visual perfection into one article then you've come to the right place.
Through the years, RM, Jin, Suga, J-Hope, Jimin, V, and Jungkook have gone through various K-Pop eras with different concepts and storylines. For those who are not familiar of the term era in the K-Pop industry, it's the time an idol or group releases an entirely new album that comes with a distinctive style choice. Ever since they debuted in 2013, the boys have shared stories about mental health, individualism, and the journey towards loving oneself by writing and producing albums that heavily reflect these experiences. Armys, the group's ever-so-loyal fanbase, have sang, danced, empathized, and dreamt of many things with BTS' music and each era perfectly encapsulated this. Just a quick look at BTS' discography and the concept photos that come with it, you'll see how the boys have gone complete 180 from their debut days, their peak chart-topping moments, to the world-renowned performers they are right now. These eras are completely subjective and could depend on how a person sees their journey but for the sake of this article, we will be going through their style evolution through their albums!
At the gallery down below, we delve into six of their glorious and stylish eras: School Trilogy, Youth Trilogy, Wings, Love Yourself, Map of the Soul, and Be. Make sure to read thoroughly on each slide just so you can learn more about the style evolution of our OT7.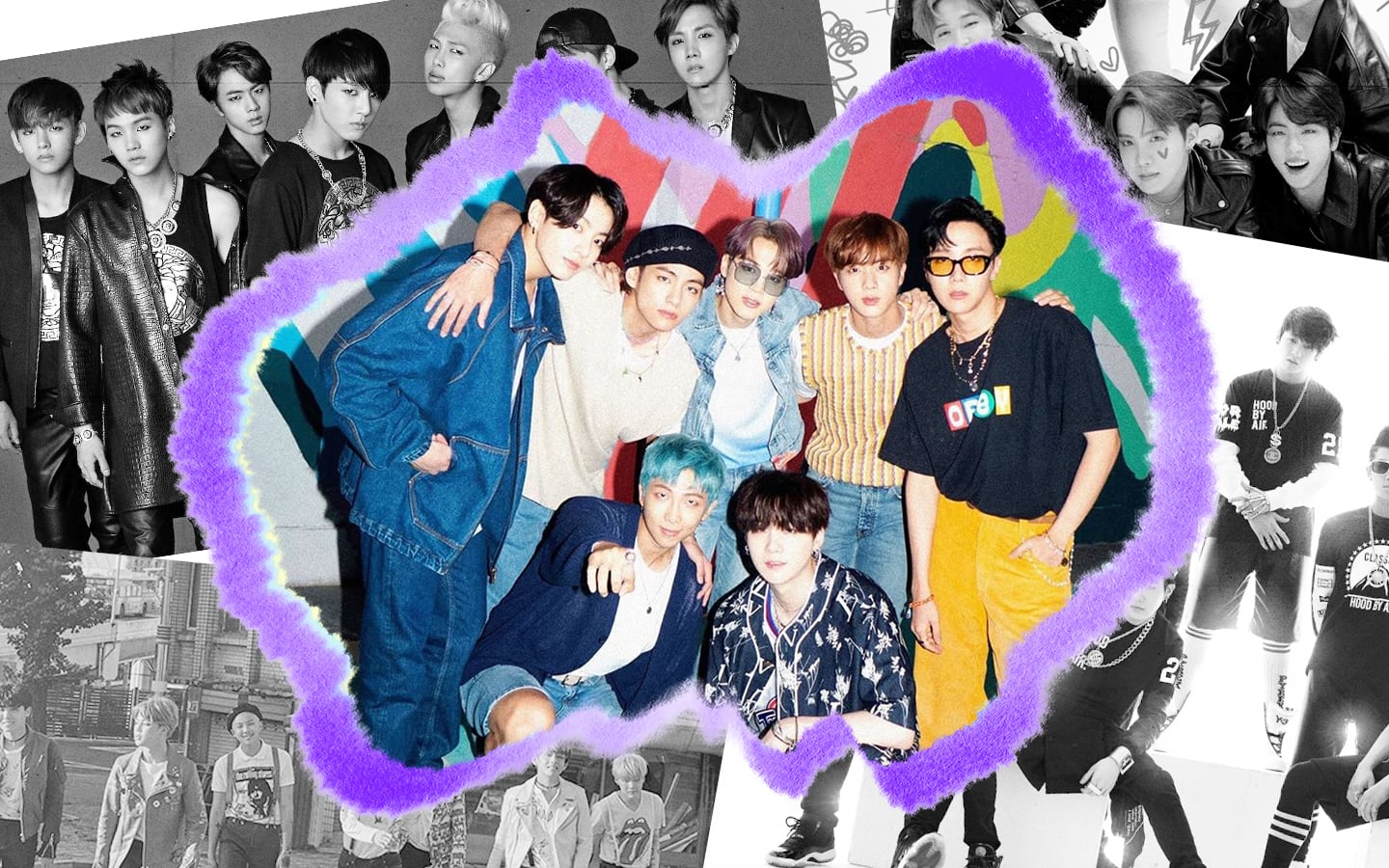 BTS Style Evolution
BTS Style Evolution
Art by Raff Colmenar
Photos from Big Hit Entertainment