Everything To Know About Ellen Adarna's Sexy Wedding Gown
We spoke to the couturier himself!
When Ellen Adarna got engaged to Derek Ramsay earlier this year, we immediately thought of what dress she will be wearing on her wedding day. Knowing how much of a goddess she is, we expected modern silhouettes that fit like a glove with details that highlight her physique. Fast forward to her special day, almost all of our wedding gown predictions came true thanks to the breathtaking work of Marc Rancy. The design brief was simple, Marc wanted to create a dress that celebrates Ellen's lust for life.
In this Metro.Style exclusive, we spoke to the couturier himself about what inspired him to create Ellen's wedding gown and her after-party dress.
How long have you known Ellen, and how long have you been creating pieces for her?
"I met Ellen in August this year shortly after her manager reached out to me upon hearing that I was making a bridal collection. During our meeting, I brought a prototype of one of the dresses I was currently working on. I distinctly remember that when she tried it on, she held my hand and said, 'Ikaw na ang gagawa ng gown ko!'— that to me was the beginning."
What were Ellen's non-negotiables when it came to the design of her wedding gown? What was it like working with her?
"When I met Ellen, I knew that she was far from a typical bride. I know that there's a certain type of lace that she likes and a lot that she doesn't. During our meetings, she emphasized how she wants something that isn't heavy, she wants it light, so I had to make sure to make her a dress that gives her freedom of movement. After all, Ellen has a bubbly personality and enjoys being around with people closest to her, [so] the dress has to have that perfect balance of fun and pomp. Working with Ellen was a breeze, she is very simple and down-to-earth, also very accommodating. Most of all, she is honest. She will tell you if she doesn't like something—and as a designer, we actually prefer that because it makes our job easier because we understand our clients more."
Tell us something about the design of Ellen's wedding gown, from the silhouette, the fabric, down to the accents of her ensemble.
"My design approach for any client is very straightforward. I ask the client what she likes, her style, and her personality. Having said that, I know that Ellen loves to party, so having a soft silhouette would be best for her. I used tulle and silk chiffon for her bias skirt, and pure organdy for the bustier. Ellen is very precise when it comes to the fit especially on her décolletage so I made sure that the bustier fits like a glove with the perfect modern shape. For me that was actually the most challenging part. As long as I achieved that, everything else felt like secondary. I didn't go crazy on the skirt, I just wanted to have the bustier as the gown's focal point—the embroidery of lace, glass beads and Swarovski crystals were integral only to that part."
You also designed her after-party dress, can you share some details about that?
"Her after-party dress is heavily inspired by tutu-meets-black swan aesthetic. It's very Ellen with all her sass and sensuality. The dress was sewn by hand as it involved a couture technique called ruching, a very intricate way of pleating. I played around with the cutwork to give it texture and to emphasize her slender figure, and the micro length extended her frame. Embellishments like glass beads, crystals and ostrich feathers muted the rather sexy aesthetic into something more feminine and romantic."
Take a look at the gallery down below to see more photos of Ellen Adarna in Marc Rancy couture gowns and ensembles by Mak Tumang and Frankie De Leon as well.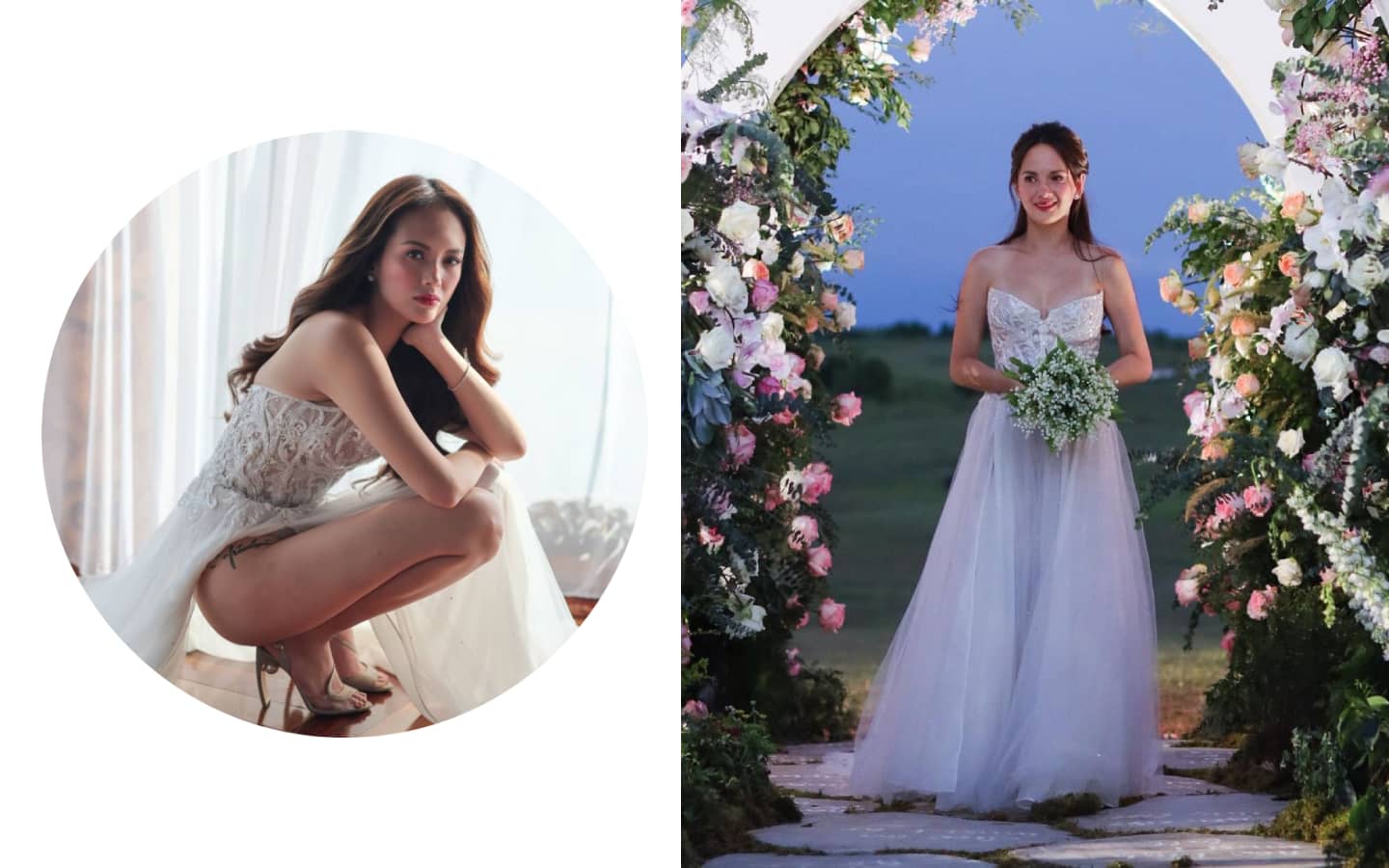 Ellen Adarna
Ellen Adarna
Wedding dress: Marc Rancy
Reception Dress: Mak Tumang
Afterparty: Marc Rancy
Jewelries by Sep Vergara
Shoes: Nicholas Kirkwood
Makeup: Mickey See
Hair: Raymond Santiago
Styling: Team RainxEm, Rainier Dagala, Em Millan,
Assistant Stylist: Rioliza Camantigue, Elaine Villapando
Nails: Mimi Que
Special thanks to Danel Louise Calixto