#MetroStyleWatch: Guests In Cage Skirts At The "Opulence" Halloween Party
The cage skirt was an absolute favorite—check out its stylish iterations here!
There were a lot of showstopping outfits that truly left spectators in awe at Mond Gutierrez's Marie Antoinette-inspired "Opulence: Let Them Eat Cake" Halloween party at The Tent in Solaire. One trend that was noticeable that evening was the cage skirt that was head-turning and statement-making with the sexiness it exuded.
The cage skirt was popular during Queen of France Marie Antoinette's time; it was a period when fashion was defined as lavish and opulent, and when bigger (or wider) skirts were considered better. Serving as a frame underneath to hold a skirt according to one's desired effect, this structure was used to give skirts a wider and grander look and feel. It was known as farthingale in the 16th and 17th centuries, guardainfante in the 17th century, pannier come the 18th century, and crinoline by mid-19th century. The difference between these styles simply stems from how much or in what manner they extend the skirt.
Panniers widen the skirts at the sides while keeping the front and back sides flat. Crinoline, on the other hand, makes skirts look fuller on all sides. There were several materials utilized to create this stiff underskirt, like horsehair, whalebone, cane, and steel which was the most popular.
It's a style that's too iconic it deserves to be revisited, that's why several modern-day designers, such as Vivienne Westwood and the late John Galliano and Alexander McQueen, had their own versions of this fashion staple.
Local celebrities and society personalities graced Mond's Halloween party in stunningly sexy ensembles which were punctuated by cage skirts that left little to the imagination. This one crucial detail was totally on point with the theme of the evening, and we love how it was re-interpreted and styled beautifully in various ways.
Scroll through the gallery below to see who wore cage skirts to "Opulence:"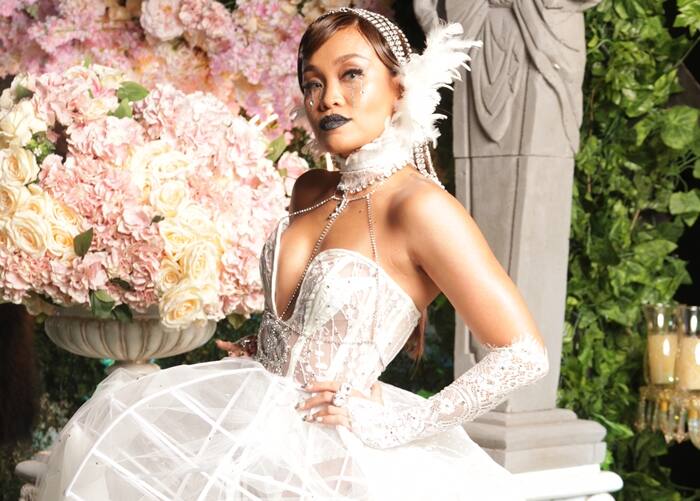 Photographs by Daniel Soriano and Rxandy Capinpin / Additional photo from @mica