#MetroStyleWatch: Kate Middleton And Meghan Markle At The Queen's Funeral
Here's how Kate and Meghan paid their respects to the late Queen Elizabeth II.
Over 2000 guests, including Kate Middleton, Princess of Wales and Meghan Markle, Duchess of Sussex attended the late Queen Elizabeth II's funeral at the Westminster Abbey. Since it has been seventy years since the last time a monarch was buried in the United Kingdom, the state announced that the dress code was strictly to be followed. Although it was the Queen that introduced the country to contemporary lifestyles and new beginnings, she still had a taste for traditional practices that was reflected in following dress codes.
At the funeral, women wore knee-length dresses or coats, black hats, and veils. Men are dressed in morning coats if not in military uniform. Despite the strict protocol, attendees were allowed to showcase their individuality through jewelry. Guests like Kate and Meghan wore accessories that hold sentimental value towards the beloved Queen.
Kate Middleton appeared in an Alexander McQueen coat dress and a hat with a see-through and full-face veil. She also wore a Japanese pearl choker that once belonged to the Queen and a pair of Bahrain pearl drop earrings from the Queen's Royal collection. Meghan Markle arrived in a Stella McCartney cape dress, hand gloves, and a wide-brim hat. Similar to Kate, Meghan wore a pair of pearl earrings that were gifted to her by the Queen herself.
Following the dress code is an easy task but showing up respectfully in style is an admirable skill. Knowing that the Queen favored pearled accessories, we really felt Kate and Meghan's love and respect for the late Queen.
In the gallery down below, take a look at what Kate and Meghan wore to Queen Elizabeth II's funeral.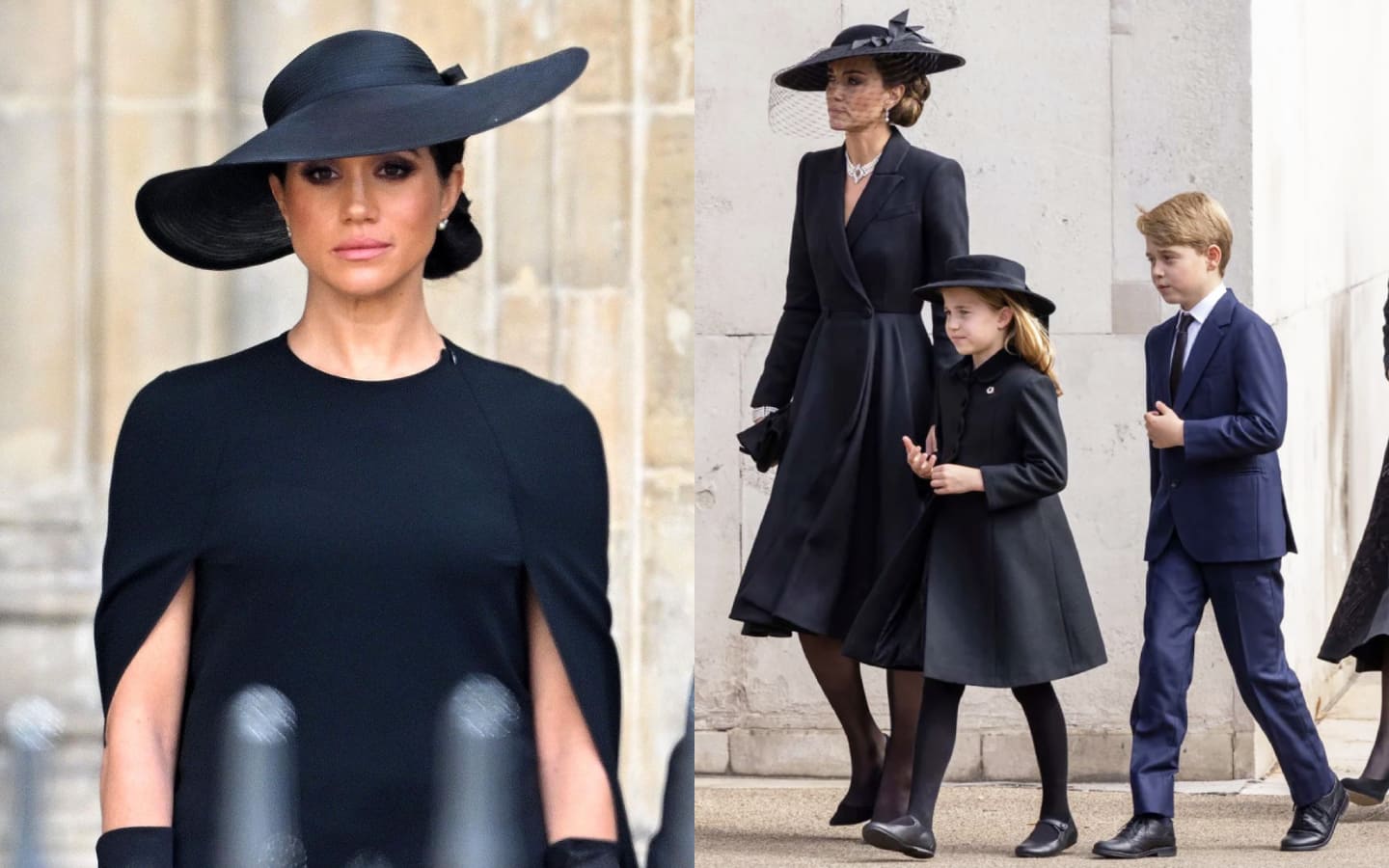 Queen Elizabeth II Funeral
Queen Elizabeth II Funeral
Photos from Just Jared and Getty Images