#MetroMostStylish2020: Mikka Padua
This breast cancer warrior is radiating positivity one fabulous ensemble at a time
Cancer sucks.
But your wardrobe doesn't have to.
With a cheeky little smile, fashion entrepreneur and Seek the Unique founder Mikka Padua vows that this is one of her life's biggest truths; she was diagnosed with Stage 2A breast cancer in December of 2018 but has since become an even bigger bombshell of a fashionista, looking more stylish and feeling more empowered as ever.
Cancer sucks, but getting the diagnosis, one that's admittedly one of the most feared among women, doesn't mean it's the end of the world—and certainly not the end of stepping out looking (and feeling!) like a million bucks.
"I'm very grateful that I was able to make something as great as a cancer diagnosis into something more positive. Most especially on treatment days, or infusion days, I would dress up! I'd be in the hospital and everyone would be like 'Wow! Where are you going?'" she begins.
"It also easily influences the mood of others... [When] everyone's so gloomy and sad because they're sick, when they see you, [they're like] 'Awww how come this girl is sick, but she doesn't look sick? She looks happy!' I always tell myself that maybe I was prepared for this—because I always like to turn something negative, or a problem or a challenge, into something positive," she continues.
Wearing a classic white, short-sleeved button down blouse for her Metro Most Stylish interview paired with wide-legged pants, Mikka is in her element. Although she continues to undergo chemotherapy among other treatments, one would have never guessed that regular visits to the oncology department have become part and parcel of her life.
Besides, who has time to be bummed out by cancer when all that time could be spent putting together beautiful outfits and receiving compliments from your husband and daughter instead? Not Mikka, that's for sure.
Fashionable yet restrained, sophisticated yet approachable, Mikka is every inch deserving to be one of the leaders of this campaign that celebrates those whose style is a visual representation of what they stand for as women and the values they hold onto.
In Mikka's case, her air of effortlessness and second skin stylish dressing are a result of unending practice, fine-tuning, and learning what she wanted to get out of dressing up.
"Style for me is all about individuality and confidence... But I'm saying this because I'm 40. I didn't have this kind of confidence in my 20s and in my 30s; I wasn't confident like most of us in that age... A stylish woman, first of all, has to know herself well. She has to be more than just trends or fashion. There has to be something else beyond because otherwise, she's going to be boring. She's just a mannequin," she explains.
Figuring out that she loved voluminous sleeves, learning tricks to mixing and matching luxury with RTW, igniting her love affair with linen pieces, discovering the potential of emerging local designers, realizing that an oversized jacket with cigarette pants was a foolproof outfit for her—these are years' worth of lessons!
For as long as it takes, Mikka will happily be a student of mastering one's own personal style if it means getting to know herself better along the way.
It's a lovely note of encouragement for women still figuring out who they are, and what they want to be, regardless of age, accomplishments, or dreams yet to be realized.
Having worked in fashion all her life (she gained experience with Mango, Zalora, Jewelmer, and LUXASIA to name a few, before starting her own business), Mikka is a hundred percent aware of the sometimes lengthy, and often experimental process it takes for a woman to pin down this aspect of herself.
But a word of caution, too, from this certified style icon whose closest is a symphony of pretty things: fashion should be you, and never a meaningless compilation of conformity to what women think society wants them to be. The single and most important trick to being fashionable isn't so much the way you look, knowing how to pose for a photo, or owning as many expensive items as possible; the more personal it is, the better. The more that the real you shines through and tells the story of everything that matters to you, the bigger the impression you'll make and it'll be mission accomplished, style-wise.
"Style is not just about fashion, it's all about you. It's how you live your life, how you interact with people around you, how you entertain at home, how you care for your children... It's also about how you are to your husband, how you are to your family. It's a lot of things and it encompasses everything," she says.
And then a second point on style, Mikka emphasizes: fashion is not simply a passive mode of self-expression, but an active tool women can wield to turn things around when they find themselves in a rut, big or small.
In fact, in the midst of having amazing doctors to treat her, a strong body, a supportive family, a positive outlook, and firm faith in recovery, looking on-point was one of the most potent remedies to Mikka's low points. It was so powerful that she now believes she no longer has bad days per se, thanks to the enlivening effects of seeing a face of confidence looking right back at her in the mirror.
"[Fashion] played a very important role in my coping with my diagnosis. I use fashion, or dressing up, as a tool to uplift or empower me, or to make me look not sick. Even if I have no hair, I would still make extra effort to put together a good look. Even if I'm just going to the grocery, or picking up my daughter from school, it doesn't matter. There are no 'off' days for me," Mikka assures.
She still remembers how past investments in some Louboutins and a pair of diamond earrings made her feel really good ("We're all about self-love these days, right?" she teases). But she clarifies that splurges aren't really a thing for her. If she has to spend, it would likely be for something one of a kind, and something can eventually pass down to her little girl Mischka who's really not all that little anymore at 10 years old.
Now, as a firsthand witness to the evolution of fashion's philosophy over the years, Mikka is glad to see the industry embrace a movement towards individuality and away from conventionality; gone are the days when women were cookie-cutter versions of trends, and she's even happier about how this paradigm shift has extended to the entirety of womanhood.
"Don't limit yourself," Mikka advises, as a third and final point for any and every woman who chances upon her feature.
Just as there are an endless list of labels, brands, and designers a woman can choose to wear, support, and favor, there are just as many opportunities for her to chase and claim. Be it motherhood, professional growth, further studies, or a combination of all of those things and more, nothing—not even cancer—should ever get in a woman's way.
Cancer sucks.
But with Mikka's example, life doesn't have to.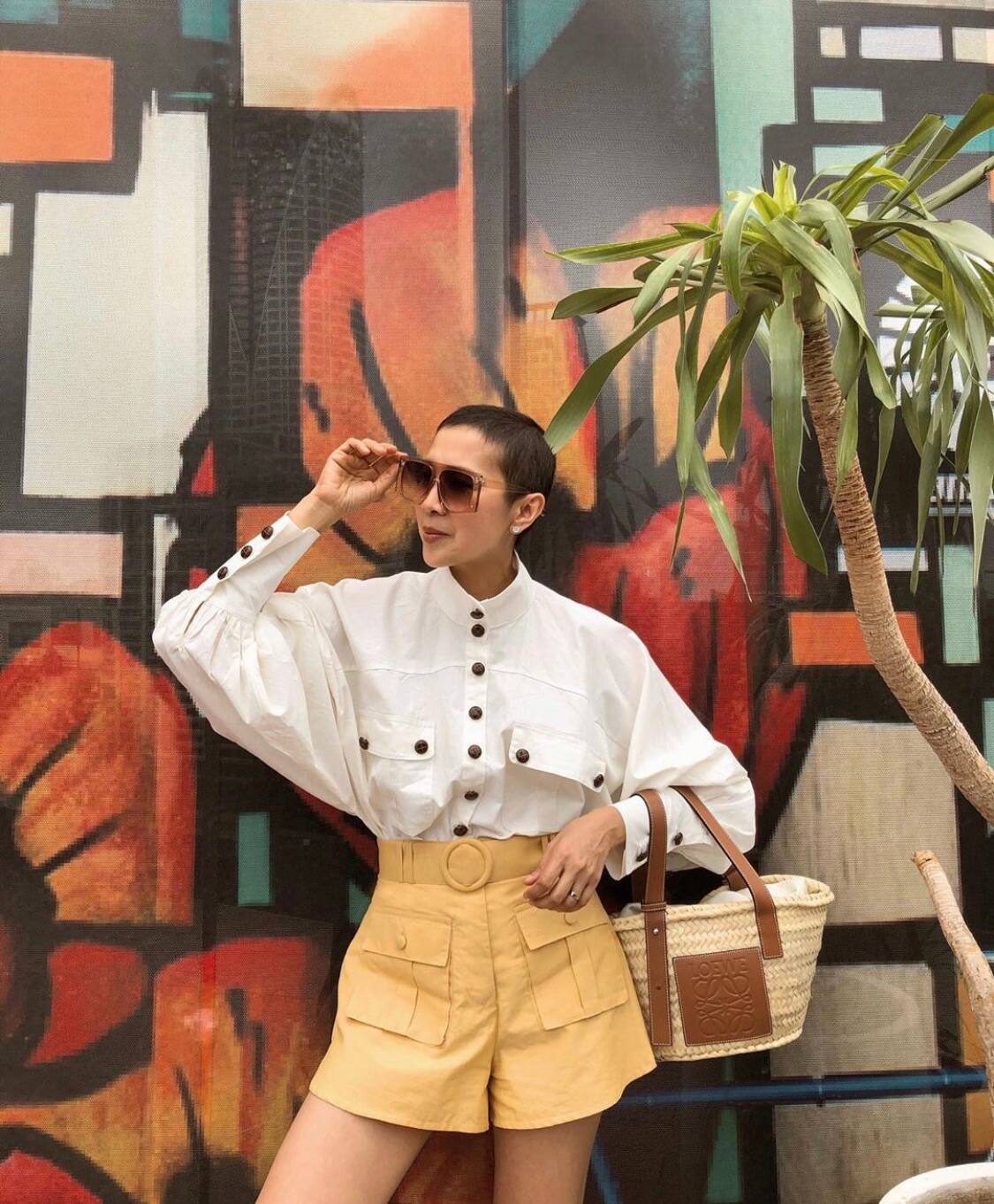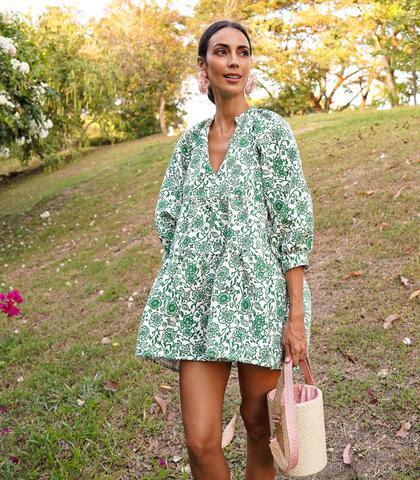 Produced by Kat Cruz-Villanueva and Judy Arias
Photography by Seven Barretto
Video by Alivve.
Creative Direction by Chookie Cruz
Makeup by Sarah Bulus of Team Albert Kurniawan
Hairstyling by Mark Rosales
Production Design by Angelique Abesamis-Castro
Additional Footage by Spotlight Creatives
Styling Assistants Hillary Lee, Gabby Gamboa, and Marie Cu of Styedit Group
Shot on location at Sofitel Philippine Plaza Manila
Special thanks to Margot Calimon of Sofitel Philippines Plaza Manila; Pandora; SM Home at all SM Stores; Crate & Barrel, Philux, and Lamana PH